Ahh Fridge Enchiladas...
Not the prettiest or most authentic dish in the kitchen, but they can be so satisfying and I make quick meals like this all the time.
I hope these shortcuts give you plenty of new ideas for quick weeknight meals when nothing sounds good and you don't feel like cooking 🙂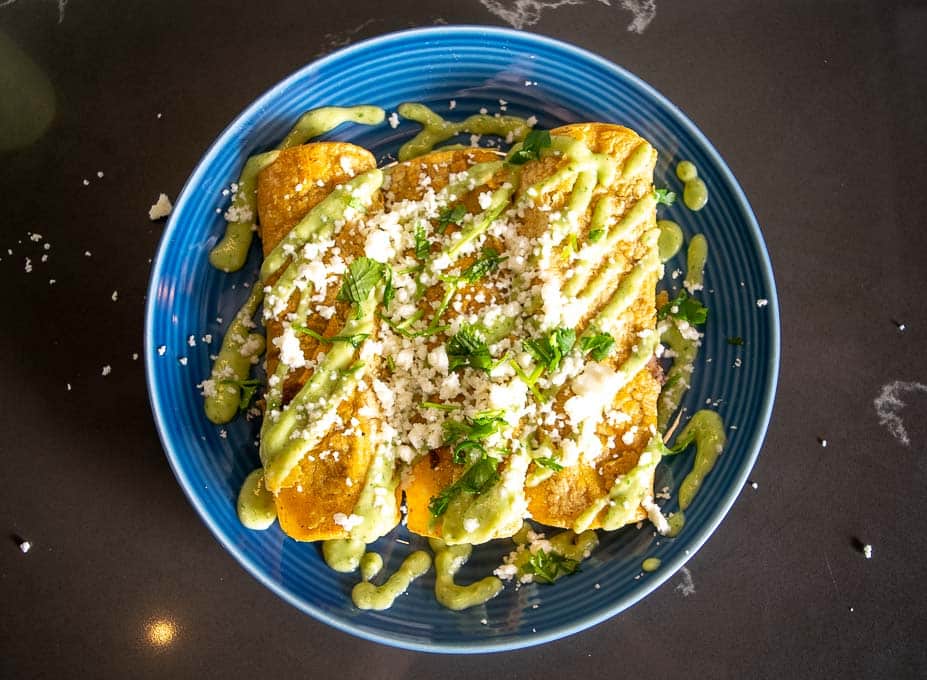 How To Make Fridge Enchiladas
Of course, all of this depends on what's hanging out in the fridge.
Here's what caught me eye: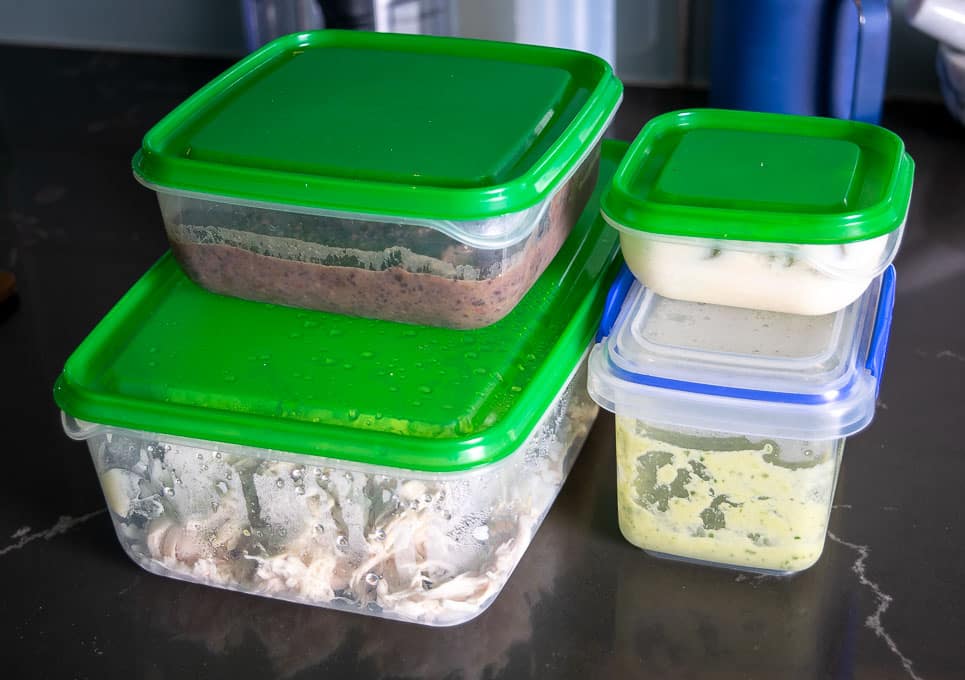 So in the above pic I've got:
leftover cooked chicken
these refried beans that I always keep in the fridge
some Salsa de Aguacate from last night
a few weeks worth of bacon drippings
You see those items and think enchiladas right? Me too!
I also had a struggling avocado in the fridge, so I decided to make another batch of Salsa de Aguacate just to be sure I had enough.
It's super easy to make, all you're doing is combining the following ingredients in a blender or food processor:
1 avocado
1/2 garlic clove
4-5 sprigs cilantro
juice of 1 lime
1/4 cup water
1/4 teaspoon salt
This creamy green sauce is a quick, satisfying way to goop up your enchiladas. It's traditionally paired with bold, spicy meats, but lately I use it on just about everything (like Ground Beef Bowls and Quick Vegetarian Stuffed Poblanos).
Keep in mind there are lots of ways to make enchiladas!
Since I had bacon drippings on hand I decided to build these on the stove-top to give 'em a slight crisp, but you are welcome to plop your enchis in the oven.
I started by warming up three corn tortillas in a large pan over medium heat. This will make them easier to roll.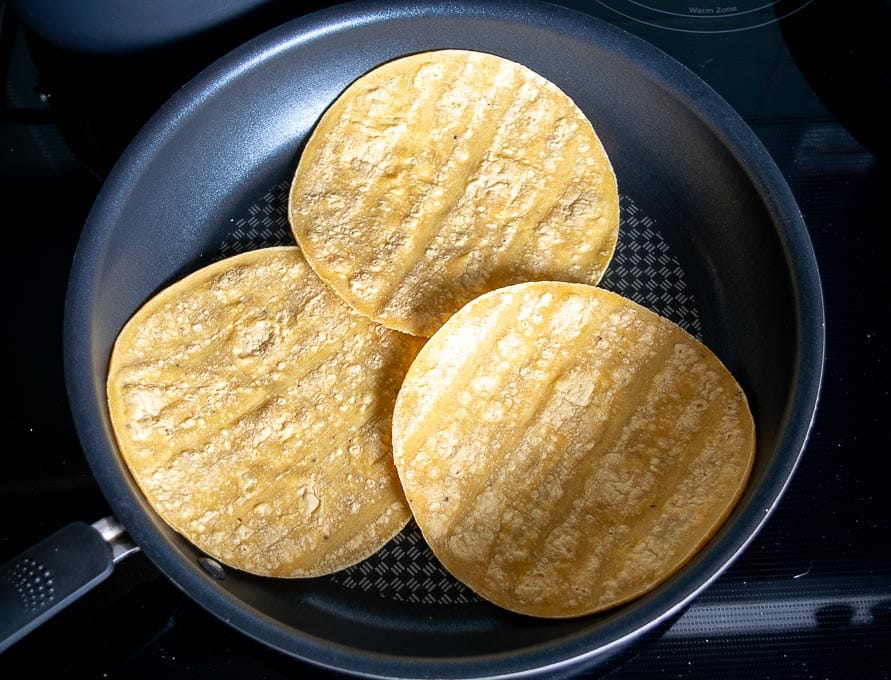 Then each tortilla gets loaded with:
a layer of refried beans
plenty of cheese
cooked, shredded chicken
a sprinkling of raw onion
Note that everything is taken straight from the tupperware containers -- the fixings will warm up as the enchiladas crisp up in the pan.
And don't forget that this is just a starting point to trigger some ideas for your fridge meal! Feel free to get creative with the insides of your enchis -- even beans and cheese is a great combo to start with.
Once these were rolled I added 1/2 tablespoon of bacon drippings to the pan -- this will help give the enchiladas some crisp.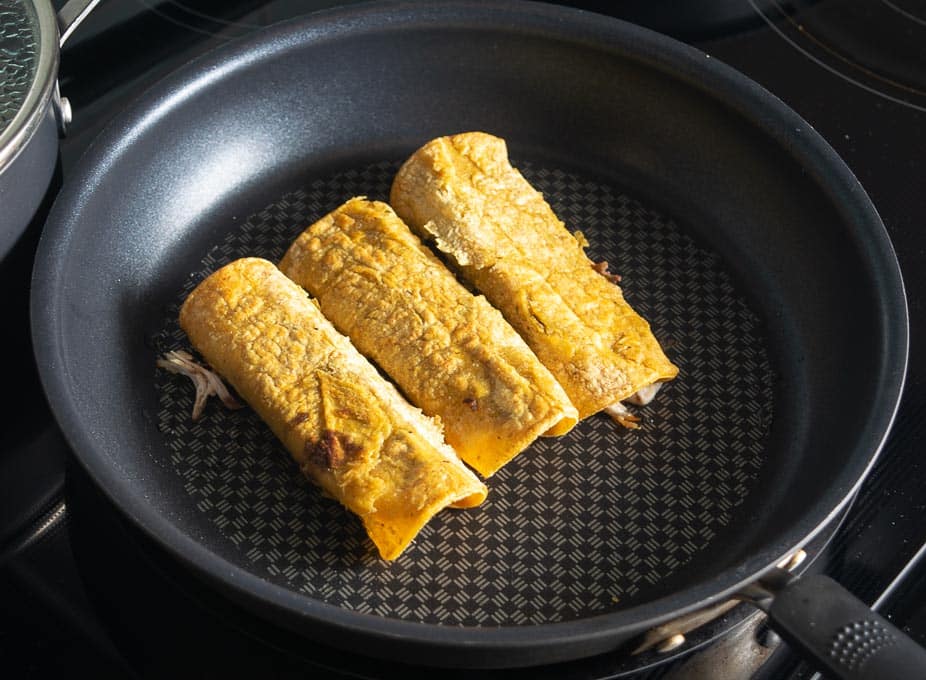 As long as you give them a few minutes per side then everything inside will be piping hot by the time you take a bite.
I cooked this batch over medium heat for about 3-4 minutes per side.
Then it was just a matter of topping with the final garnishes:
plenty of Salsa de Aguacate
crumbled Queso Fresco
freshly chopped cilantro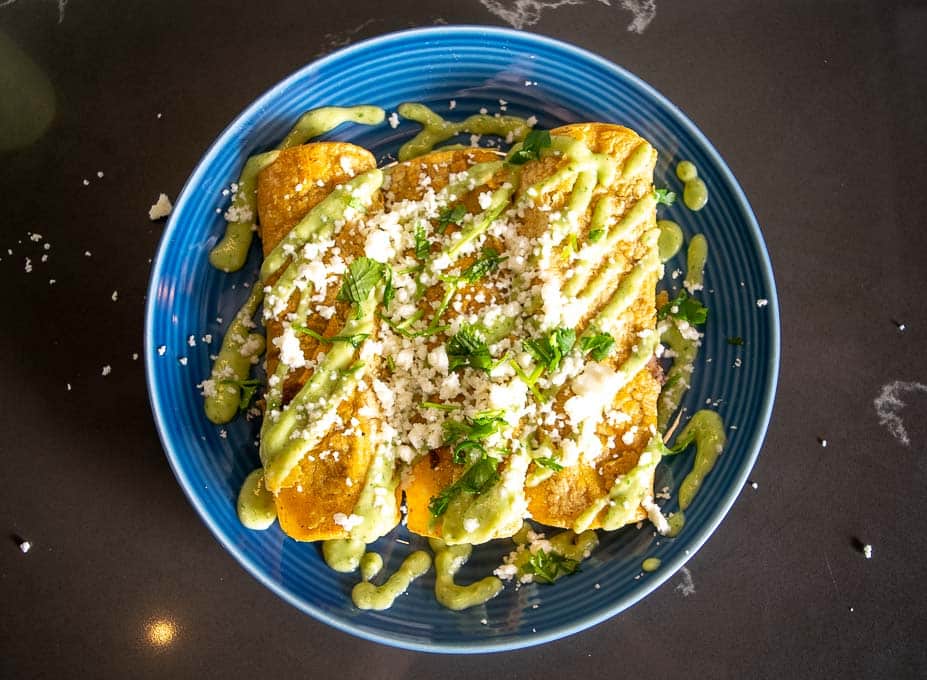 Not bad for a 10-minute meal eh?
Those final garnishes are optional too -- you really don't need much else if you have Salsa de Aguacate on hand.
Yum 🙂
Nearly everything in this meal was towards the end of its shelf life, but you would never know that after taking a bite! The flash fry really wakes up the tortillas, and the fixings seem to come to life when drenched in the vibrant Salsa de Aguacate.
Fridge Enchiladas are a great technique to have in your arsenal, I hope they bring you some quick, satisfying meals.
Buen Provecho.
Want the latest recipe? Click your favorite from these options and follow me: Instagram, Facebook, Pinterest, TikTok, YouTube.
Fridge Enchiladas with Salsa de Aguacate
Fridge Enchiladas are a great way to make quick, satisfying meals using leftovers.  I drenched this batch in Salsa de Aguacate and they were delicious!
Print
Pin
Rate
Ingredients
For the Salsa de Aguacate:
1

avocado

1/2

garlic clove

4-5

sprigs

cilantro

juice of 1

lime

1/4

teaspoon

salt

1/4

cup

water
For the enchiladas (all optional):
cooked, shredded chicken

refried beans

cheese for the filling (I used Jack)

cheese for the garnish (I used Queso Fresco)

freshly chopped cilantro

final squeeze of lime

lard, or bacon drippings
Instructions
If you are making the Salsa de Aguacate, simply add the following ingredients to a blender or food processor: the flesh of a single avocado, 1/2 peeled garlic clove, 4-5 sprigs cilantro, juice of 1 lime, 1/4 cup water, and 1/4 teaspoon salt. Combine well. If it's not combining readily simply add another splash of water.

I cooked these enchiladas on the stove-top, but you are welcome to bake them if you want. I started by warming up 3 corn tortillas in a large skillet over medium heat. Once warm you can remove the tortillas from the pan and then fill each tortilla with: cooked chicken, a layer of refried beans, sliced cheese, and a sprinkling of raw onion. Roll tight and place them seam side down to keep 'em together.

Then I added a 1/2 tablespoon of bacon drippings to the pan to help crisp up the enchiladas, but this is optional. Cook the rolled enchiladas over medium heat for a few minutes per side, or until there are light brown spots forming on the tortillas. If you're cooking them in fat be sure to dredge the second side in some of the melted fat when you flip them.

Add the cooked enchiladas to a plate and load them up with the final fixings. For this batch that meant plenty of Salsa de Aguacate, crumbled Queso Fresco, and freshly chopped cilantro. Enjoy!!
Like this recipe?
Click the stars above to rate it or leave a comment down below! @mexplease
Want the latest recipe? It's this Vegetarian Pozole Verde.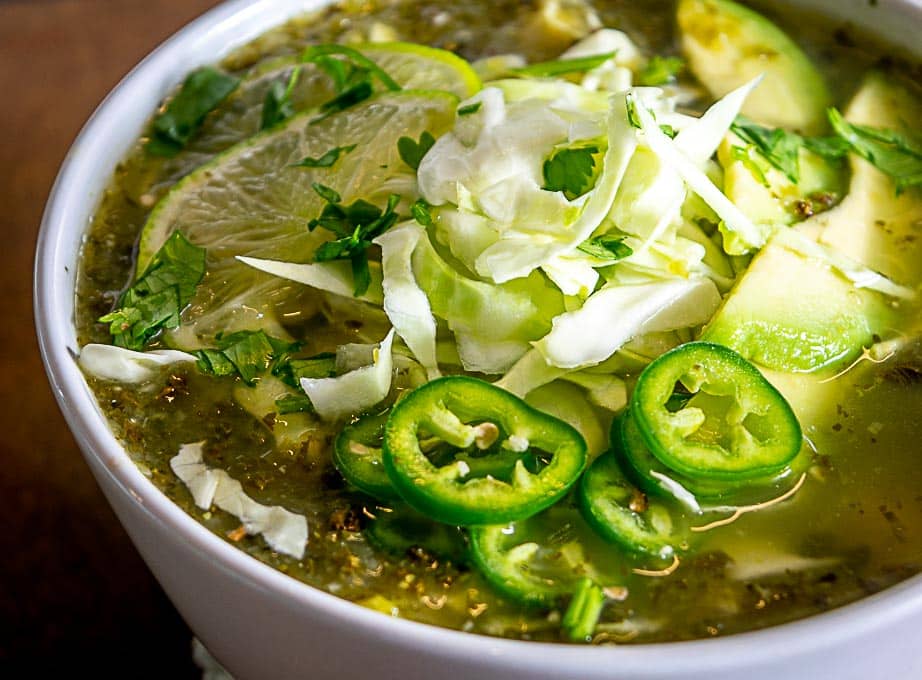 Still hungry?!
Want to receive Mexican Please recipes via email when they are posted?  Sign up below to subscribe.  All recipes are spam free.