"Got anything hotter?"
It's a question commonly heard in taquerias and kitchens around the world.
There's always someone in the room who needs their salsa bordering on volcanic.  Well, say hello to Fire Salsa.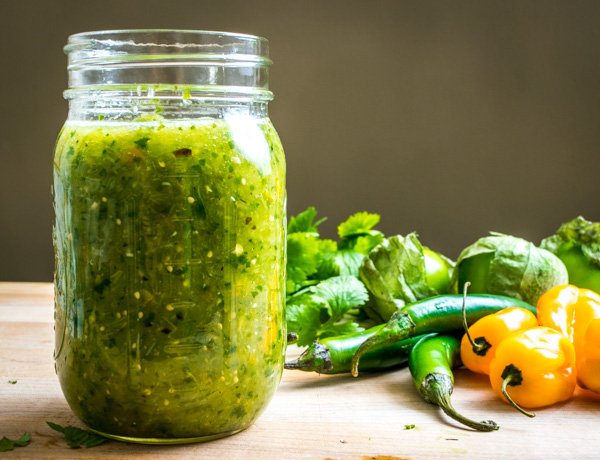 The beauty of this salsa is that it has flavor too, it's not just pure heat.  Yes, the heat will sneak up on you like a hungry bear, but the first taste is a rich, roasted salsa verde.
Fire Salsa starring The King of Capsaicin
The star here is the habanero pepper.
Habaneros have extremely high levels of capsaicin -- upwards of 15-20 times the amount of capsaicin in a jalapeno.
When they're ripe they turn orange so that's how you'll usually find them in the markets.  You can also get them in dried form.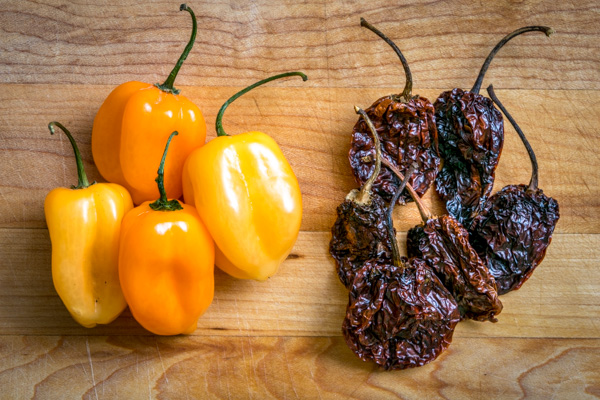 The warning you'll hear about taking caution when handling chili peppers applies even more so with habaneros.  Wash hands thoroughly after using, and try not to touch your eyes or nose when handling them.
OK, here's our starting ingredients for Salsa del Fuego: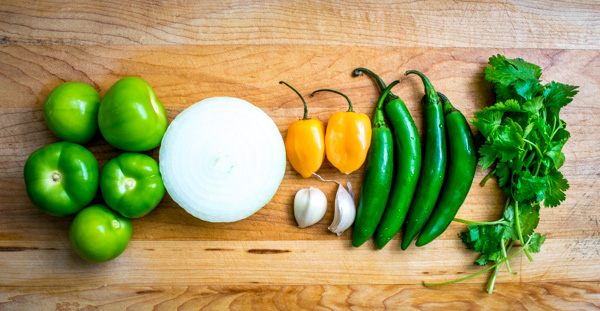 Roasting the ingredients really brings out their flavor, so we'll start with that by using a foil-lined skillet on medium-high heat.
The idea is to get heat coursing through the ingredients to enrich their flavor.  Turning them every few minutes helps with this.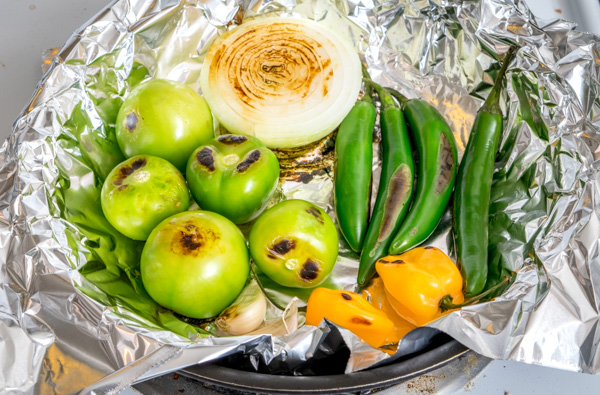 Some will take longer than others.  For example, the more fragile habaneros need less time in the heat than the tomatillos.
Once they are thoroughly blackened (20 minutes for these tomatillos) then you can de-stem and add to a blender.  (Note:  if you roast the garlic with the skin on, squeeze when done and the clove will pop out of the skin.)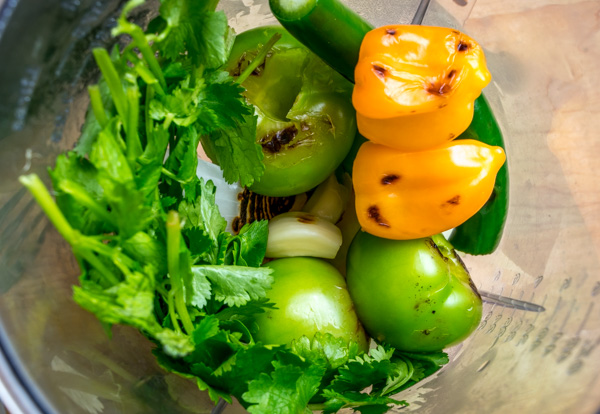 Pulse blend and serve immediately.
You can taste for heat but most likely it will be enough.  Just to give you an idea of the heat level....
A properly balanced salsa verde starts with one half of a serrano pepper for most people.  Here we are using 4 serranos, plus the 2 habaneros, so it will definitely be hot.  Of course, if you have professionals in attendance you can always add more habaneros.
Having a bowl of this Fire Salsa on the serving table is great for big groups and parties.
It's the perfect reply for when the inevitable question pops up from the back of the room:
Got anything hotter?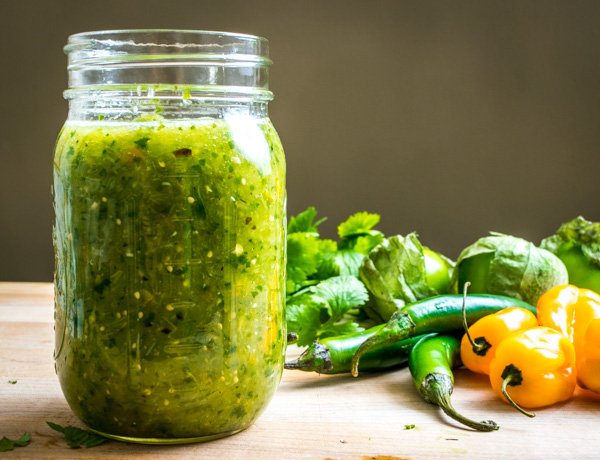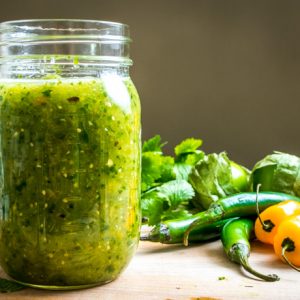 Fire Salsa -- Salsa del Fuego
A great salsa that will forever answer the question "Got anything hotter?"
Print
Pin
Rate
Ingredients
4-5

tomatillos

1/2

white onion

4

serrano peppers

2

habanero peppers

2

garlic cloves

10

sprigs cilantro
Instructions
Wash the tomatillos, peppers, and cilantro in cold water

Line a skillet with foil and bring up to medium-high heat

Roast the onion, tomatillos, serrano, habaneros, and garlic in the skillet

Turn frequently to blacken all sides

The smaller ingredients might be done earlier. For example, take off the habaneros if they start to char heavily.

De-stem all the ingredients and add to a blender

Pulse blend

Serve immediately
Notes
Some of the ingredients will be 'done' before others. You can pull them out of the skillet if they start to char considerably.
If you roast the garlic with the skin on, squeeze when done and the clove will pop out of the skin.
Add additional habaneros if you want even more heat.
Like this recipe?
Click the stars above to rate it or leave a comment down below! @mexplease
Like hot stuff?  You might also like our Salsa Verde and our Chile Pequin Salsa.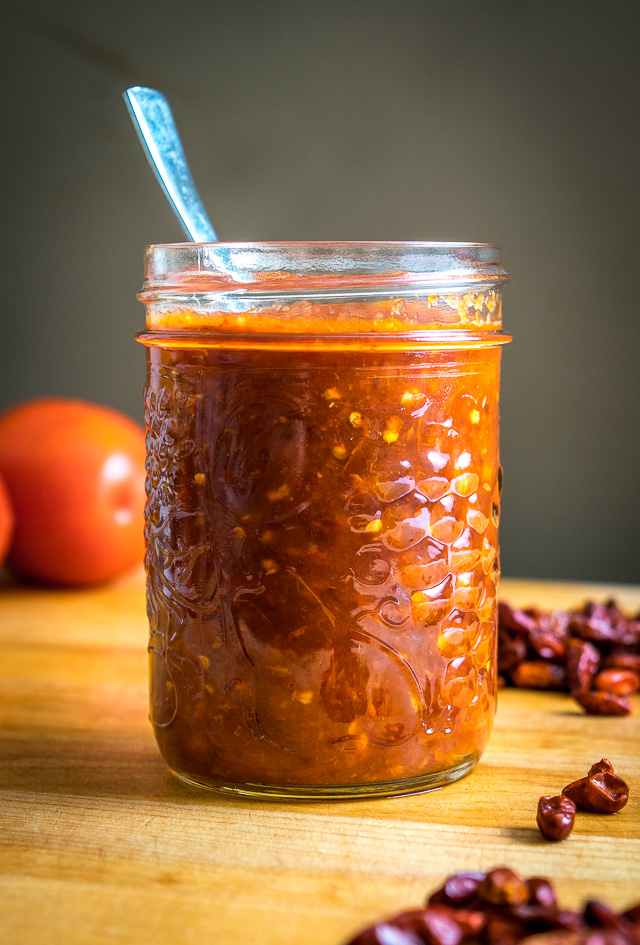 Still hungry?!
Want to receive Mexican Please recipes via email when they are posted?  Sign up below to subscribe.  All recipes are spam free.