Warning:  if you have trouble slowing down when there are crispy potato products around then please ignore this Crispy Jalapeno Hash Browns recipe.
Or you can read the recipe but also come to an agreement with your Significant Other to keep a watchful eye on you once the hash browns are done cooking.
Because it's true, they are addictive.  But in a good way 🙂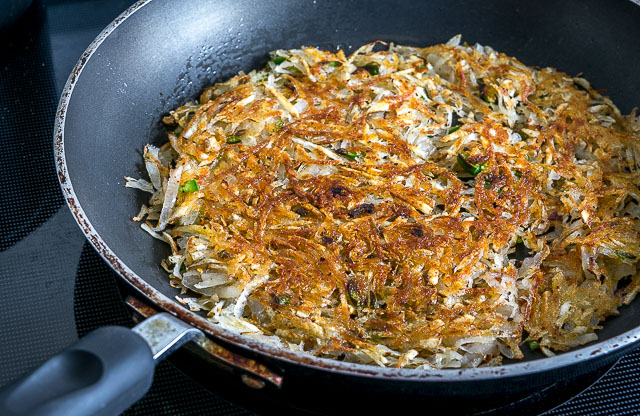 Crispy Jalapeno Hash Browns Recipe
Luckily, once you have a few simple tricks in your arsenal you can bypass the soggy, clumpy batches and head straight for the light and crispy version.  Trust me, I've been down Soggy Lane before; there is nothing more disappointing then having your hash brown expectations let down by a clumpy bog of wannabe taters.
Tip #1:  Once shredded, give them a quick rinse in cold water.
This will remove some of the starch but also prevent them from oxidizing.  The quickest way to do this is to shred them directly into a pot of cold water and then strain them, discarding the liquid.
Tip #2:  Squeeze as much water out of them as you can.  
This is probably the most important part.  Excess water will prevent them from crisping up because the duration of the cooking time will be spent evaporating the water.
There are lots of ways to remove the excess water.  Squeezing them in kitchen towels or even a cheese cloth would work fine.  Lately I just use the old-fashioned method:  my hands.  Grab a handful of shredded potatoes, hold them over the sink, and squeeze as hard as you can.  You'll be surprised how much water comes out.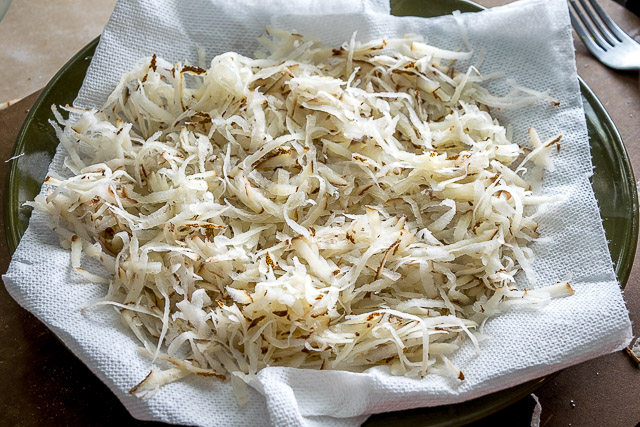 Note:  This is a single, large Russet potato.  I usually shred the potato as is, skin included.  Peeling the potato works too if you're in the habit of doing that.
Tip #3:  Nuke these in the microwave for two minutes.
This seems to further reduce moisture in the shreds and helps the edges crisp up quicker.  The guys at Serious Eats did an excellent test on perfecting homemade hash browns and found that a two minute nuke worked the best.
Okay, so now you have some quick rinsed, squeeze dried, flash nuked shredded potatoes.  Perfect!
A half jalapeno will give you a pleasant burst of heat in the hash browns so it's a good place to start.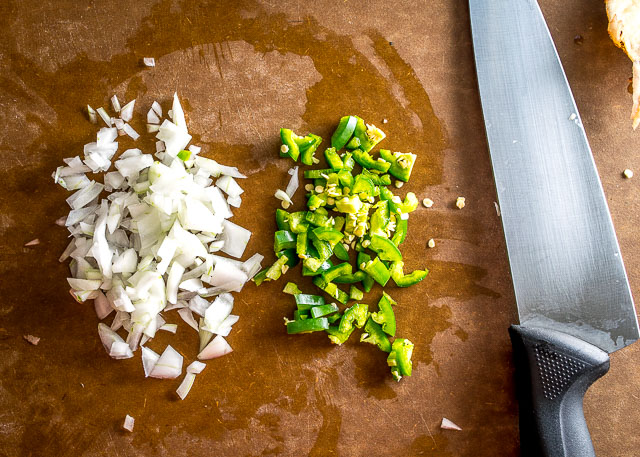 If you want a more fiery version then you can use the whole jalapeno.  (More tips on using jalapenos here.)  I also add 2-3 Tablespoons of chopped onion, 1/4 teaspoon of salt, and some freshly cracked pepper.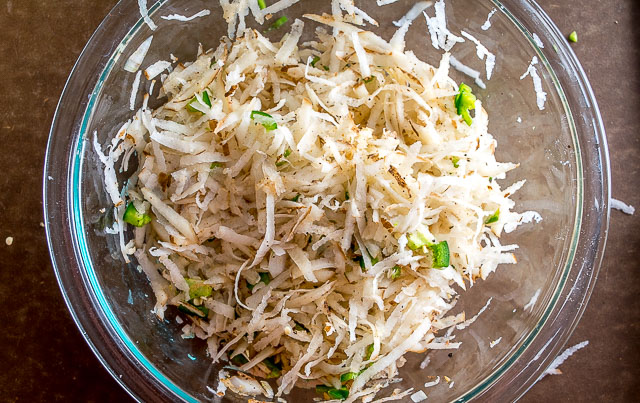 It's hard for me to not add some chili powder to this mixture but consider that optional.  This batch used 1/2 teaspoon chipotle powder.
Tip #4:  A thin, even layer will keep them crispy and prevent an inner, uncooked layer.
Add 2-3 Tablespoons of oil to a wide skillet on medium-high heat and when the oil shimmers you can add the potatoes.  Pat them down with a spatula or fork to even them out and get them closer to the heat source.  You can also add another layer of salt and freshly cracked pepper if  you want.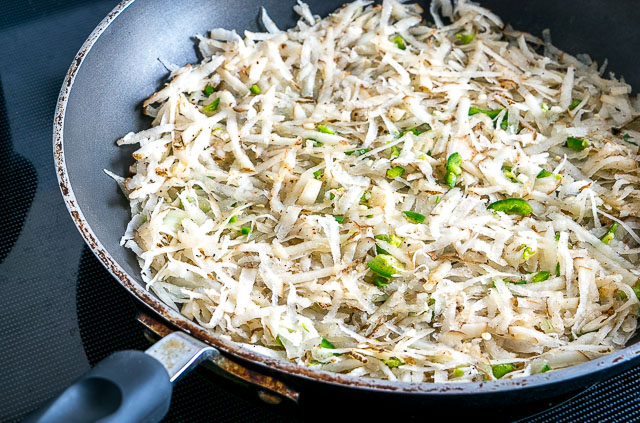 Tip #5:  Don't stir until the first side is completely cooked through.
Resist the urge to give them a stir.  This batch took 6-7 minutes on the first side, but it's best to occasionally peek underneath and flip them when they are heavily browned.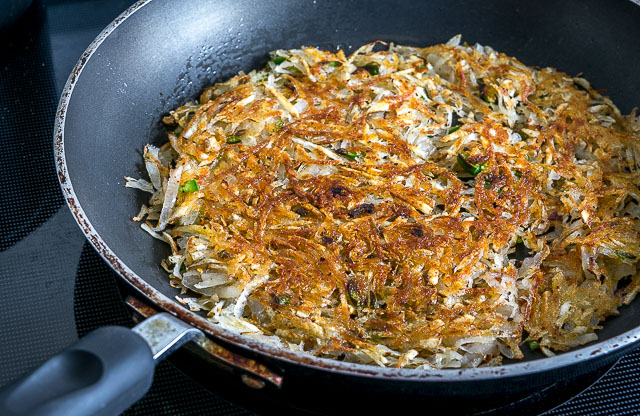 Tip #6:  Use a plate to flip the entire layer at once. 
Wide skillets can make for some messy flippage.  I tend to flip them the same way I flip quesadillas.  Hold a plate face down directly above the hash browns.  Flip the skillet and plate at the same time.  You'll end up with the hash browns on the plate and you can slide them right back into the skillet to cook the other side.
The second side will take about the same time as the first, so I pulled these off the range after another 7-8 minutes.
You're left with a crispy, fiery batch of hash browns that will work wonders on grumpy mornings.   Of course, it's hard to resist serving them with eggs as that is their natural counterpart.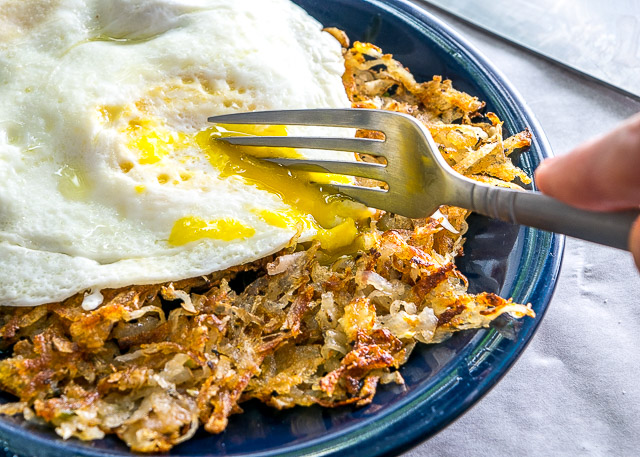 Hey slow down!
These crispy delights will also work wonders in breakfast burritos or with some Huevos a la Mexicana.
Don't forget...
Squeezing out the excess water and giving them a quick nuke will ensure that you bypass the soggy, clumpy version and end up with a crispy, heavenly delight.
If you find that you can't stop eating them, it's okay to make another batch 🙂
Buen Provecho.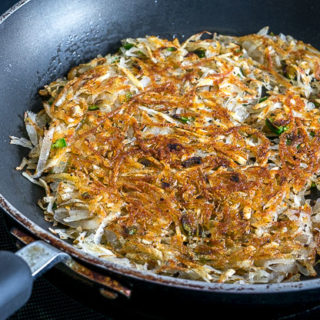 Crispy Jalapeno Hash Browns
These Jalapeno Hash Browns are a quick way to jumpstart your morning. A few simple tricks will ensure you always end up with a crispy batch. So good!
Print
Pin
Rate
Ingredients
1

large

Russet potato

1/2

jalapeno

2-3

tablespoons

onion

2-3

tablespoons

canola oil

1/2

teaspoon

chipotle powder (optional)

1/4

teaspoon

salt (plus more to taste)

freshly cracked black pepper
Instructions
Give the potato a good rinse. (Or peel it if you want to remove the skin). Shred the potato in a bowl full of cold water. Strain and discard the liquid.

Remove the excess water from the shredded potatoes. I use my hands but you can squeeze them in a kitchen towel or a cheese cloth.

Microwave the potatoes on high for 2 minutes.

Dice up 2-3 Tablespoons of onion and half of a jalapeno. (You can use a whole jalapeno if you want a more fiery version).

Toss the shredded potatoes with the jalapeno, onion, 1/4 teaspoon of salt and some freshly cracked pepper. You can also add 1/2 teaspoon of chili powder if you want.

Add 2-3 tablespoons of canola oil to a wide skillet on medium-high heat. When the oil is heated up and shimmering, add the potatoes and form an even layer. Cook the first side for 5-8 minutes or until the underside is heavily browned.

Flip the potatoes and cook the second side for approximately the same amount of time as the first side, or until heavily browned. Taste for seasoning and serve immediately.
Notes
Here are the key tips to ensure you end up with a crispy batch:
Give the shredded potatoes a quick rinse in cold water.
Squeeze as much water out of them as you can. 
Microwave them for two minutes before putting them in the oil. 
Form a thin, even layer in the skillet. 
Don't stir them until the first side is completely cooked (heavily browned).
Like this recipe?
Click the stars above to rate it or leave a comment down below! @mexplease
Our latest breakfast recipe is a batch of Migas!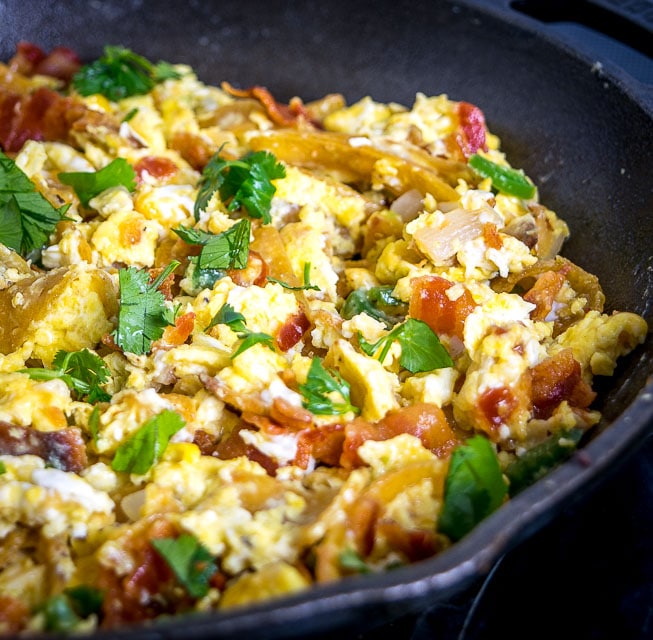 Still hungry?!
Want to receive Mexican Please recipes via email when they are posted?  Sign up below to subscribe.  All recipes are spam free.