It's true, Nachos are a gringo interpretation of Mexican cuisine.  They are wildly popular in the States, but they are less common on menus down in Mexico.
But if you dress them up with some authentic fixings then you'll end up with a dish that can be equally satisfying on both sides of the border.
Nachos!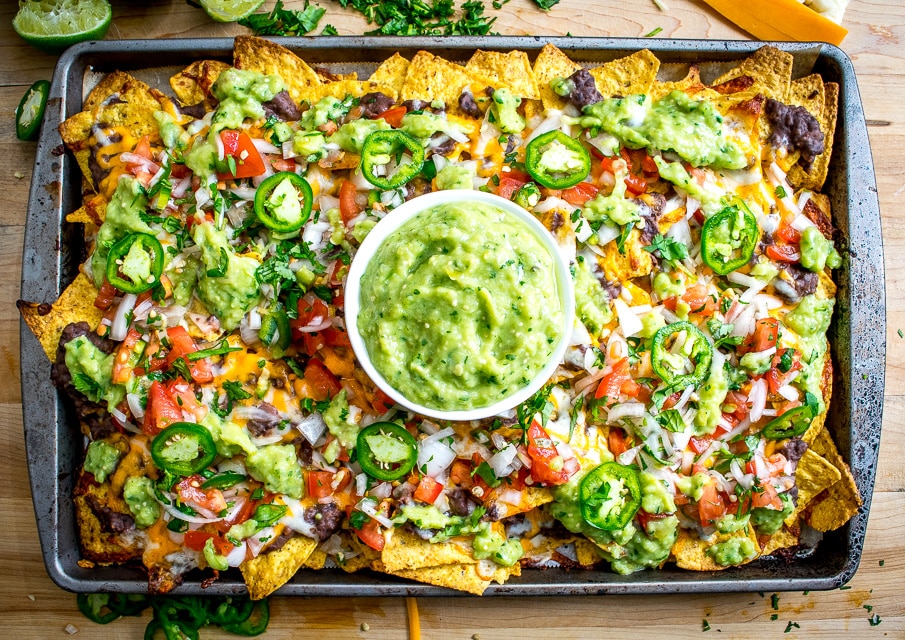 We're building this delight using the black bean puree that we covered in the Sides Module.  Have you made it yet?!
If not you're in for a treat.  I'll briefly go over how to make it and I'll put detailed instructions for it in the recipe box below.
Roughly chop 1/2 an onion and peel 2 garlic cloves.  Saute them in a dollop of oil over medium heat for 5-7 minutes.
Rinse and drain a single can of black beans and add it to the onion mixture, along with:
2 chipotles in adobo
1 Tablespoon adobo sauce
1/2 teaspoon cumin
1/2 teaspoon salt
freshly ground pepper
1/2 cup of water (or stock).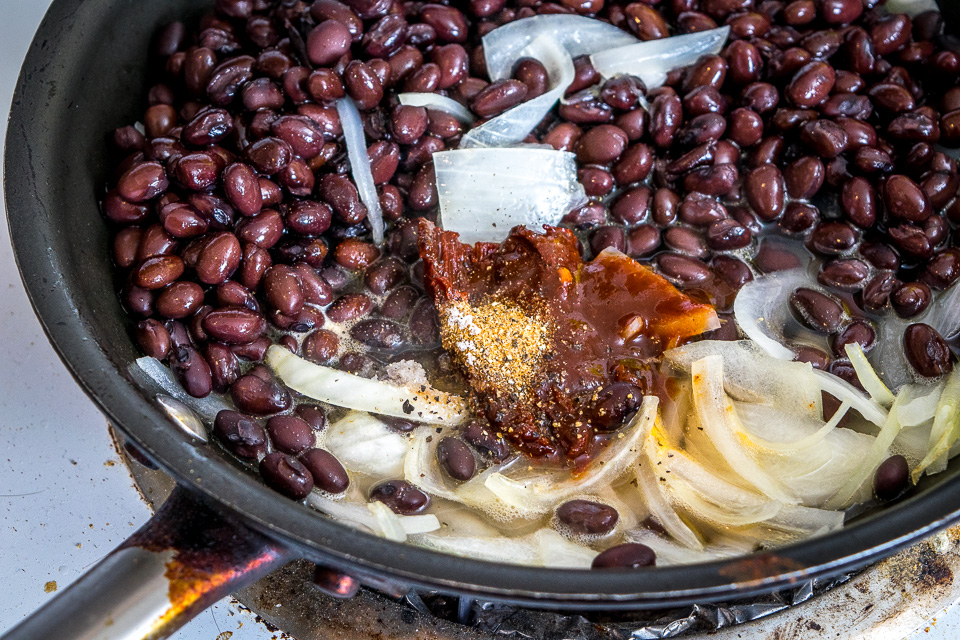 Simmer for 5-8 minutes and then combine it in a blender or food processor.   (Always use caution when blending warm ingredients.)
Take a taste for salt after combining.  I added another pinch to this batch.
You're left with a delicious bean puree that is capable of both drizzling and clinging at the same time.  If for any reason your batch comes out too liquidy (to cling to chips) then you can saute it over medium heat for a few minutes and it will reduce to a thicker consistency.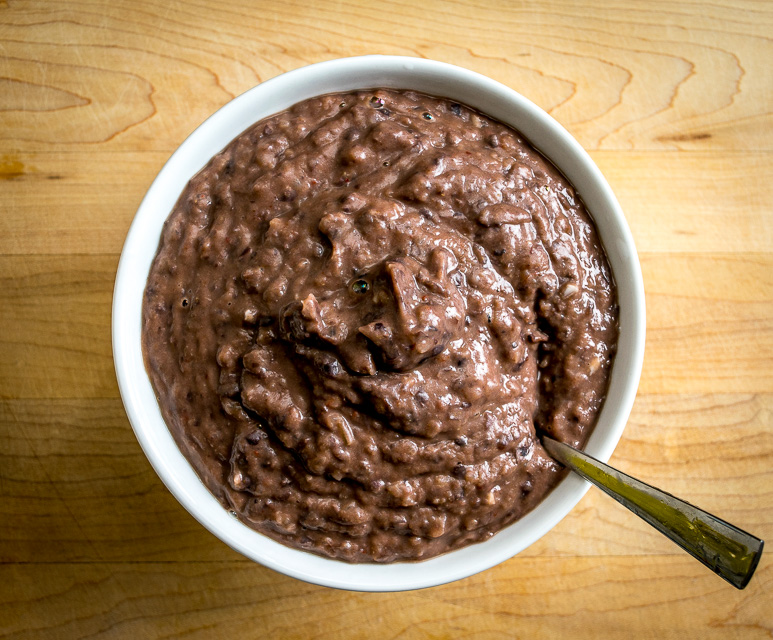 Don't eat it yet!
And note that using 2 chipotles in adobo creates real heat!  I tend to make this bean mixture extra spicy knowing that it will be diluted down by the chips and fixings.  Using only a single chipotle is a good option if you're not a huge fan of spicy foods.
After lots of research, I've found that double or triple layer batches of nachos quickly become a soggy mess.  Even though you'll have plenty of ingredients to make a mondo batch, we're going to make this recipe a single layer to help keep your chips intact -- with the added benefit of having enough for another single layer batch when you're done with the first!
Start by creating a dense, single layer of chips on a sheetpan.  Drizzle with some of the bean mixture and add a layer of cheese.  I'm using a mix of Monterey Jack and Cheddar.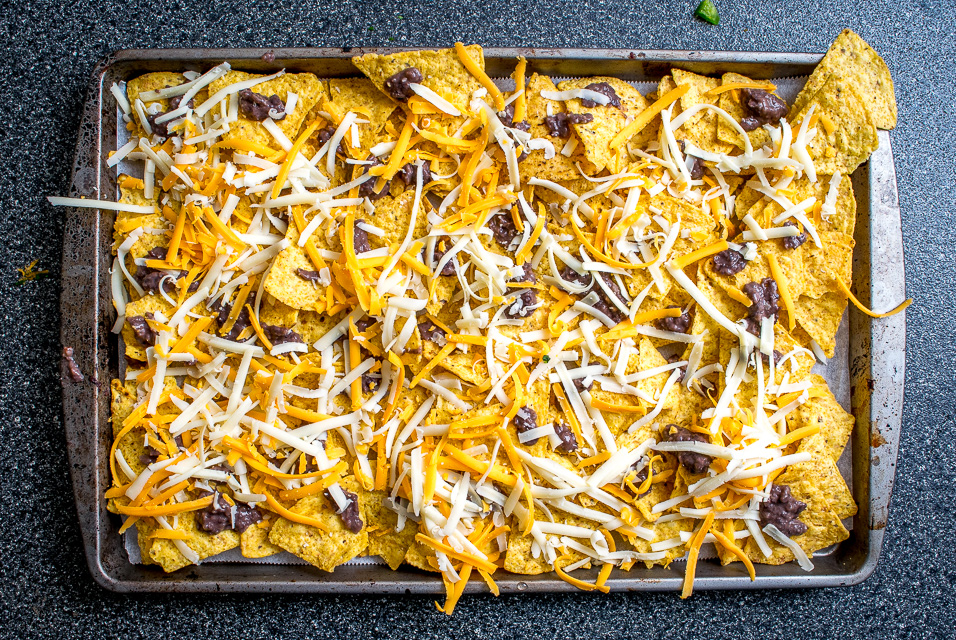 This gets baked in the oven at 400F for 5-7 minutes or until the cheese is thoroughly melted.
And now give yourself a quick pat on the back as all the hard work is done.  The combo of warm chips, melted cheese and spicy black beans is good enough to be eaten on its own and the rest is just a bonus that can be customized to your liking.
I think a fresh, cool Avocado Salsa Verde is the perfect complement to cheesy nachos so consider that a good option for a dipping sauce.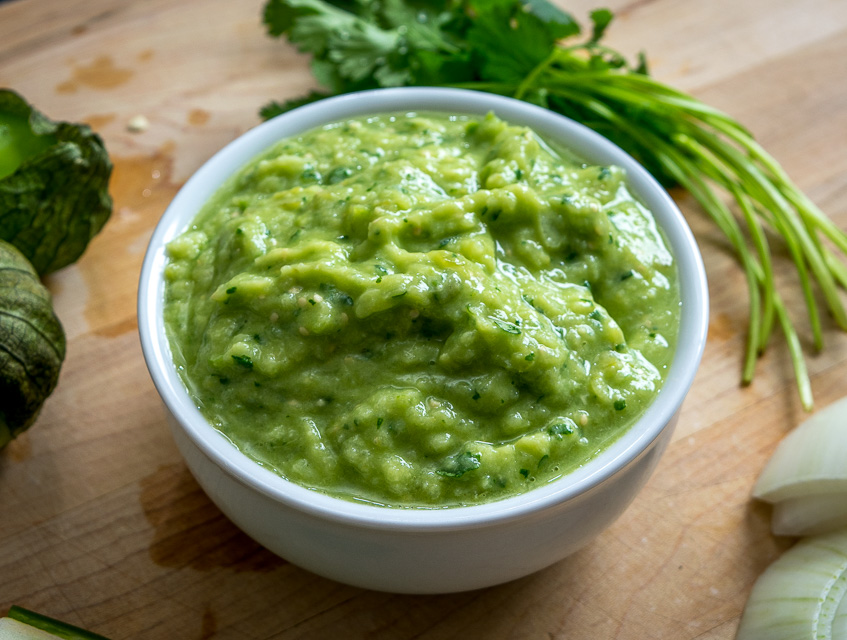 Additional garnishes, all of them optional, include tomatoes, jalapeno slices, avocado bits, cilantro, and Cotija cheese.
I combined a few of those options and made a quick double batch of our default Pico de Gallo recipe.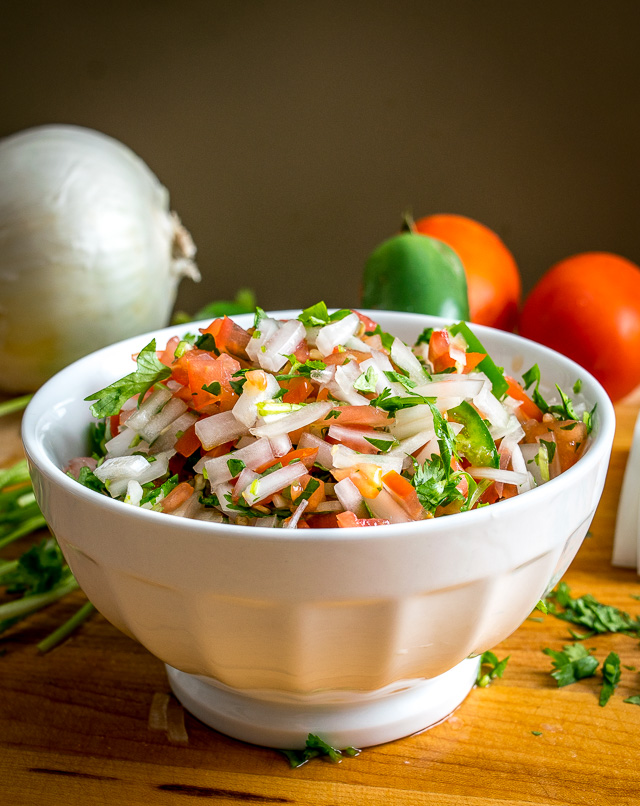 So this nachos version is topped with drizzled Avocado Salsa Verde, jalapeno slices, Pico de Gallo, and a sprinkling of cilantro.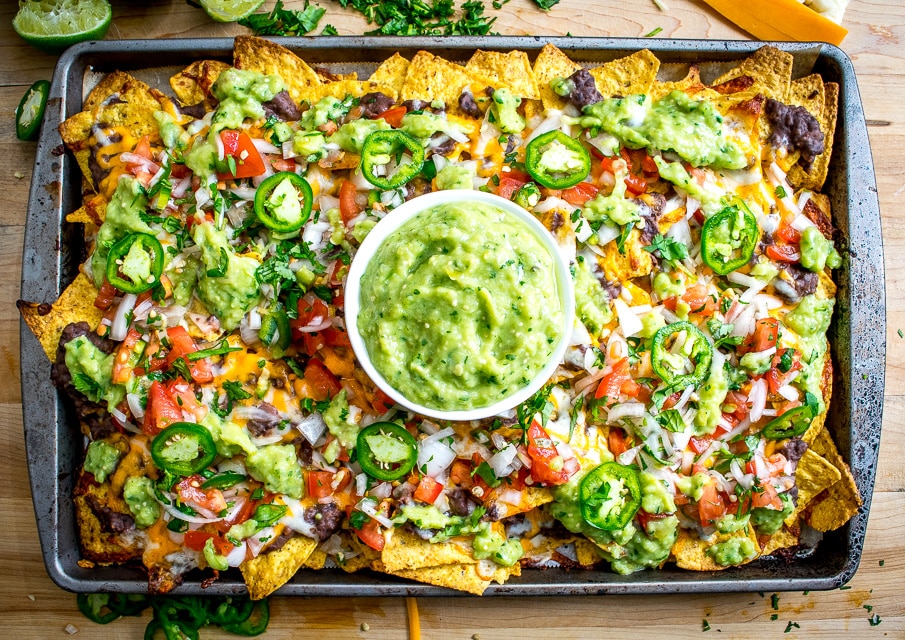 Nachos!
One last thing....
Keep the bowl of spicy black beans close by to give yourself the much-deserved option of double dipping, i.e. dipping the warm cheesy chips into both the beans and the Avocado Salsa Verde.  Because you deserve it.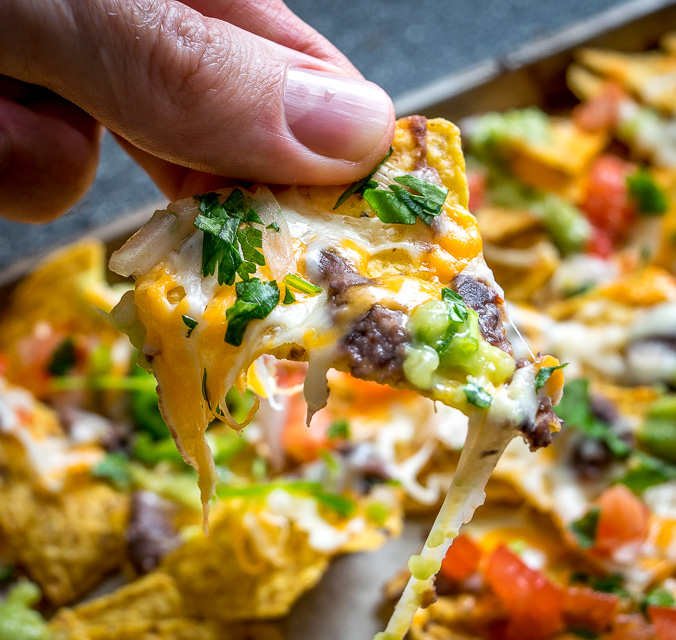 Okay, don't forget to try these nachos in a single layer the first time you make them.  I think they're much better that way and you'll have enough fixings for another round once the first one disappears.
And since this is the last recipe in this Module, click the 'Main Course - Quiz!' in the table down below to take the Quiz.  Good luck!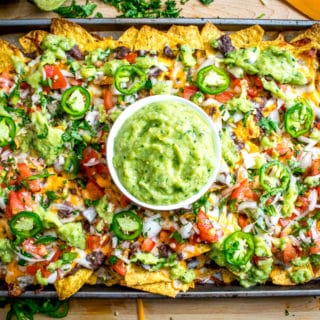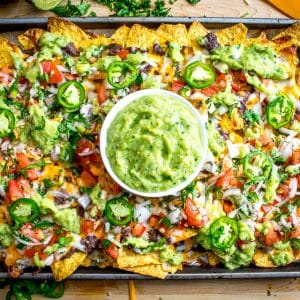 Spicy Black Bean Nachos
It's tough to beat the combo of warm tortilla chips, melted cheese, and spicy black beans. In other words, NACHOS!! Quantities listed are enough for two single layer sheetpans of nachos.
Print
Pin
Ingredients
1

can black beans

1/2

onion

2

garlic cloves

2

chipotles in adobo

1

tablespoon

adobo sauce

1/2

teaspoon

cumin

1/2

teaspoon

salt

freshly ground pepper

1/2

cup

water

(or stock)

1

bag tortilla chips

4-5

cups

shredded Monterey Jack cheese

oil

jalapeno slices

(optional)

chopped cilantro

(optional)
Avocado Salsa Verde
4

tomatillos

1/2

onion

1

garlic clove

1/2

jalapeno

10-12

sprigs cilantro

1

avocado

salt to taste
Pico de Gallo (ingredients for a single batch, but I doubled it)
1

tomato

1/4

onion

1/2

jalapeno

10-12

sprigs cilantro

juice of 1/2 lime

1/4

teaspoon

salt
Instructions
Roughly chop 1/2 an onion and peel 2 garlic cloves. Saute the onion and garlic in a dollop of oil over medium heat for 5-7 minutes.

Drain and rinse one can of black beans. Add the black beans to the onion mixture along with 2 chipotles in adobo, 1 Tablespoon adobo sauce, 1/2 teaspoon cumin, 1/2 teaspoon salt, freshly ground pepper, and 1/2 cup water (or stock). Simmer for a few minutes until heated through.

Combine the bean mixture in a blender or food processor. Salt to taste (I added another pinch for this recipe).

Shred 4-5 cups of Monterey Jack cheese. This is enough cheese for three single layer batches.

Add a dense, single layer of chips to a sheet pan. (You can line the sheetpan with foil or parchment paper if you want to make cleanup easier).

Drizzle some of the beans over the chips. Add a layer of cheese to the chips. Bake in the oven at 400F for 5-7 minutes or until all the cheese is melted.

Top with your favorite fixings and serve immediately.

This batch was drizzled with Avocado Salsa Verde and topped with Pico de Gallo, chopped cilantro, and jalapeno slices.

If you are making Avocado Salsa Verde, start by rinsing four fresh tomatillos. I usually cut out the stems too. Roast the tomatillos in the oven at 400F until cooked through and they start to turn army green.

Add the roasted tomatillos to a blender along with ½ onion, 1 garlic clove, 10-12 sprigs cilantro, and ½ of a jalapeno pepper. Pulse blend and taste for heat, adding the additional ½ of the jalapeno if you want more heat. Add the flesh of the avocado to the blender and combine well. Salt to taste.

If you are making Pico de Gallo, start by finely chopping the tomato, 1/4 onion, and 1/2 jalapeno into ¼" sized chunks. Finely dice the cilantro. Combine the tomato, onion, jalapeno and cilantro in a mixing bowl. Add ¼ teaspoon salt and the juice of a ½ lime. Mix together well and taste for seasoning. Add additional salt and lime if necessary.
Notes
Keep the beans close by so you have the option of dipping the chips in both the beans and the Avocado Salsa Verde.
Using two chipotles in adobo gives the beans real kick. If you want a milder version you can use a single chipotle or even 1/2 of a chipotle. Note that some of the heat will get diluted once you combine the beans with all the fixings, so my version tastes extra spicy right out of the blender.
Feel free to use cheddar cheese instead of Monterey Jack. Or both!
You can substitute a serrano for the jalapeno in the Avocado Salsa Verde.
Like this recipe?
Click the stars above to rate it or leave a comment down below! @mexplease