Okay, you've got some beans in the house and they are on the prowl for their preferred sidekick -- rice!
Like two seeds in a chili-pod, rice and beans go hand in hand on most Mexican plates.
Once you get comfortable making authentic Mexican Rice you'll always have the option of simmering a batch on the back burner while you focus on the main dish.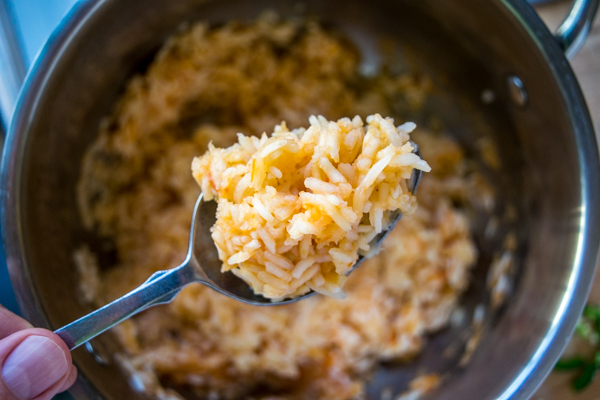 Keep in mind that in Mexico it's common to cook rice in stock.  If that's new to you please give it a try as it will vastly improve the flavor of your rice.
I've gotten in the habit of making my own chicken stock, but that's not required for this recipe.  Store-bought chicken stock, low in sodium, is a decent option for some home-cooked Mexican rice.
(Note:  sometimes local butchers or gourmet stores will sell homemade stock.  I keep an eye out for this and buy it when I can -- it's usually a step up in quality from the stock on the supermarket shelf.)
Arroz Rojo is the most common rice you'll find in Mexico so let's make a batch of that!
Here's all you need to make it: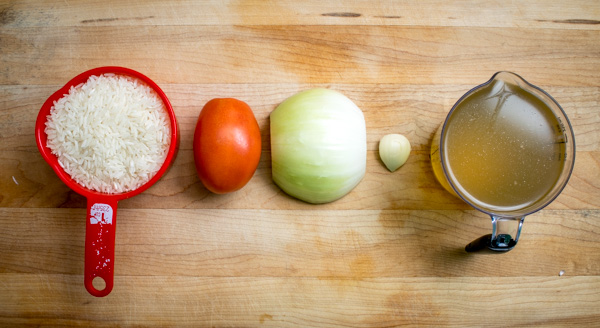 1 cup rice
1 tomato
1/2 onion
1 garlic clove
2 cups stock
1/2 teaspoon salt (plus more to taste)
1 tablespoon oil
Start by roasting the tomato in the oven for 15 minutes or so at 400F.  This will lower the acidity and make it sweeter.  It's not crucial to roast the tomato all the way because you've got an extended simmer coming up, so I usually just toss it in the oven until I need it.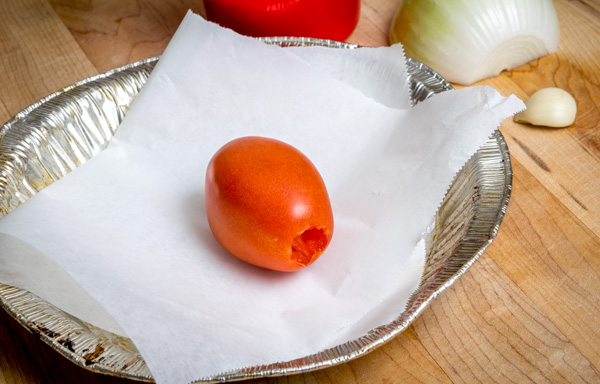 While the tomato is roasting, heat a dollop of oil in a saucepan on medium-high heat and add 1 cup of rice.
Stir frequently until the rice is opaque and turning light brown.  This pilaf style will prevent clumping and helps the rice absorb flavor.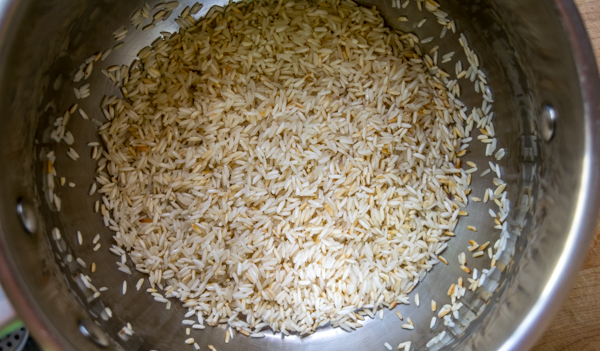 Put the roasted tomato in the blender along with the ½ onion and a single, peeled garlic clove.  If it won't blend right away you can add a couple tablespoons of the stock to get it started.
Add the puree from the blender to the rice and cook until some of the moisture from the puree is absorbed into the rice, 3-5 minutes, stirring regularly.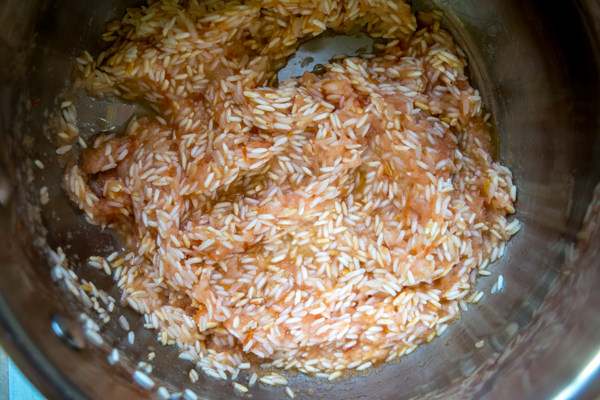 Add the stock to the rice along with ½ teaspoon of salt.
Note: Arroz Rojo is hyper-sensitive to salt amount.  Start by using ½ teaspoon at this point and consider adding more after cooking.  Getting the right amount of salt for your tastebuds takes some tasting (and it also depends on which stock you use).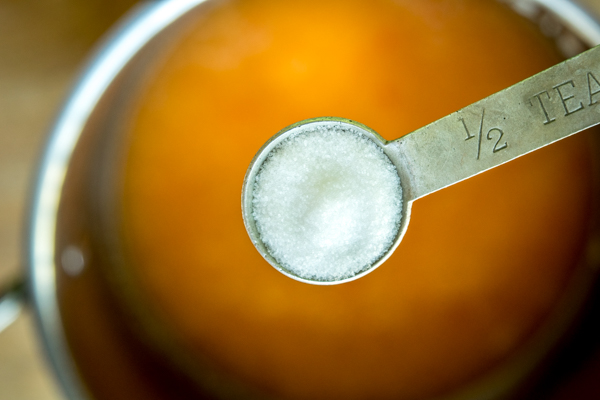 Stir well, bring to a light boil, and then let it simmer on medium-low heat until most of the liquid is absorbed into the rice.
Turn off the heat and cover, letting it rest in its own steam for 5-10 minutes.
Salt to taste.
It will come out looking like this: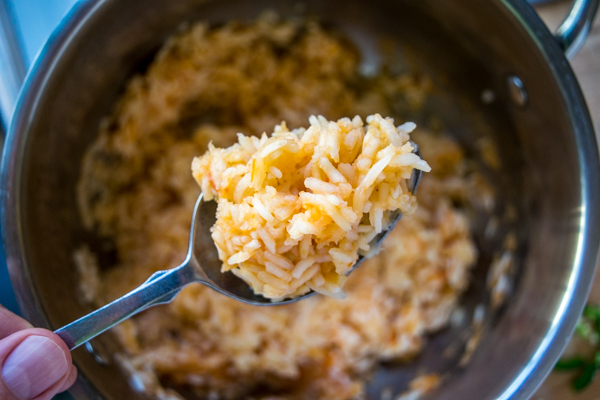 And it will taste delicious!
You'll be surprised how much flavor this unassuming spoonful of rice has, almost like it's saying "See, I told you so."
Turn this into your default version of Mexican Rice and you'll always have the option of serving it with your favorite dishes.  Just give it a backburner and it'll be there for you each and every time.
The other benefit of getting familiar with this style of cooking rice is that you can simply alter the ingredients in the puree and come up with a completely unique rice.  For example, instead of a tomato you can roast a poblano pepper and just like that you've got the beginnings of authentic Mexican green rice.
There's also one other option I want to mention that you can use in an emergency, but don't tell the abuelas because they will get mad at me.
If, like me, you always seem to have leftover homemade Salsa in the fridge, you can use that to flavor your rice.  Simply use 1 cup of Salsa (I use Tomato-Jalapeno Salsa) for each cup of rice, adding it at the same time you add the tomato puree in the Arroz Rojo.  It's remarkably convenient but you will get a drop in flavor compared to the more authentic version that we just detailed.
Okay, the recipe box for Arroz Rojo is below, you can print it out if you want to reference it in the kitchen.
Click the 'Mark Complete' button down below to be taken to one of my favorite Lessons in the Course -- Avocados and Guacamole!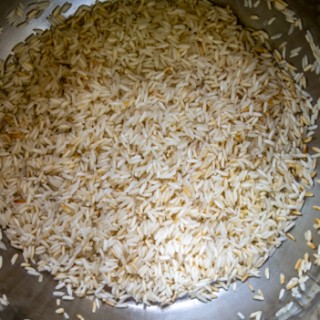 Arroz Rojo -- Simple Mexican Rice
This hands-off Mexican Rice wants to be your default rice for all your favorite Mexican dishes.
Print
Pin
Ingredients
1

cup

long grain rice

1

tomato

1/2

small white onion

1

garlic clove

2

cups

chicken stock

(or vegetable stock)

1/2

teaspoon

salt

1

tablespoon

oil
Instructions
Roast the tomato in the oven at 400F for 10-15 minutes

Add a dollop of oil to a saucepan on medium-high heat

Add the rice and stir frequently until opaque and golden brown

Add the roasted tomato to a blender along with the 1/2 onion and garlic clove

Pulse blend. Add a couple tablespoons of stock if it won't blend at first

Add the tomato puree to the rice and saute for a few minutes

Add the stock and 1/2 teaspoon salt

Stir well

Bring to a light boil, then simmer on medium-low heat until most of the liquid is absorbed

Turn off heat, cover, and let sit in its own steam for 5-10 minutes

Salt to taste
Notes
Try to use the highest quality stock you can get your hands on.  (Note: the stock article is not part of the Cooking Course and will contain ads.)
This dish is hypersensitive to salt amount so it takes some tasting to get it right for your tastebuds.
Like this recipe?
Click the stars above to rate it or leave a comment down below! @mexplease