Poblano peppers deserve their own Module, no joke.
They have the ability to instantly transform your kitchen -- and I mean that literally as the smell of roasting poblanos will turn your kitchen into the world's strongest human magnet.
They have a unique flavor that can't be duplicated by other chili peppers, so if they aren't part of your regular shopping list, they will be soon!
And once you learn a few tricks, they are incredibly easy and rewarding to work with.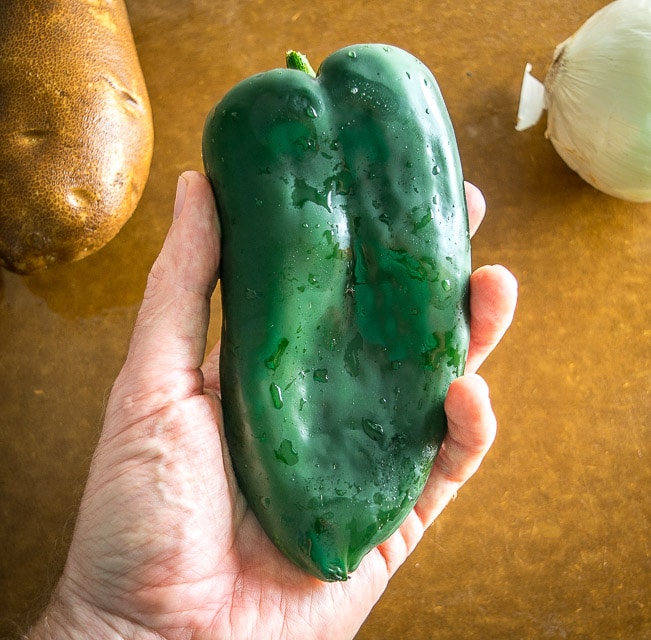 These days, most supermarkets will stock poblanos in the produce section.   Sometimes you'll find them next to the standard bell peppers, and sometimes you'll find them across the aisle next to the jalapenos.
Keep in mind that you'll frequently see them mislabeled as Pasilla peppers.  No one really knows how this started but it is surprisingly common to see this mistake in the States -- Pasillas are dried Chilaca chiles and are completely different than Poblanos.  So if they look like Poblanos, most likely they are.
Buy the ones that have taut, dark green skin.  If the skin is wrinkled they won't be as flavorful.  Store them in the fridge in a plastic bag or Ziploc.
Here's how poblanos look next to your other new best friends, jalapenos and serranos, with their accompanying Scoville rating.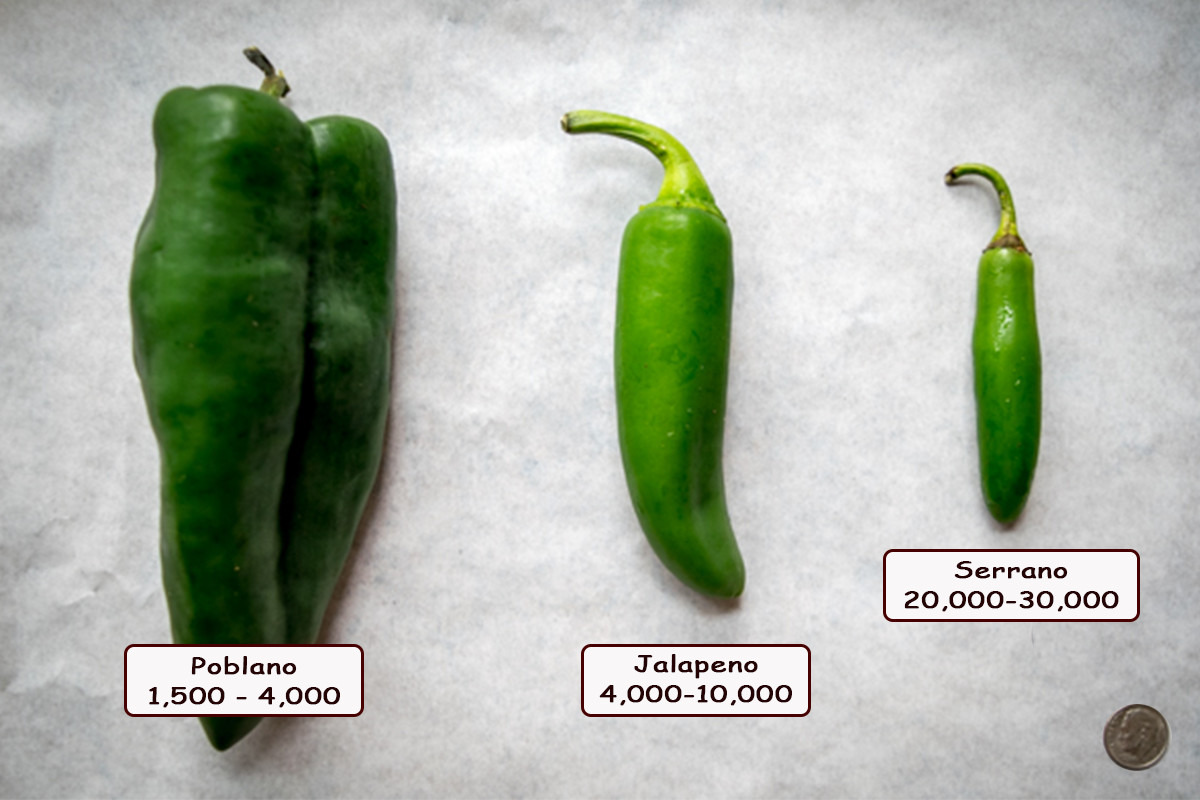 Note how mild the poblanos are compared to the other peppers.  Good to know right?
That's why you'll never see a recipe asking you to add poblano for heat.  Instead, they are used primarily for their flavor.
The key to getting authentic flavor from your poblanos is to roast them.  Roasting the poblanos will create a rich, complex flavor that raw poblanos can't match - and it's a flavor you won't find anywhere else in the world!
There are many ways to accomplish this:  on a grill, directly over a gas flame, in a skillet, or in the oven.  As usual, the common denominator is sustained HEAT.
The easiest method is to throw them in a 400F oven for 20-30 minutes.  That's what I usually do.   Simply give them a rinse and plop them in the oven.  Here's what they'll look like after 10-15 minutes: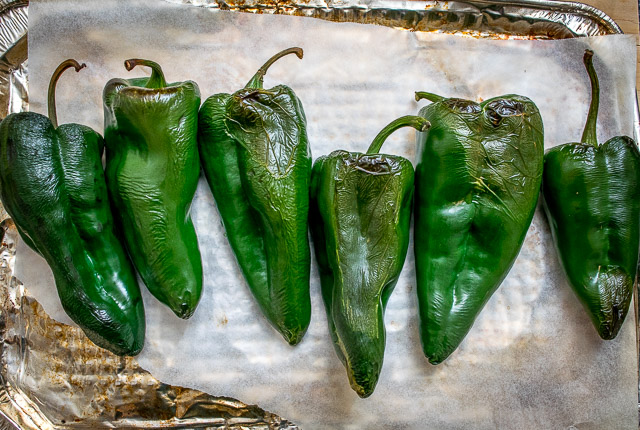 I usually flip them over when they're halfway through the roasting period, but this isn't a crucial step so don't sweat it if you forget to flip them.
Here's what they'll look like after 30 minutes.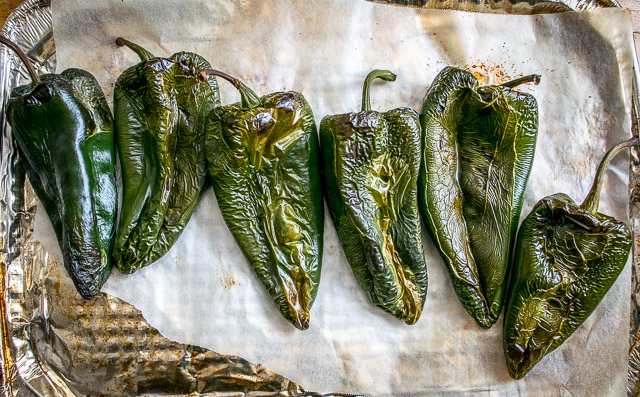 See all the charred, loose bits of skin?  Once the peppers cool down, use your hands to pull off as much of that skin as you can.
The skin won't affect the flavor too much so don't worry about getting rid of every last piece.  However, the skin can affect the texture of the final dish so it's usually best to get rid of most of it (especially if you're not blending the poblanos into a sauce.)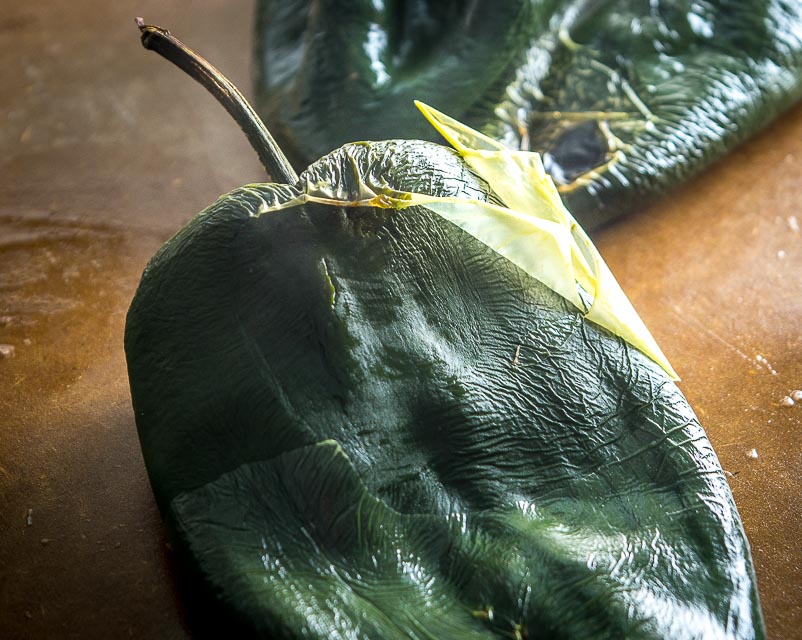 Some home cooks will even put the peppers in a sealed Ziploc bag to steam them up and make skin removal even easier.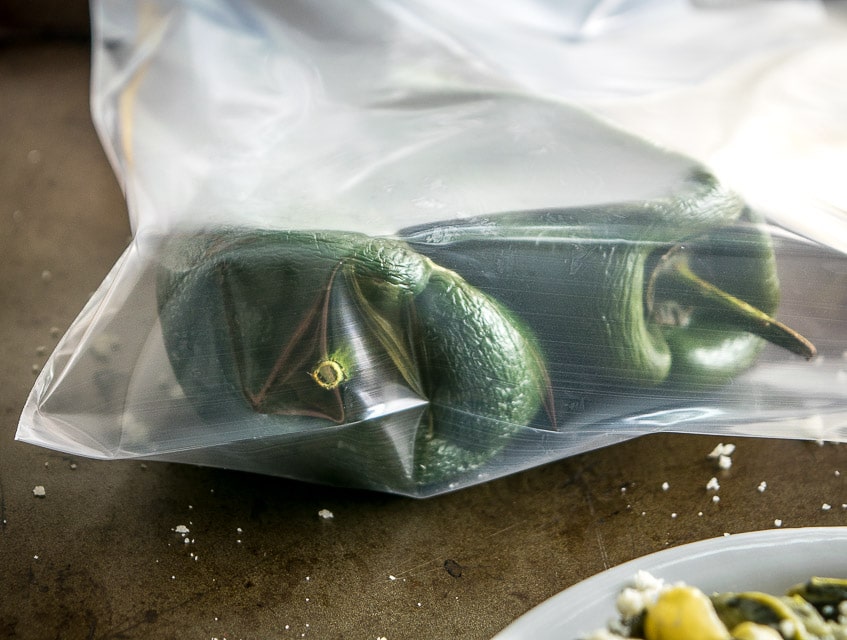 I used to do this but it's not a regular part of my routine anymore.  Since the skin doesn't affect flavor too much, I simply pull off as much as I can and don't worry too much about any remnants.
There is one other benefit to roasting poblanos...
It will make your house smell like a dream!  It's one of the quickest ways to get peeps in your kitchen, so consider yourself warned!
Okay, got your poblanos handy?  Let's take a look at some of the recipes you can make once your kitchen is stocked with these beauties.   In the Module table below, simply click on the first recipe (Roasted Poblano Quesadilla) to get started.