This Roasted Poblano Quesadilla  is the perfect example of poblano peppers creating flavor that you simply won't find anywhere else.
Yes, we're loading up these quesadillas with beans, cheese and fresh cilantro, but it's the poblanos that will keep you coming back to this dish.
Ready to get cookin'?!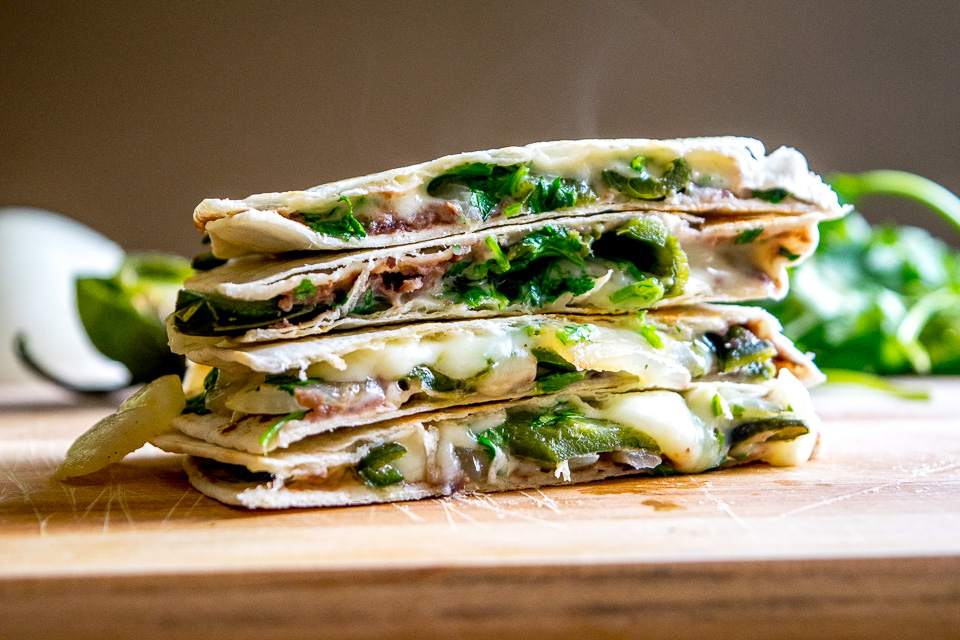 We'll start by rinsing off two poblanos and then roasting them in the oven at 400F.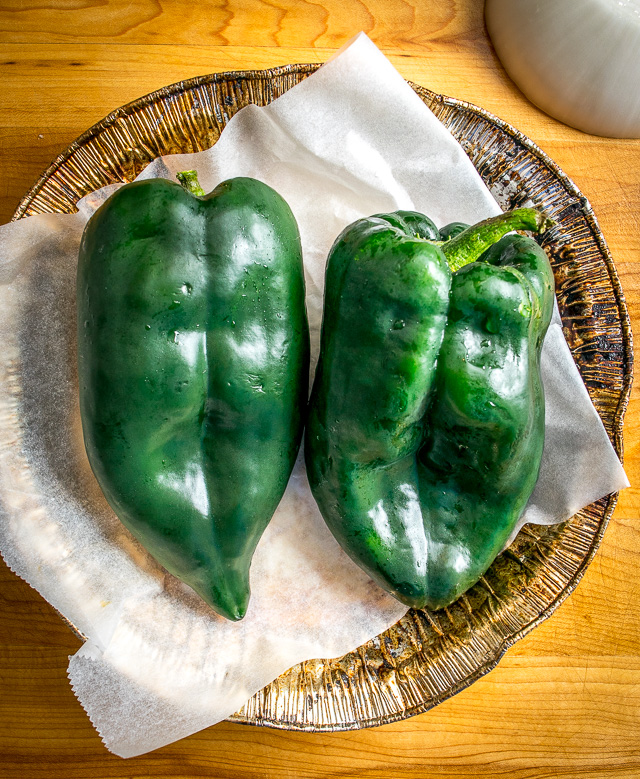 In about 25-30 minutes the skin will be peeling off and they'll be slightly charred  (and infinitely more delicious!).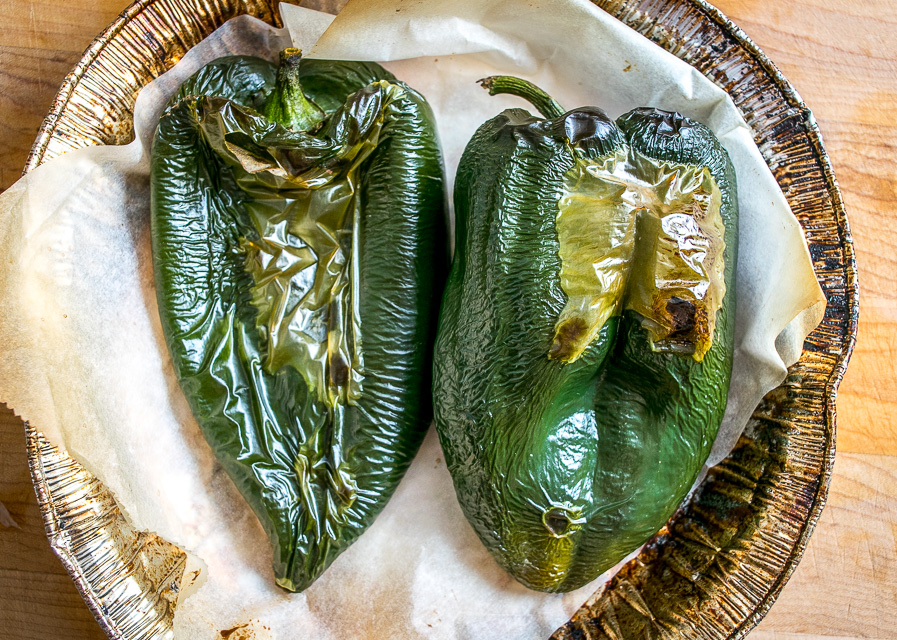 Remove them from the oven and let 'em cool down.  Then pull off and discard as much skin as you can.
We'll also cut off the stems and de-seed the poblanos.   You can use a knife to scrape out the inner veins and seeds, they usually come out quite easily.
Next, chop the poblanos into thin strips, and if it was a larger pepper you can cut them in half so that you have "bite-sized" pieces.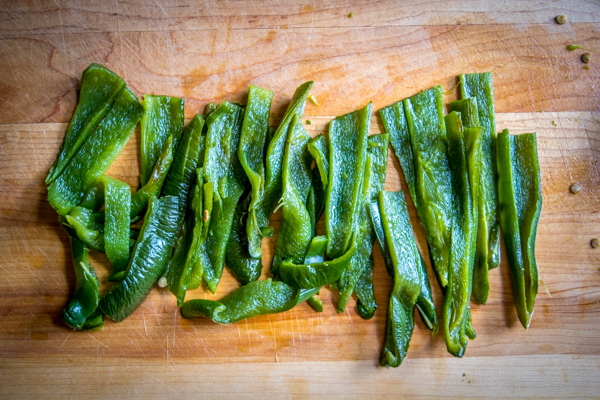 Meanwhile, roughly chop 1/2 an onion and saute on mediumish heat in a dollop of oil.
Once the onion is tender (4-6 minutes) add the poblano strips to the skillet along with a healthy dash of salt and freshly ground pepper.  Saute on medium heat for a few minutes.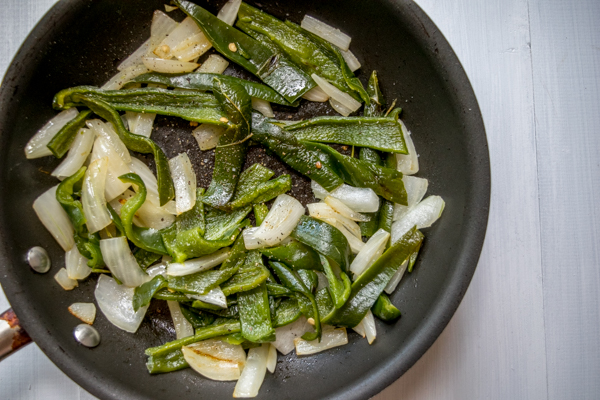 Your quesadilla building station will have the following components:
1 cup refried beans
the poblano-onion mixture
shredded cheese
freshly chopped cilantro
For this batch I shredded 2 cups of Monterey Jack cheese and chopped 1/2 a bunch of cilantro.  You can get by with canned beans for this recipe as you'll be getting most of the flavor from the poblanos.
We'll add ingredients to only half of the flour tortilla so that we can fold it onto itself; they cook easiest this way.
Each tortilla gets a layer of beans, cheese, poblano-onion mixture, cilantro, and a final layer of cheese.  (I usually warm up the tortilla in the skillet for 30-60 seconds before adding ingredients to it.)
Fold the tortilla onto itself and cook in a dry skillet over medium heat until each side starts to turn golden brown.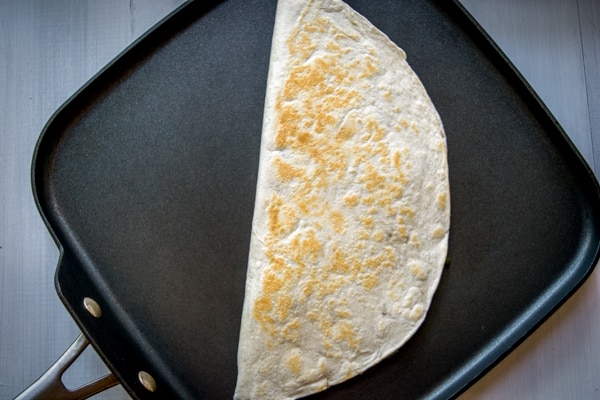 And that's it!  Easy right?
Chop it in half and chow down!
These poblano quesadillas are good enough to be eaten on their own, but since you're looking at 25-30 minutes to roast the poblanos you've got time to build a freshly made Salsa to dip the quesadillas in.
I think they go well with Avocado Salsa Verde but you can serve them with any of the homemade Salsas that you are now an expert at making.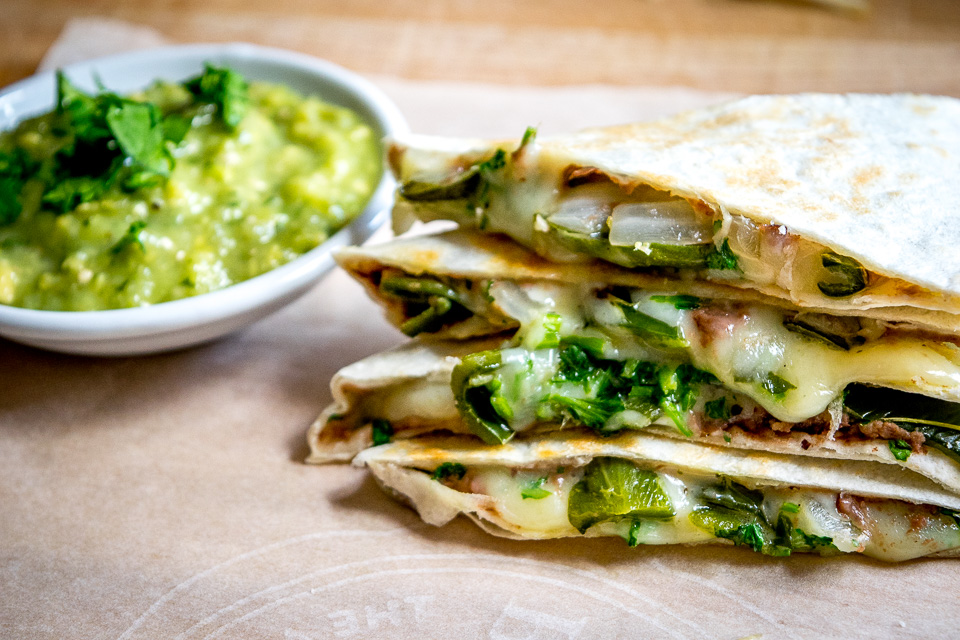 Don't forget, roasting the poblanos is the most important step!  It's all downhill from there.
Okay, the recipe box for these quesadillas is below.  I'll also include instructions for the Avocado Salsa Verde if you want to make it with these quesadillas.
Next up we'll use these poblanos to make some soup!  Don't forget to click the 'Mark Complete' button to move on to the next recipe.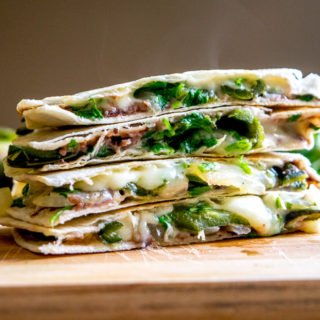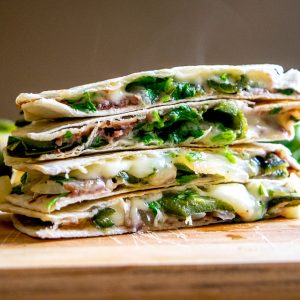 Roasted Poblano Quesadillas
This Roasted Poblano Quesadilla recipe is a great example of the rich, otherworldly flavor that Mexican cuisine can generate by using just a few simple ingredients. And it's served with Avocado Salsa Verde!
Print
Pin
Servings:
2
-3 quesadillas
Ingredients
2

poblano peppers

1/2

onion

3-4

flour tortillas

1

cup

refried beans

2

cups

shredded Monterey Jack cheese

1/2

cup

chopped cilantro

approx 1/2 a bunch

salt

freshly ground pepper
Avocado Salsa Verde
4-5

tomatillos

1

serrano (or jalapeno)

1/2

onion

1

garlic clove

10-12

sprigs cilantro

1

avocado

salt to taste
Instructions
Start by rinsing 2 poblano peppers. Roast the poblanos in the oven for 25-30 minutes at 400F.

If you are building the Avocado Salsa Verde, you can also roast 4 tomatillos in the same pan as the poblanos. But remember that the tomatillos will need less time roasting. Take them out when they start to turn army green, approx 10-15 minutes.

Add the roasted tomatillos to a blender along with 1/2 onion, 1 garlic clove, 10-12 sprigs cilantro, and 1/2 of a serrano pepper (or 1/2 of a jalapeno pepper). Pulse blend and taste for heat, adding the additional 1/2 of the serrano (or jalapeno) if you want more heat. Add the avocado to the blender and combine well. Salt to taste.

Once the poblanos have roasted, let them cool and then pull off any loose bits of skin, but don't worry about getting rid of every last piece.

De-stem and de-seed the poblanos, cutting them into thin, bite-sized strips.

Saute 1/2 an onion in a dollop of oil over medium heat. When the onion is tender (4-6 minutes) add the poblano strips along with a generous pinch of salt and some freshly ground pepper. Let this mixture saute for a few minutes.

Heat up a wide skillet over medium heat. Warm up the tortillas before building the quesadillas (I usually give them 30-60 seconds in the skillet right before building).

Each quesadilla gets a layer of refried beans, cheese, poblano-onion mixture, cilantro, and cheese. Fill only half of the tortilla so you can fold it onto itself.

Cook the quesadillas for 2-3 minutes per side or until the cheese is melted and they start to turn golden brown.
Notes
You can get away with using canned beans for this recipe because you'll be getting most of the flavor from the poblanos.
Flipping the poblanos halfway through the roasting period will give them a more even char.
Like this recipe?
Click the stars above to rate it or leave a comment down below! @mexplease