I'm always amazed at the flavor of this simple broth so I've started calling it Souper Broth 🙂
It's the base for Chicken Tortilla Soup and Albondigas Soup, but I'll be honest with you...sometimes I don't get that far and I just eat the broth on its own because it's so satisfying!
It can lead to all sorts of quick meals so I hope you give it a go at some point.
How To Make Souper Broth
Of course, one of the hidden keys is the stock you use to make it. I'm a big fan of this Better Vegetable Stock so that's what I'm using for this batch.
You don't have to use homemade stock every time you make this broth, but I think it's worth it at some point just to get a glimpse of its full potential.
I keep 4 cup containers of the veggie stock in the freezer and pulled one out for this batch.
We'll start by roasting the tomatoes. This will sweeten them up and enhance their flavor so please don't skip this step!
I usually just put them in the oven (400F) for 20 minutes or so:
As the tomatoes roast you can roughly chop an onion and peel 3 garlic cloves -- it's okay to leave the garlic cloves whole as all of this will be blended together eventually.
Cook the onion and garlic in some oil over medium heat:
Once the onion is starting to brown you can add the mixture to a blender.
And when the tomatoes are roasted you can plop them in as well.
Give it a good whirl and then cook this mixture in some oil over medium heat for a few minutes.
Then we'll add:
4 cups of stock
1/2 teaspoon of salt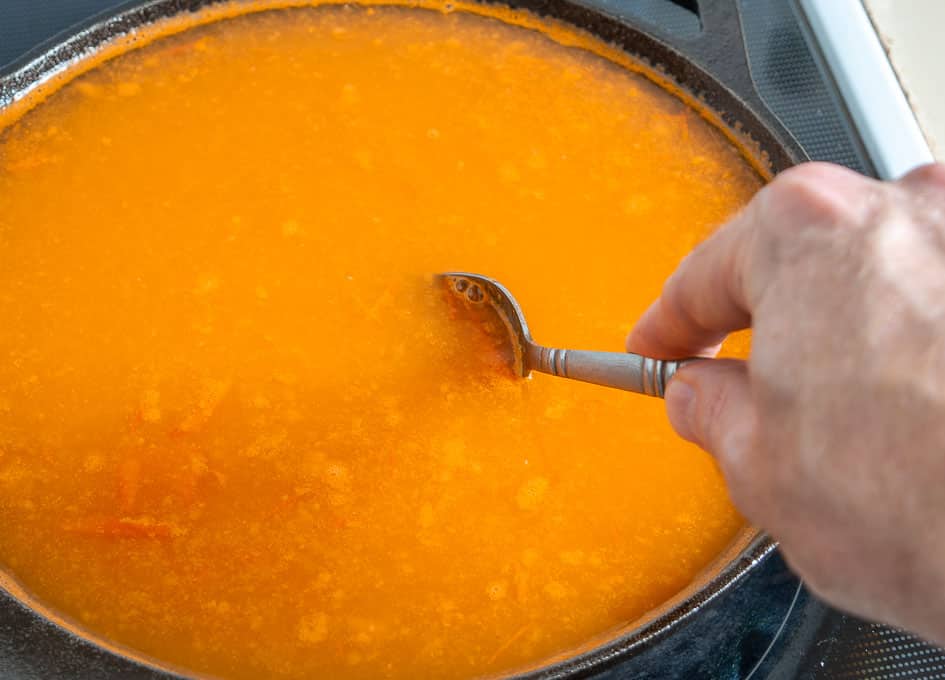 Bring this up to temp and say hello to Souper Broth.
It tastes surprisingly complete, so don't let the tiny ingredient list fool you!
You can salt to taste, but keep in mind that salt level will depend on which stock you're using. Feel free to start small if you're using store-bought stock as those tend to be higher in sodium.
This Souper Broth is the base flavor for a wicked batch of Chicken Tortilla Soup.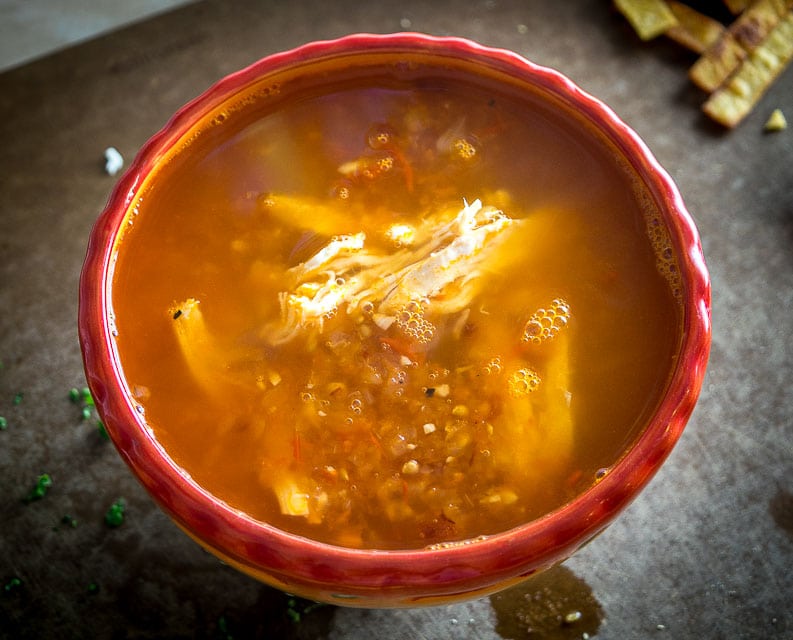 It's also the starting point for this zucchini and corn soup (Calabacitas).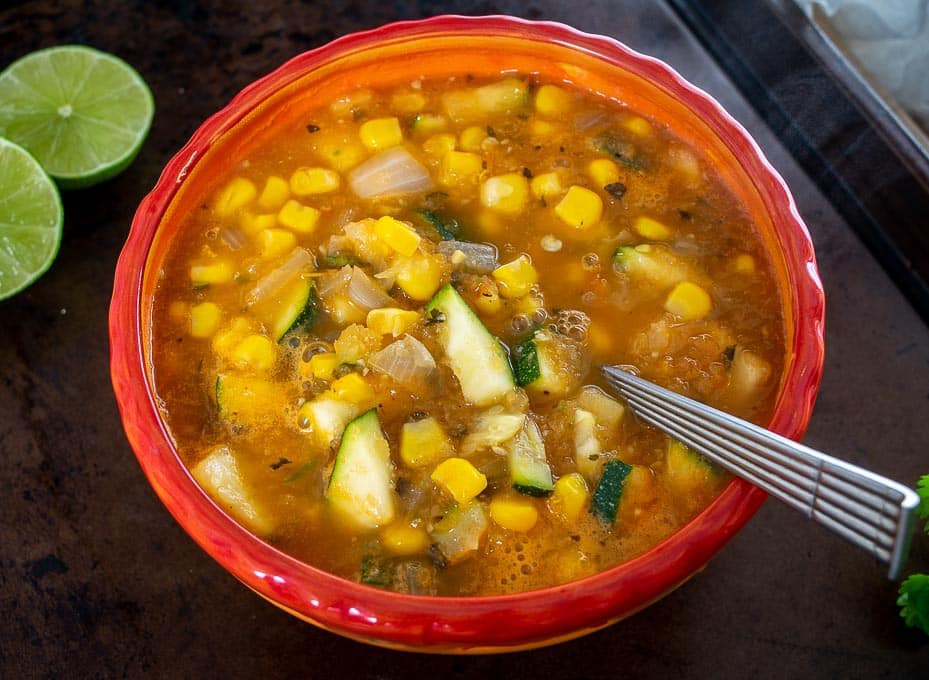 And for this classic Albondigas Soup as well: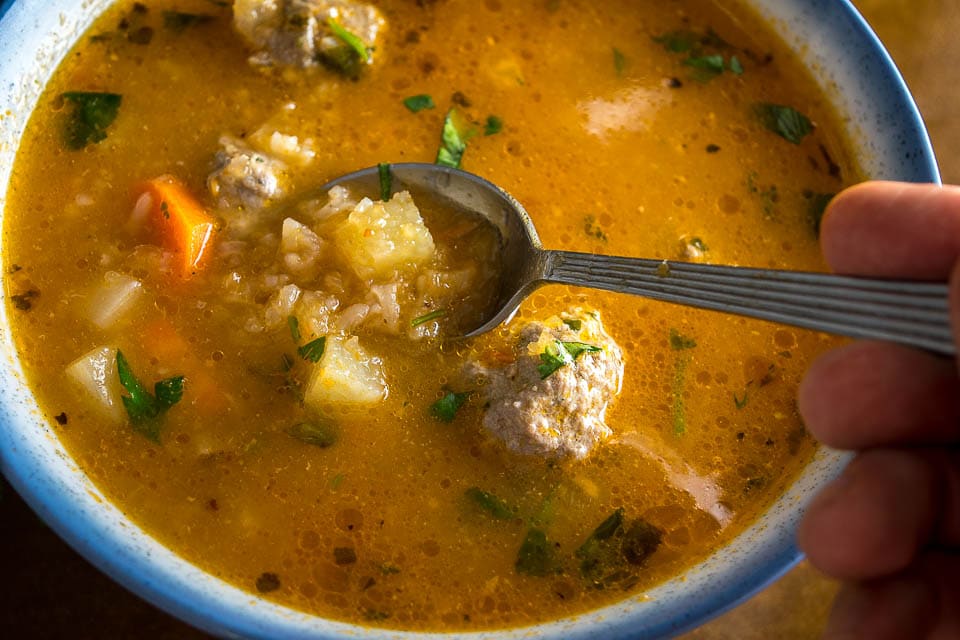 But as I mentioned, sometimes I don't get that far and I'm content with a simple bowl of the Souper Broth 🙂
Alongside some crispy, cheesy corn tortillas stuffed with refried beans 🙂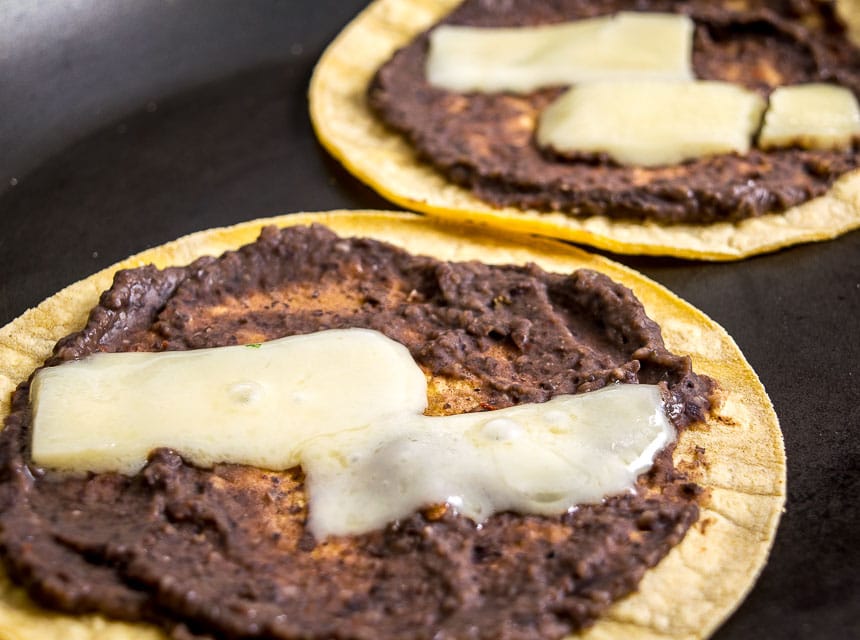 This is simple, clean cooking and I still get blown away by the flavor of this broth when it makes an appearance in my kitchen.
I hope you decide to give it a try at some point! It's a great way to expand your repertoire and it will lead to all sorts of Souper meals.
Buen Provecho.
For up-to-date recipes follow me on Instagram, Facebook, or Pinterest.
Souper Broth
This is the world's easiest broth to make and it's super satisfying on its own.  You can also use it to make a wicked Chicken Tortilla Soup. 
Print
Pin
Rate
Ingredients
3-4

plum tomatoes

1

onion

3

garlic cloves

4-5

cups

stock

1/2

teaspoon

salt (plus more to taste)

olive oil
Instructions
Give the tomatoes a good rinse and roast them in the oven (400F) for 20 minutes or so. I usually de-stem them knowing that any juices leftover in the roasting pan will go in the blender.

Peel and roughly chop an onion. Peel 3 garlic cloves. Saute the onion and garlic in a glug of oil over medium heat. Cook until the onion is starting to brown. I usually just leave the garlic cloves whole.

Add the cooked onion-garlic mixture to a blender along the with the roasted tomatoes. Combine well.

Return the mixture to the same pan you cooked the onion in and cook for a few minutes over medium heat.

Add 4-5 cups of stock and 1/2 teaspoon salt. Combine well and bring it up to temp over medium heat. Salt to taste and serve immediately.
Notes
I always recommend trying this Souper Broth with homemade stock at least once!   I used this homemade veggie stock. 
I usually serve this with crispy, cheesy tortillas.  Simply add cheese to half of a corn tortilla in a dry skillet over medium heat.  Cook until the cheese is melting, then fold in half and cook each side until there are light brown spots forming on the tortilla.    
This Souper Broth is the flavor base for the following soups:
Chicken Tortilla Soup
Albondigas Soup
Calabacitas Soup
Sopa de Fideo
Like this recipe?
Click the stars above to rate it or leave a comment down below! @mexplease
Want to see the latest recipe? It's these Cheese and Onion Enchiladas.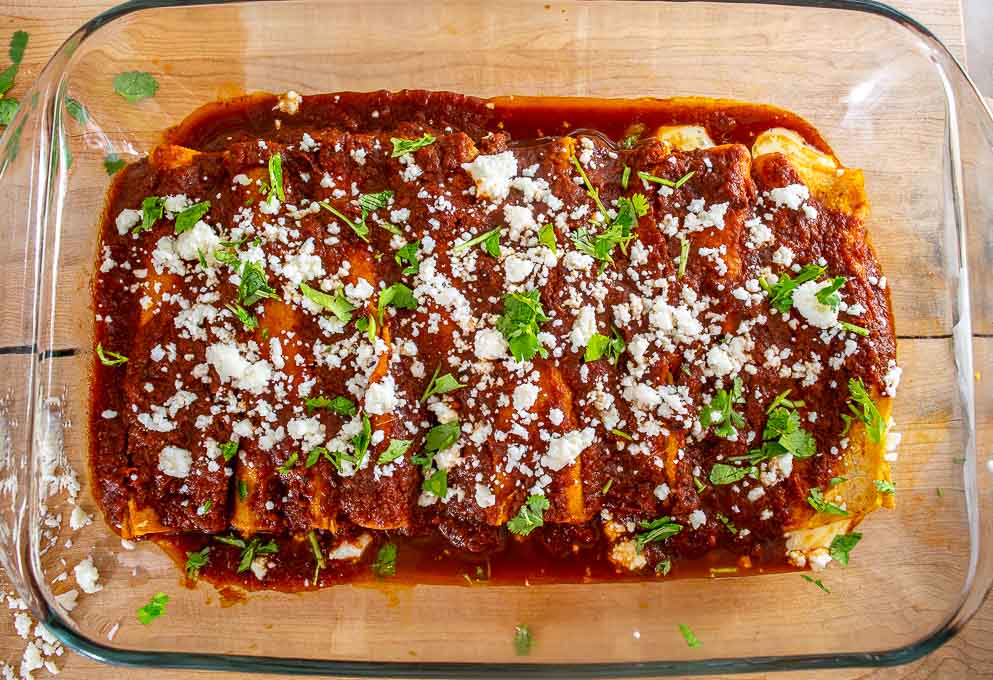 Still hungry?!
Want to receive Mexican Please recipes via email when they are posted?  Sign up below to subscribe.  All recipes are spam free.