A typical Queso Fundido recipe is reserved for big occasions:  birthdays, Superbowls, the Fourth of July.
It's best eaten within minutes of completion and it usually takes a crowd to accomplish this when there's a dish full of melted cheese coming out of the oven.  Then add in that melted cheese doesn't exactly store well and you've got a specialty dish that rarely makes its way into the day to day grind of making dinner after work.
But this Single Serving Queso Fundido doesn't want to wait around for a holiday or special occasion.  It wants to turn a normal, run-of-the-mill day into a celebration of its own.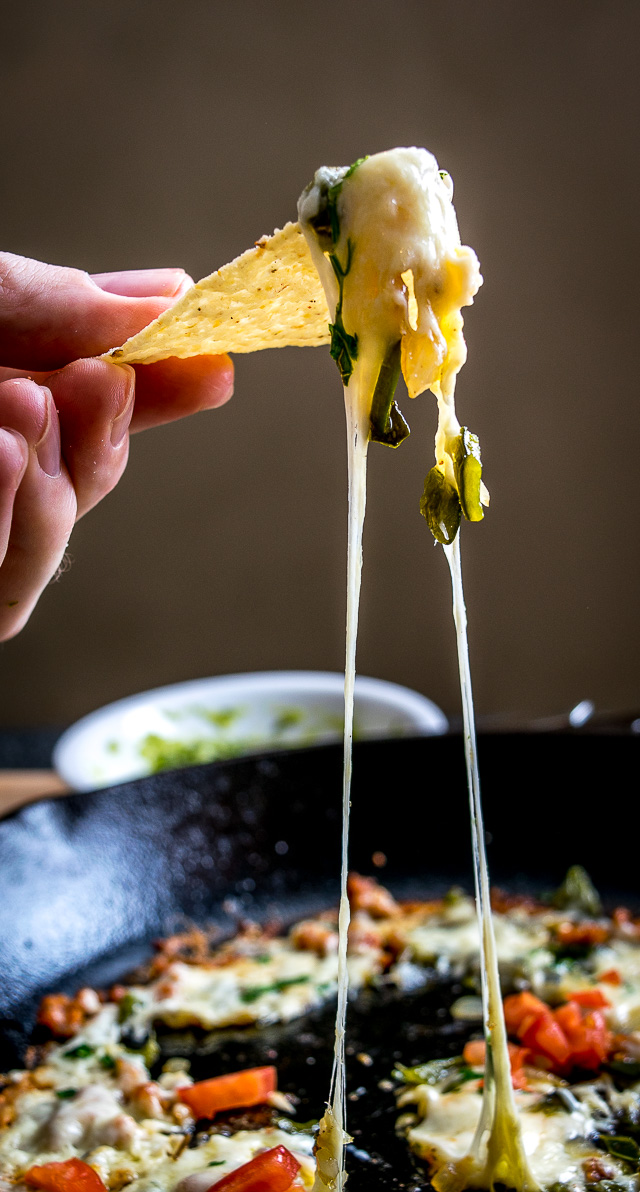 And the good news is that your kitchen probably has all the fixings sitting around just waiting to celebrate.  There's wiggle room on the ingredients so you are about 15 minutes away from much-deserved gooey melty cheesiness.
Single Serving Queso Fundido Recipe
Whereas most Queso Fundido recipes add layer upon layer of cheese and ingredients to the mix, the idea here is to create a single layer that is best served for 1-2 people.
Poblano peppers work great here and they also afford an opportunity to make an on-the-fly puree that we can use as a topping sauce.  We'll start by roasting a single poblano in the oven at 400F.
Saute a bit of chorizo while the poblano is roasting. (Note:  you can omit the chorizo if you want a veggie version instead).  This is about 1/3 of a chorizo sausage link.  Set aside when cooked.
I have Mozzarella and Oaxaca cheese in the fridge so I'll use those, but you can use just about any melting cheese you want.  Monterey Jack is a good option too.
This is a generous 1/2 cup of both Mozzarella and Oaxaca cheese:
After 10 minutes or so the poblano will be mostly roasted:
If there are charred bits of skin you can pull those off, but don't worry about getting every last bit.
Chop up 2-3 tablespoons of onion and poblano, this will be about 1/3 of the poblano.  We'll save the other 2/3  of the poblano to make the puree.
Saute the onion for a couple minutes in a dollop of oil and then add the poblano and generous dashes of salt and pepper.
Add the chorizo.  Once everything is at a uniform temp you can add the cheese.
This will go in the oven at 400F for about 4-8 minutes.  (If you don't want to use an ovenproof skillet you can transfer everything to a baking dish.)
While the cheese is melting, you've got time to make an on-the-fly poblano puree.
Add the leftover poblano, 1 garlic clove, and a 1/4 sliver of jalapeno to a blender along with 2-3 tablespoons of stock (or water).
Pulse blend and salt to taste.
This will create a sharp, concentrated puree with the rich flavor of roasted poblanos and some zip from the jalapeno.  Since we're not diluting the sauce with onion or tomatillos, the result is more of a topper sauce that's best used a few drops at a time on each bite.
Don't forget to keep an eye on the cheese!  It's probably best to take it out a few moments before it looks done because it will keep cooking a bit longer in the hot dish.  This batch was in the oven for about 5 minutes.
This wants to be eaten now, as the cheese will toughen up once cooled.
Serve with your choice of chips or some warmed up tortillas.
And don't forget about your topper sauce!  When cheese gets hot and melty it tends to dominate the other flavors.  Adding a bit of the puree to each bite really brings out the flavor of the poblanos.
You can garnish with cilantro and tomatoes if you want.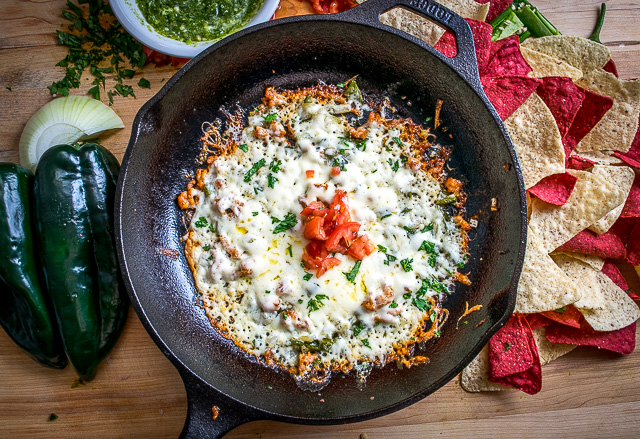 And don't forget to keep track of your personal record for cheesy string distance between serving dish and chip:
Buen Provecho.
Single Serving Queso Fundido
Instead of being limited to "group appetizer" status, this single serving Queso Fundido is designed to be a quick meal.
Print
Pin
Rate
Ingredients
1

poblano pepper

1

onion

1

chorizo link

(optional)

1-2

cups

cheese

(Mozzarella, Monterey Jack, or Oaxaca)

1

jalapeno

1

garlic clove

chips

(or tortillas)

stock

(or water)

salt

freshly ground pepper

oil
Instructions
Roast the poblano in the oven at 400F for approx. 10-15 minutes

Saute the chorizo until cooked and set aside. I used 1/3 of a link for this batch.

Shred 1-2 cups of cheese

Dice 2-3 tablespoons of both onion and the roasted poblano, reserving the leftover poblano

Saute the onion in a dollop of oil for a couple minutes

Add the poblano to the skillet along with generous dashes of salt and pepper

Add the chorizo and cook until everything is at a uniform temp

Add the cheese and create a single even layer (using an ovenproof skillet or a baking dish)

Bake in the oven at 400F for 4-8 minutes

Meanwhile, add the leftover poblano and garlic to a blender along with a 1/4 sliver of the jalapeno

Add 2-3 tablespoons of stock (or water) and pulse blend. Salt to taste and set aside.

Remove dish from oven when cheese is just finishing melting

Serve immediately with your choice of chips or warmed up tortillas

Garnish with cilantro and tomatoes (optional)
Notes
The cheese will continue to cook in the baking dish after being removed from the oven. Keep an eye on it and take it out just before it's finished melting.
You can omit the chorizo if you want to make a vegetarian version.
Like this recipe?
Click the stars above to rate it or leave a comment down below! @mexplease
Still hungry?!
Want to receive Mexican Please recipes via email when they are posted?  Sign up below to subscribe.  All recipes are spam free.