Let's make some flour tortillas!
Flour tortillas aren't as common in Mexico as they are in the States, but I always keep them on hand for burritos and quesadillas.
Authentic flour tortillas are made with lard in Mexico.  Yes, lard!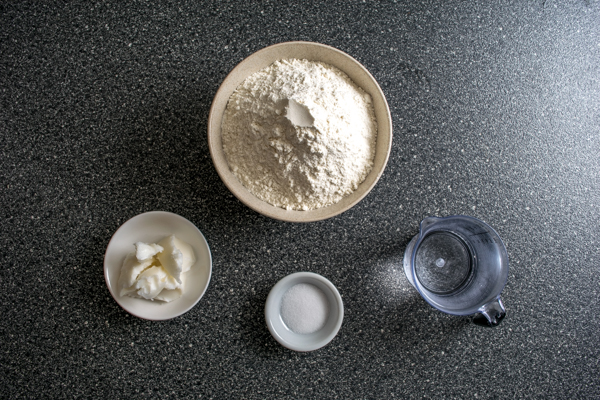 So in the above pic you've got:
3 cups all-purpose unbleached flour
3 Tablespoons lard
1.5 teaspoons salt
1 cup warm tap water.
Only four ingredients!
Before we make them, let's talk about ingredient #2 up there...lard. Some folks shy away from using lard, but Mexican cuisine has convinced me that, when done right, it can be one of the cleanest cooking fats out there.
You could always render your own lard using pork back fat, but some local butchers, and even some gourmet grocers, will carry farmer direct lard in their freezers.   Here's what it looks like in my butcher's freezer: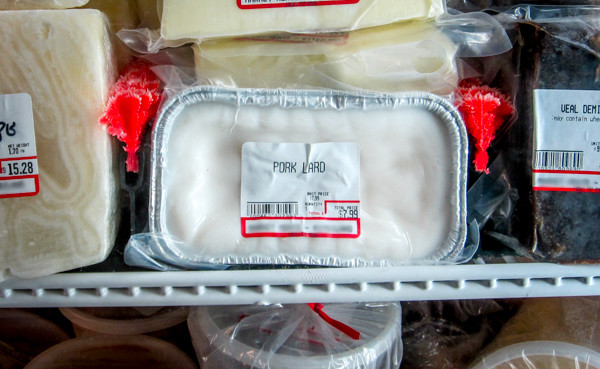 The least attractive option for lard is the baking section of the supermarket where you'll find shelf-safe lard that's been hydrogenated.  I tend to stay away from that option.
OK, got your lard handy?
Stir the salt into the flour.  Add the lard and use your hands to mix it in.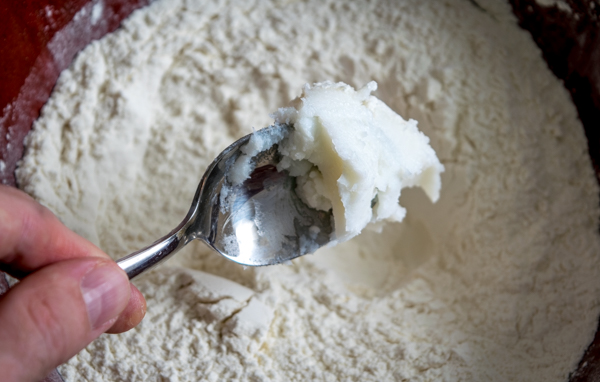 Coat each bit of lard with flour and squish it between your fingers. You'll feel it disintegrate into the flour mixture.
Once all the lard is mixed in, add the warm tap water.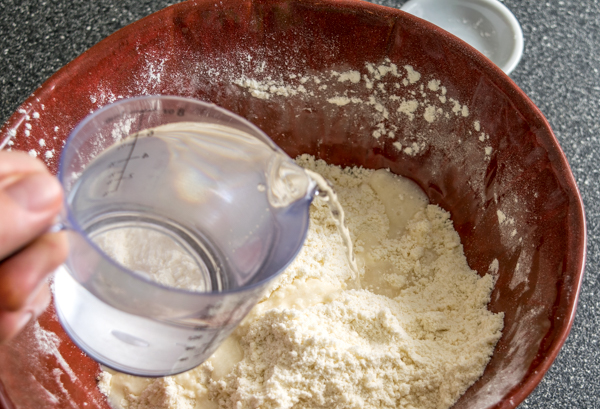 Stir it as much as you can with a spoon and then dump the whole thing onto a flat surface.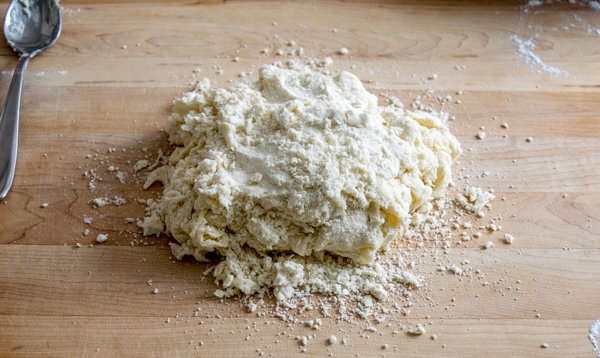 Knead this clump into a ball and keep adding the stray bits of flour. Continue kneading until you have a cohesive ball.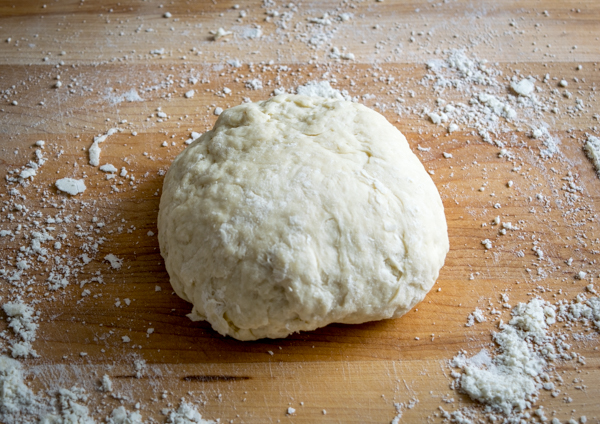 Cover and let rest for 30-60 minutes. This will make the dough less elastic when rolling it out.
After resting, divide into golf ball sized chunks and roll them between your hands.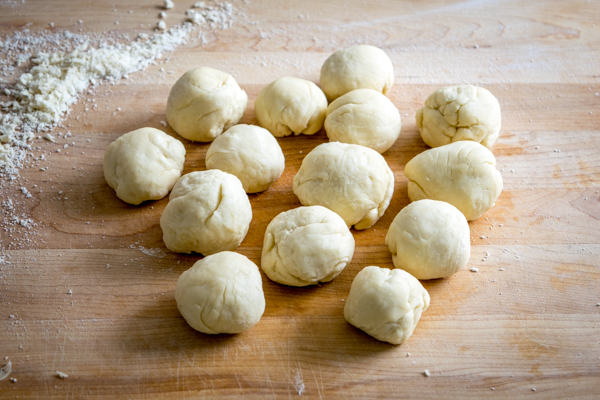 Dough balls this size will make tortillas 5-6 inches in diameter. If you have time, let these rest for another 15-30 minutes.  It's okay if you don't, they will just be a little more elastic when you roll them out.
I like to roll these out super thin, to the point where you can almost see through them.  Using a tapered rolling pin will help as it's easier to push into the middle of the tortilla, but a standard rolling pin works fine too.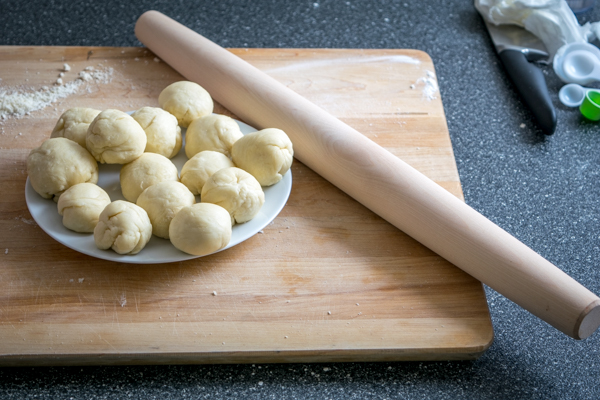 Keep flipping them over and rotating them so you are always rolling in opposite directions.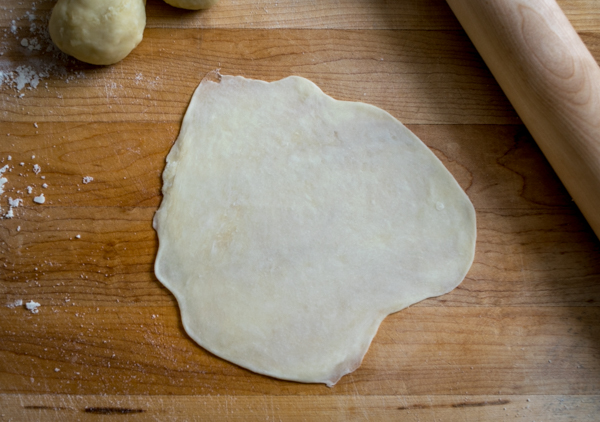 If they are sticking to the surface or the rolling pin, add a light dusting of flour onto the rolling pin.
Don't worry about making them into perfect circles. It's impossible to do, and if they have irregular shapes they will taste better.
Heat up a comal or skillet to medium high temperature. On my stove 6 out of 10 on the big burner does the trick for these tortillas.
Add the tortilla to the comal.  Cook until you see bubbles forming: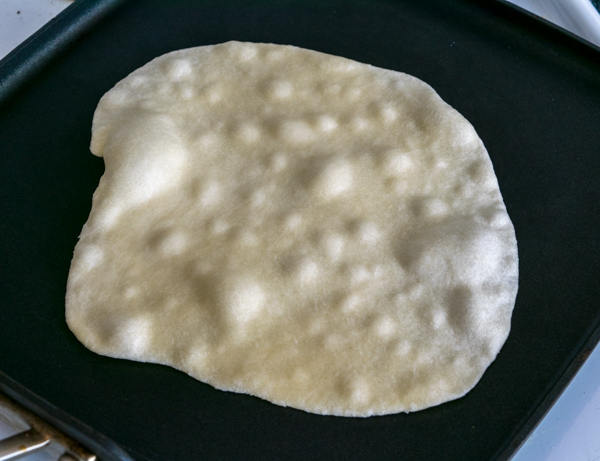 Ideally, this will happen in 45-60 seconds.   If it's taking longer to bubble then raise the temp of the stove. If they are bubbling instantly then lower the temp.
When you flip it over you'll see some light brown spots.  Perfect!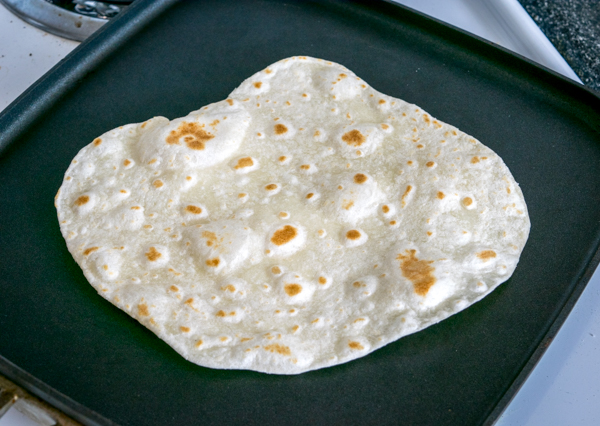 Cook the opposite side for the same amount of time and set aside to cool.
Continue with the rest of the batch, but be sure to take a moment to do some quality control: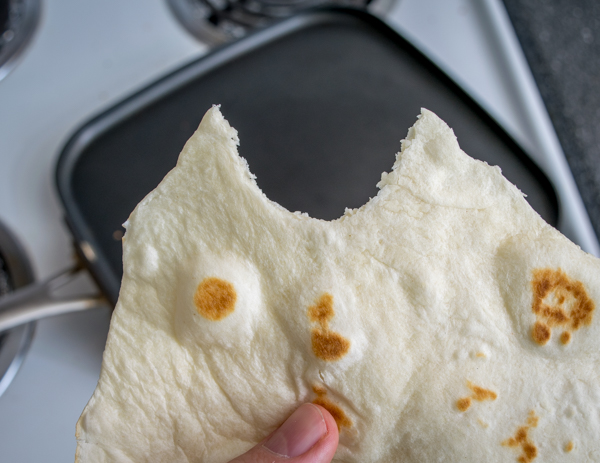 This batch made 14 thin, light, delicious flour tortillas.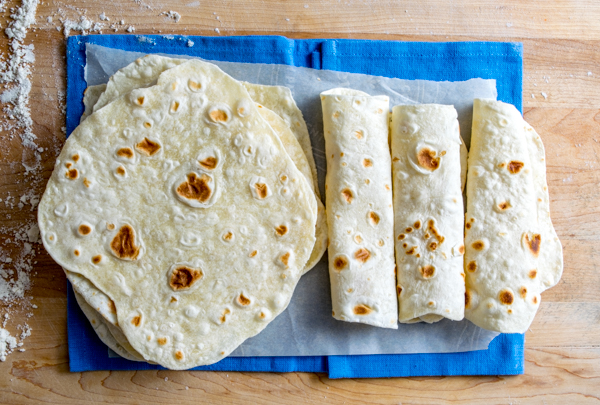 Using an ingredient list that was 4 entries long.
These will keep in the fridge for at least a week but of course they will always taste best right off the stove.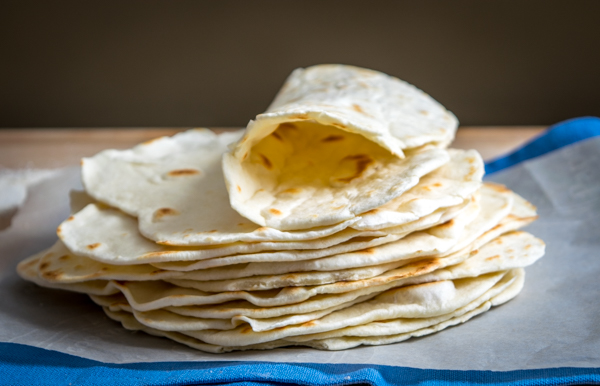 If you botch a few of them don't fret, it just takes a few tries to get the heat and timing of the stove right.
It's the same idea as with the corn tortillas.  They need enough time on the stove to cook but without dark spots forming too soon.  If they are scorching quickly, lower the heat.  If it's taking more than a couple minutes for brown spots to form then raise the heat.
I'll put the recipe box for these Flour Tortillas down below.  Next up we'll make some masa dough from dried corn!  Click 'Mark Complete' down below to check it out.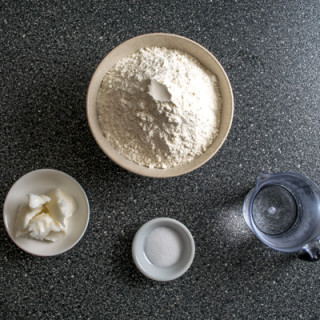 Homemade Flour Tortillas Done Right
Homemade flour tortillas are healthier and cheaper than storebought tortillas. And they taste better!
Print
Pin
Servings:
6
(12-14 tortillas)
Ingredients
3

cups

unbleached all purpose flour

3

tablespoons

lard

1.5

teaspoons

salt

1

cup

warm water
Instructions
Add the salt to the flour and mix well. Use your fingers to crumble the lard into the flour mixture. Add 1 cup warm water and stir as much as you can with a spoon, then dump onto a flat surface and knead into a cohesive ball. Let rest for at least 30 minutes.

Tear into golfball sized chunks, rolling between your hands to shape them into smooth balls.

Use a rolling pin to roll them out approximately 5-6 inches in diameter.

Heat a comal/griddle to medium high temperature and add a tortilla.

Cook each side for 45-60 seconds or until light brown spots form.

As one tortilla cooks, roll out the next to expedite the process.
Notes
If the tortillas are springing back and not holding their shape as you roll them out, then let the dough (or dough balls) rest for a little longer. 
It can take a few tries to get the heat of the stove right.  If you're quickly getting black spots then your temp is too high.  If it's taking too long to get brown spots then your temp is too low. 
I recently experimented with gluten free flour tortillas. 
Like this recipe?
Click the stars above to rate it or leave a comment down below! @mexplease