This is probably the easiest of the breakfast dishes we're looking at in this Module.  But don't let its simplicity fool you, it's a tasty recipe to keep in mind when you want to change up your breakfast routine.
You can print out the recipe box at the bottom of this page or you can sear this vegetable Mexican flag into your head for the ingredient list: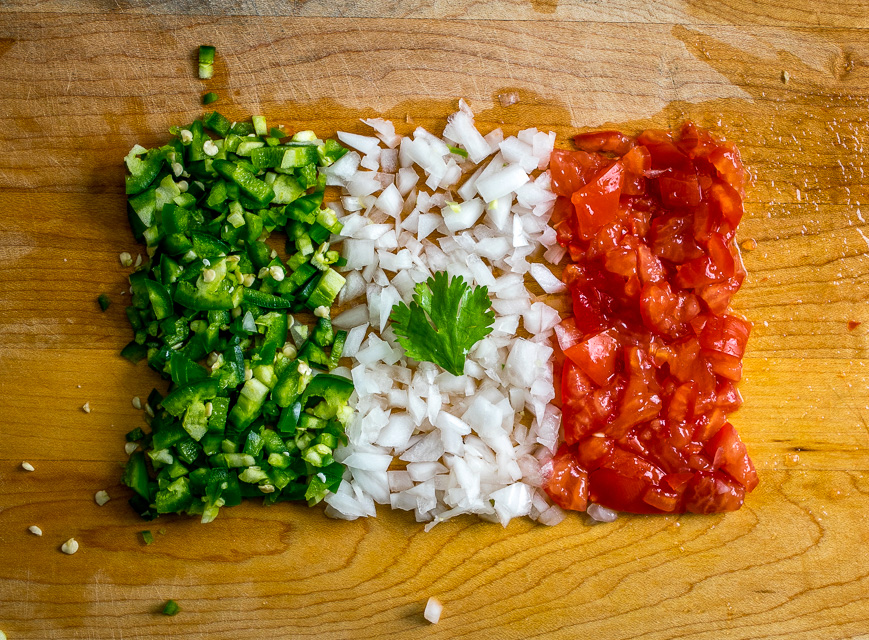 So we'll be using:
1 jalapeno
1/8 white onion
1 Roma tomato
4-6 sprigs of cilantro
Cooking these ingredients in some oil and plopping in some eggs is fine for mornings where your head is still in bed, but if you fine tune just a little bit you can improve the flavor quite a bit.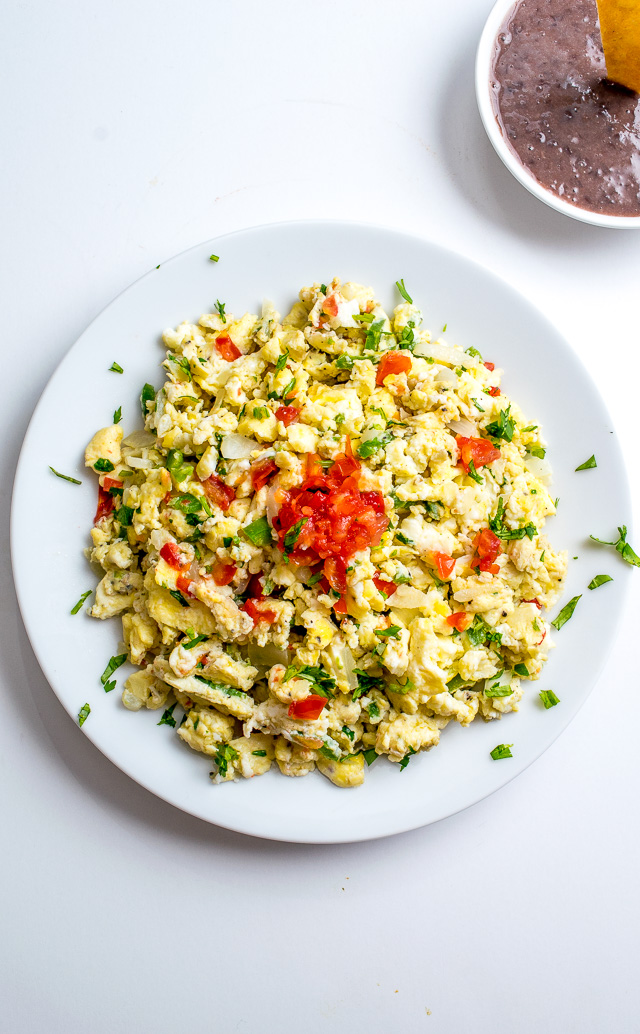 First, go easy on the onion as it will tend to dominate if you use too much of it.   This recipe starts with 5 eggs and uses only 1/8 of an onion (less is fine too).
And second, you'll notice a big difference if you drain the tomatoes before adding them to the pan.  Tomatoes are loaded with water and this can frequently result in either wet or overcooked eggs.
You can press the chopped tomato into a sieve, but lately I've just been discarding the seeds and putting the chopped tomato on a paper towel.  Season with a pinch of salt and set aside until you need it.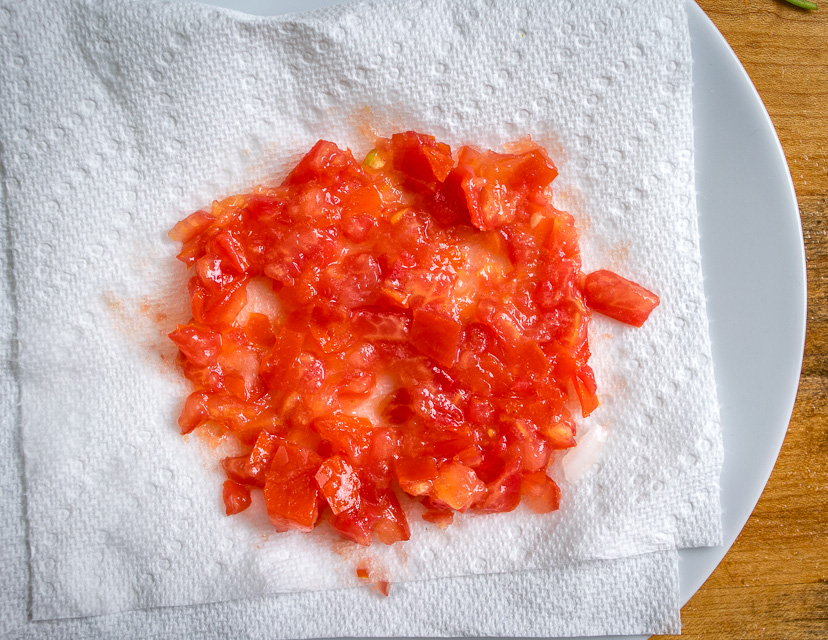 Add a dollop of olive oil to a saute pan over medium heat.  (You can optionally add a knob of butter if you want.)
Add the chopped onion and jalapeno and cook for a few minutes until they soften.
Whisk together five eggs and add them to the pan, along with 1/4 teaspoon of salt and some freshly cracked pepper.
Once the eggs are mostly cooked add the tomatoes and a sprinkle of chopped cilantro.  Cook for an additional minute to bring up the temp of the tomatoes.
Taste for seasoning and add more salt if necessary (I usually do) and serve immediately.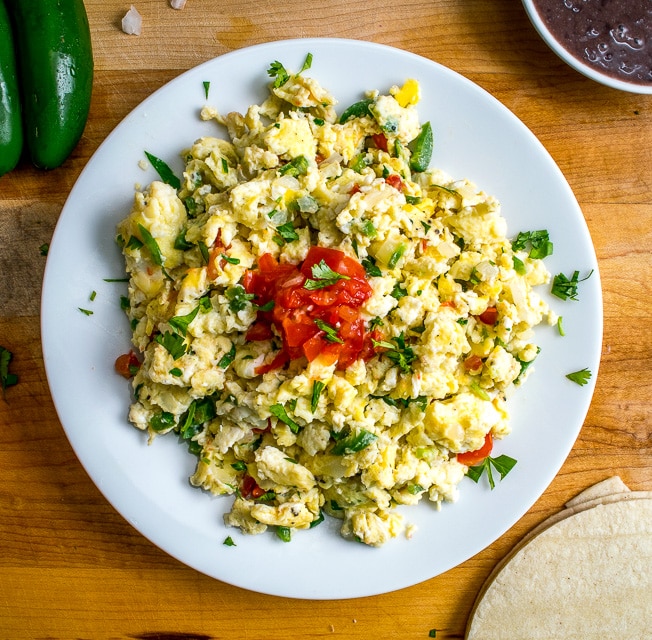 These are best eaten right away so have your sides in place before setting them on the table.
Warm corn tortillas loaded with beans and melted cheese are a great side dish and will give your friends and family the option of making some on-the-fly breakfast tacos.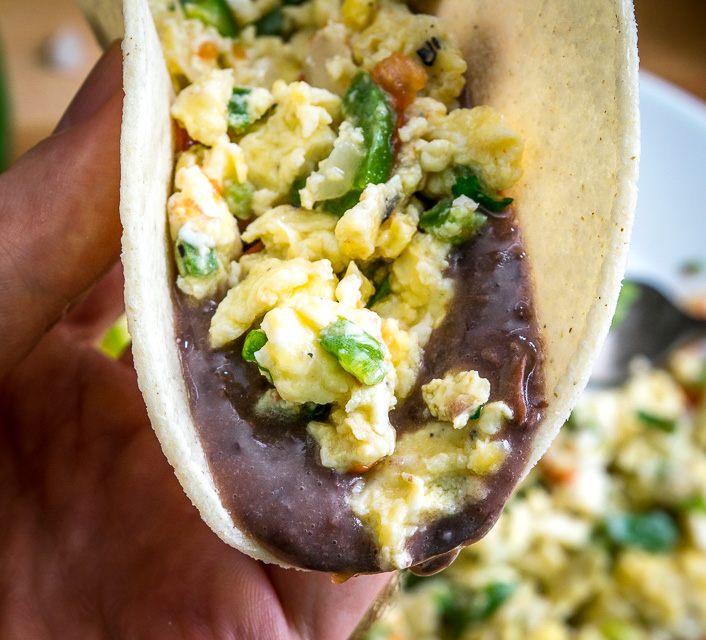 And feel free to fire them up with a dose of hot sauce.
But however you serve them, Huevos a la Mexicana is a simple, rewarding dish to keep in mind for grumpy mornings
The recipe box is below if you want to print it out.
Next up we're going to whip up a scrumptious Breakfast Burrito!  Click the 'Mark Complete' button down below to continue.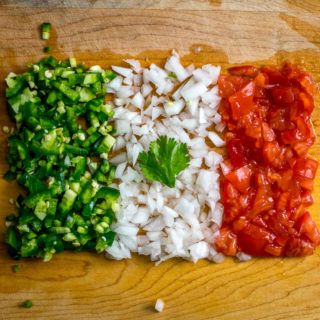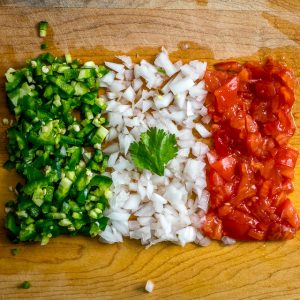 Mexican Scrambled Eggs -- Huevos a la Mexicana
These Mexican Scrambled Eggs are perfect for weekend mornings: well-balanced, super easy to make, and they have real kick!
Print
Pin
Ingredients
1

Roma tomato

1/8

onion

1

jalapeno

4-6

sprigs cilantro

5

eggs

refried beans

(optional)

corn tortillas

(optional)

1/4

teaspoon

salt

freshly cracked black pepper

1-2

tablespoons

oil

1

tablespoon

butter (optional)
Instructions
Finely chop 1 jalapeno and 1/8 of an onion.

Rinse and finely chop 4-6 sprigs of cilantro.

Roughly cut out the seeds of the tomato and discard. Finely chop the tomato, season with a pinch of salt, and let it drain on a paper towel.

Lightly saute the onion and jalapeno in a dollop of oil (and some butter if you want.)

Add the eggs and season with 1/4 teaspoon salt and freshly cracked pepper. Cook on medium-low heat, turning frequently.

Just before the eggs are done cooking add the tomatoes and cilantro. Mix well and cook for an additional minute.

Taste for seasoning and add more salt if necessary (I usually do).
Notes
You can use serrano peppers instead of jalapenos if you want.
Feel free to serve with warm corn tortillas loaded with beans and cheese. 
Like this recipe?
Click the stars above to rate it or leave a comment down below! @mexplease