You can also use Anchos to make a killer adobo sauce.   But what's adobo sauce you ask?
Head back in time a few hundred years to a world without bottled sauces, canned good, or refrigerators, and you'll catch a glimpse of traditional adobo sauces being used to flavor cuts of meat.
Ground dried chilis combine with spices to produce a paste-like sauce that is wildly versatile and might just be your new favorite meat seasoning.
That's adobo sauce in a nutshell.   Ready to make it?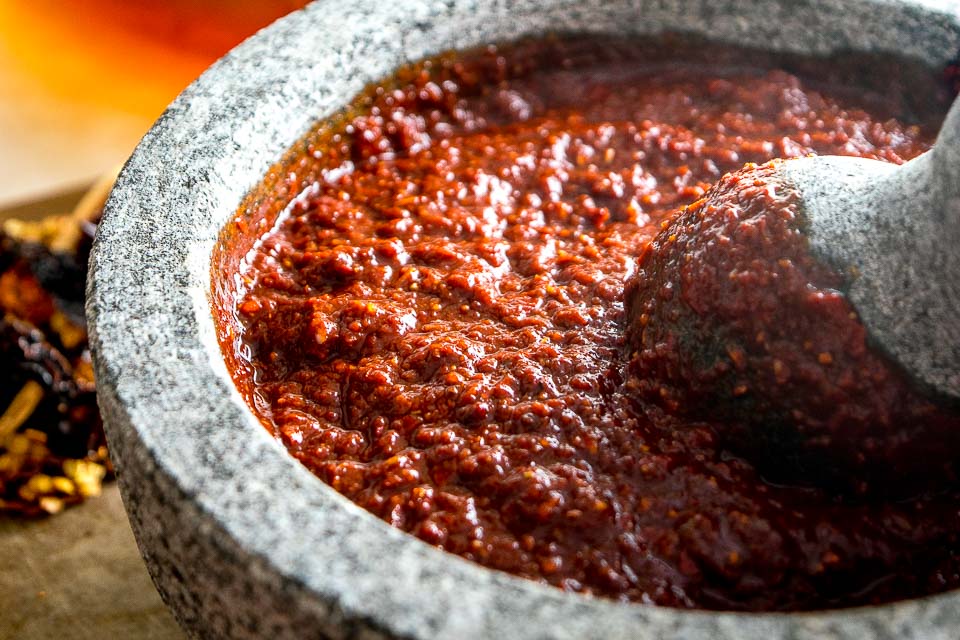 The term adobo is a derivative of the Spanish word for marinate, adobar, but its uses extend far beyond a simple marinade.
This recipe will make a concentrated, flavor-bomb paste that will work wonders when slathered on meats, but you'll also be able to liquefy it to use as a stewing sauce.  It's meant to be versatile so you can consider the ingredient list a starting point only; don't sweat the small stuff if you don't have the exact ingredients on hand.
I'm using a combo of Ancho and Guajillo dried chilis.
Guajillos have fruity undertones and overall they have a mild flavor compared to other dried chilis.  That's why you'll frequently see them paired with Anchos -- it's a combo that produces a rich, bold flavor that you won't find anywhere else.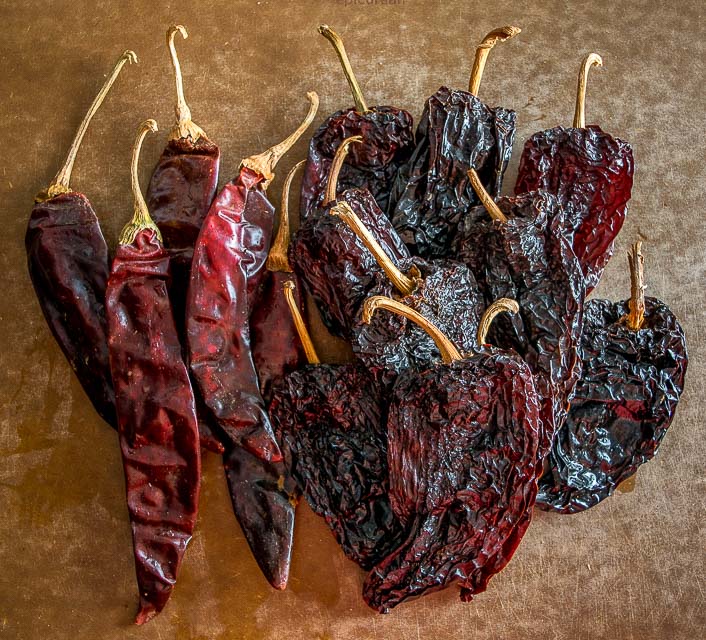 So in the above pic that's 10 Ancho chilis and 5 Guajillos.
Wipe off any dusty crevasses with a damp towel, then de-stem and de-seed the chilis.  I find it easiest to cut off the stem and make a single cut lengthwise, then you can peel them open and pull out the seeds and veins with your hands.  (Don't worry about getting rid of every last seed.)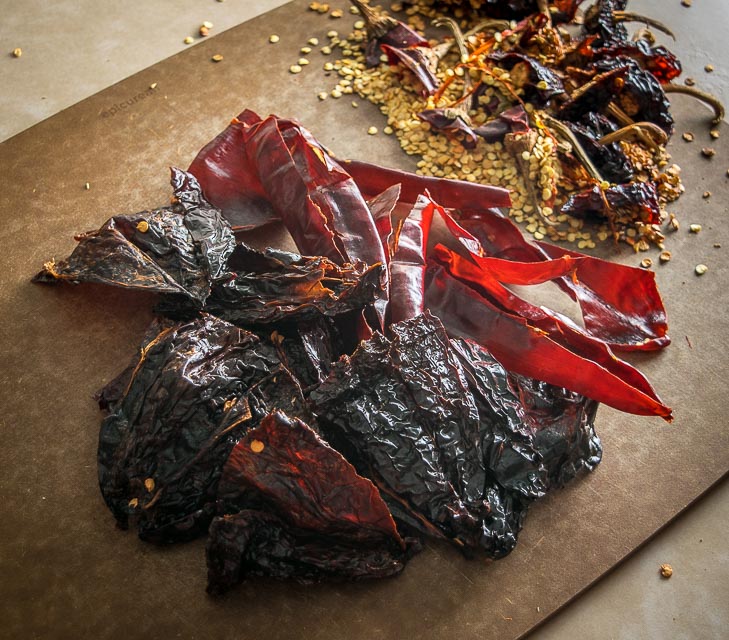 As we've discussed before, it's worth giving these a burst of heat to bring them back to life.  I put them in the oven for a couple minutes.
Add the chili pieces to a bowl and cover them with the hottest tap water you've got.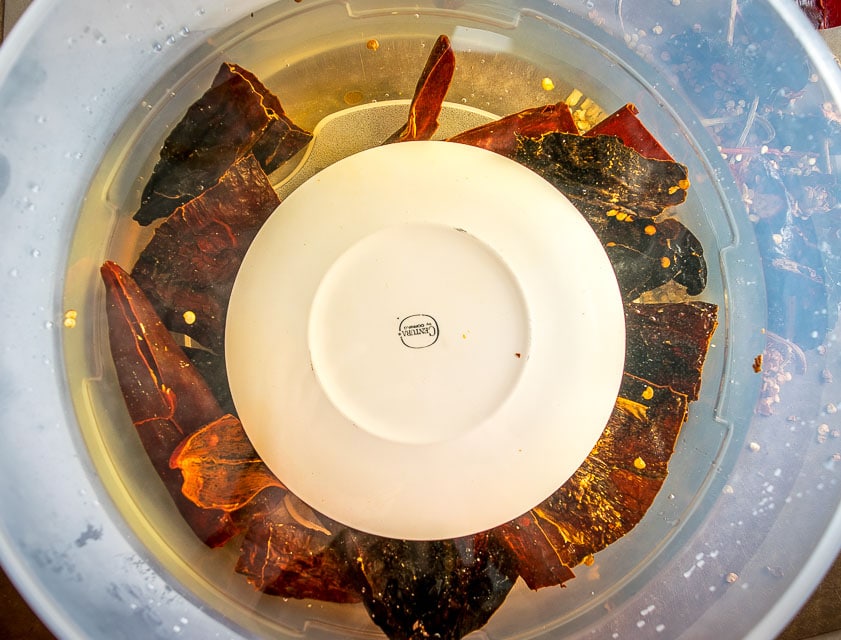 Let the chilis reconstitute for 20-30 minutes.
Meanwhile, you can gather the other ingredients...
Sticking with the historical theme, I'm using seeds instead of powdered spices but this is definitely optional; you can use what you have on hand and you'll still be happy with the result.
So in the above pic we're using:
1/2 teaspoon cumin
1/2 teaspoon black pepper
1/2 teaspoon Mexican oregano
2 whole cloves (or a pinch of ground clove)
After a flash of heat in a hot, dry skillet (15-30 seconds), these get a quick grind in the molcajete.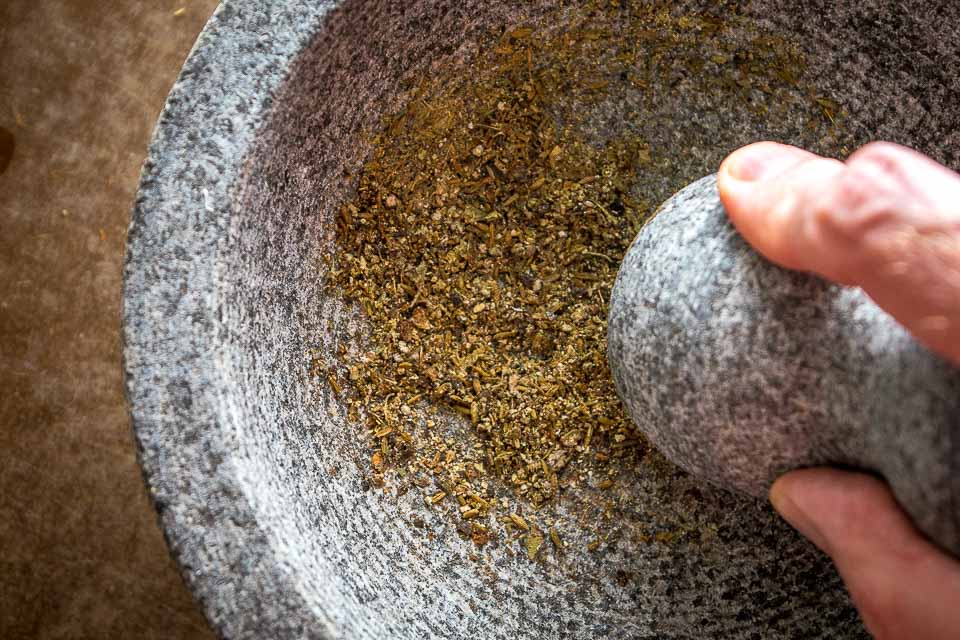 You don't need to use a molcajete (mortar and pestle) for this recipe so don't sweat it if you don't have one.   You can always use powdered spices.
Also, note that measurements for whole versus powdered spices are usually close enough to not worry about the difference.  Typically a ground version of a whole spice will expand a bit, so a half teaspoon of whole black peppercorns will turn into a heaping half teaspoon of ground black pepper.
Drain the reconstituted chilis and add them to a blender.
Take a taste of the chilis' soaking liquid at this point.  If it tastes earthy to you or you just like the flavor, then feel free to keep it on hand because you'll need a bit of extra liquid to get the chilis to blend together.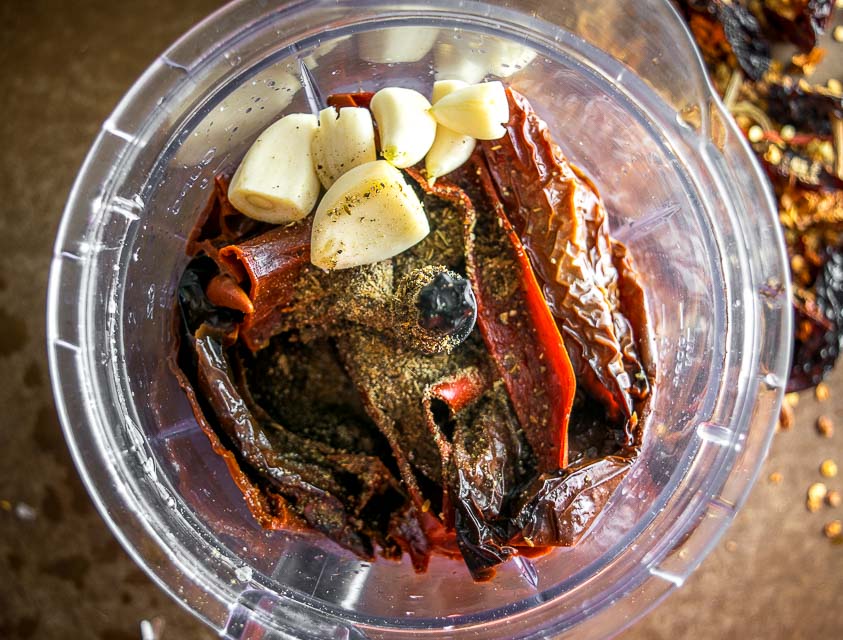 In addition to the chilis we'll add:
8-10 garlic cloves
the spice mixture
1/2 teaspoon of salt
1/2 cup cider vinegar
splash of water
Note that we are only using 1/2 teaspoon of salt so I consider this adobo paste only partially seasoned.  Since you can use it in such a wide variety of dishes I think it's best to reserve some space for final seasoning.
Give it a good whirl.  Ideally you want a paste-like substance, so we're only adding enough liquid to barely get there.  If it's not combining you can add another splash of water (or some of the soaking liquid).
You'll end up with a rich, concentrated paste that already tastes great, and you haven't even started dinner yet!
It's got a rich, vibrant flavor from the chilis, some twang from the vinegar, and a burst of life-affirming heat.
You should have about 2 cups worth of adobo; this should be plenty for multiple meals.  It'll keep in the fridge for at least a week and it should freeze quite well.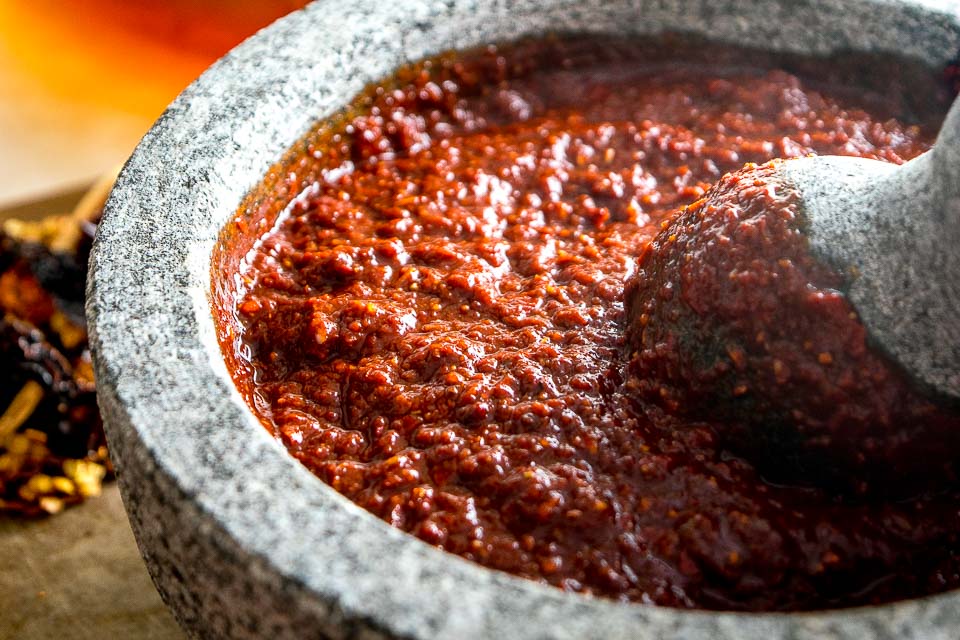 You can slather this adobo delight on some bone-in pork chops, or grilled chicken breasts, or just about any cut of meat you've got in your kitchen.  Just like they did a few hundred years ago.
And don't forget that the dried chili combo is open to your creativity.  I'll sometimes use New Mexican chilis in place of the Guajillos and you still get still get a great tasting adobo paste (but I always use Anchos!).  And if you want to raise the heat level you can add some Chile de Arbols.
The recipe box for this Adobo Sauce is below, feel free to print it out if you'd like to make it.
Next up we'll take a look at a simple Salsa Roja you can make using Ancho chilis.  Click the 'Mark Complete' button down below to continue.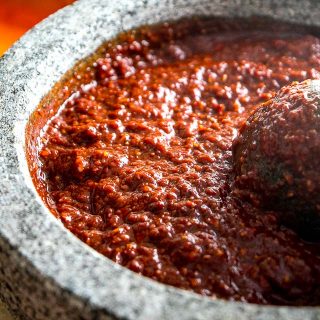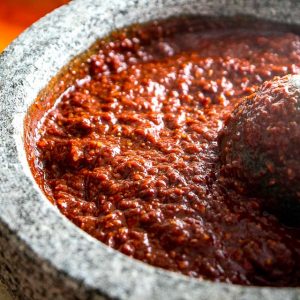 Easy Adobo Sauce
Ancho and Guajillo chili peppers turn this authentic adobo sauce into a flavorbomb! Use it to season meats or liquefy it for all sorts of stews -- so good!
Print
Pin
Ingredients
10

Ancho dried chilis

5

New Mexican or Guajillo dried chilis

2-3

chipotles in adobo (optional)

8

peeled

garlic cloves

1/2

teaspoon

cumin

1

tablespoon

Mexican oregano

pinch of

clove (optional)

freshly cracked black pepper

1/2

teaspoon

salt

1/4

cup

vinegar (I used white vinegar)

1/4

cup

stock (or water, or soaking liquid)

splash of

water

pinch of

sugar (optional)
Instructions
Wipe off any dusty crevasses on the chilis using a damp towel. De-stem and de-seed the chilis, but don't worry about getting rid of every last seed.

I put the chilis in a 400F oven for 1-2 minutes to awaken some dormant flavors; you could also flash them on a hot, dry skillet for 15-30 seconds in place of the oven.

Add the chilis to a bowl and cover them with hot tap water. Let them reconstitute for 20-30 minutes. If they float to the surface you can use a small plate or bowl to keep them submerged.

Drain the chilis and add them to a blender, along with the remaining ingredients listed above.  Update: I've been adding 2-3 chipotles in adobo lately for some heat, but you can consider this optional.

Combine well; ideally you want a thick, paste-like substance so we are adding just enough liquid to get there. If it won't combine you can add another splash of water.

Use immediately or store in an airtight container in the fridge. It should also freeze quite well.
Notes
Adobo paste should freeze quite well.  You could also consider freezing some in ice cube trays to give you the option of adding a small amount at a time. 
I used whole spices for this version but powdered spices will work just as well.  I also gave the whole spices a quick flash of heat in a hot, dry skillet for 15-30 seconds.
This paste is only half seasoned, just a 1/2 teaspoon of salt.  This will give you leeway on final seasoning based on which dish you are making. 
There is leeway on the dried chilis but I think the Anchos are essential as they add loads of flavor to the adobo. 
After the chilis reconstitute, take a taste of the soaking liquid; some peeps use it to liquefy sauces.  If it tastes bitter to you then you are a candidate to use stock or water to liquefy sauces. 
Like this recipe?
Click the stars above to rate it or leave a comment down below! @mexplease