Okay, it's time to add some dried chilis to your arsenal!
Dried chili peppers will instantly expand the range of flavors your kitchen can create.  They are completely unique and there's nothing in the world that comes close to reproducing their flavor.  Awesome!
Here's a look at the most common dried chilis and their accompanying Scoville rating.  Remember, the higher the Scoville rating, the hotter the pepper.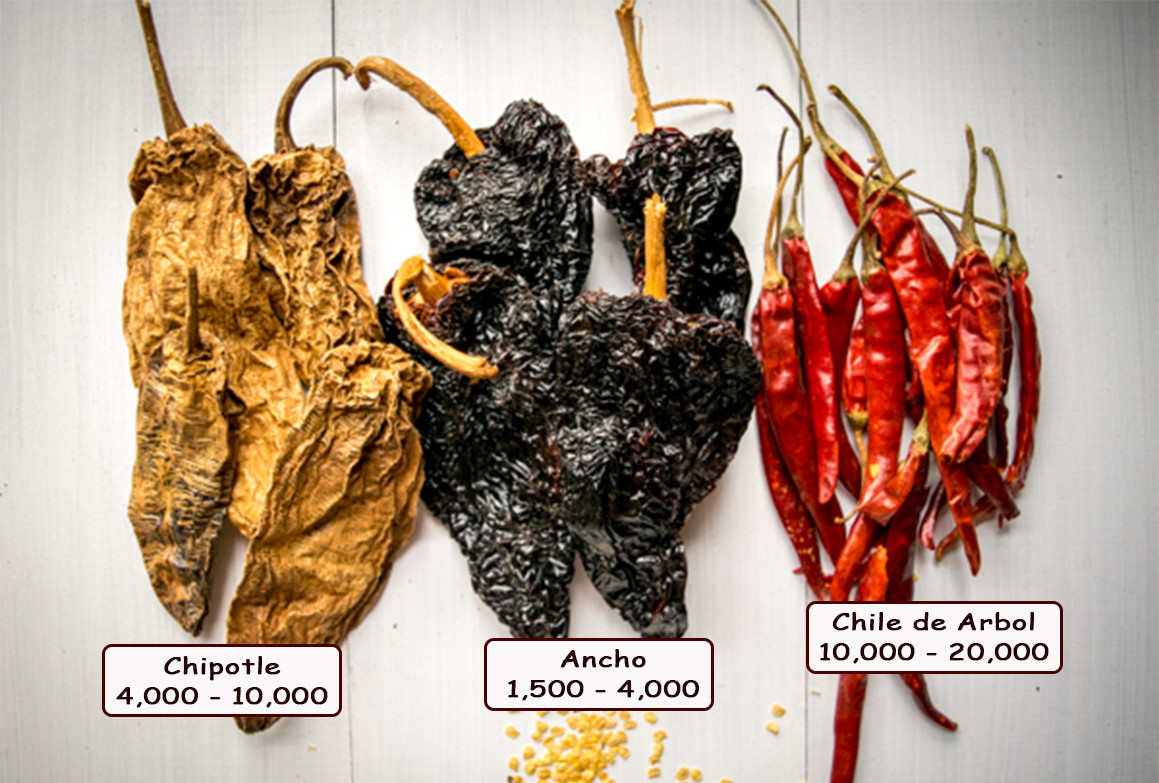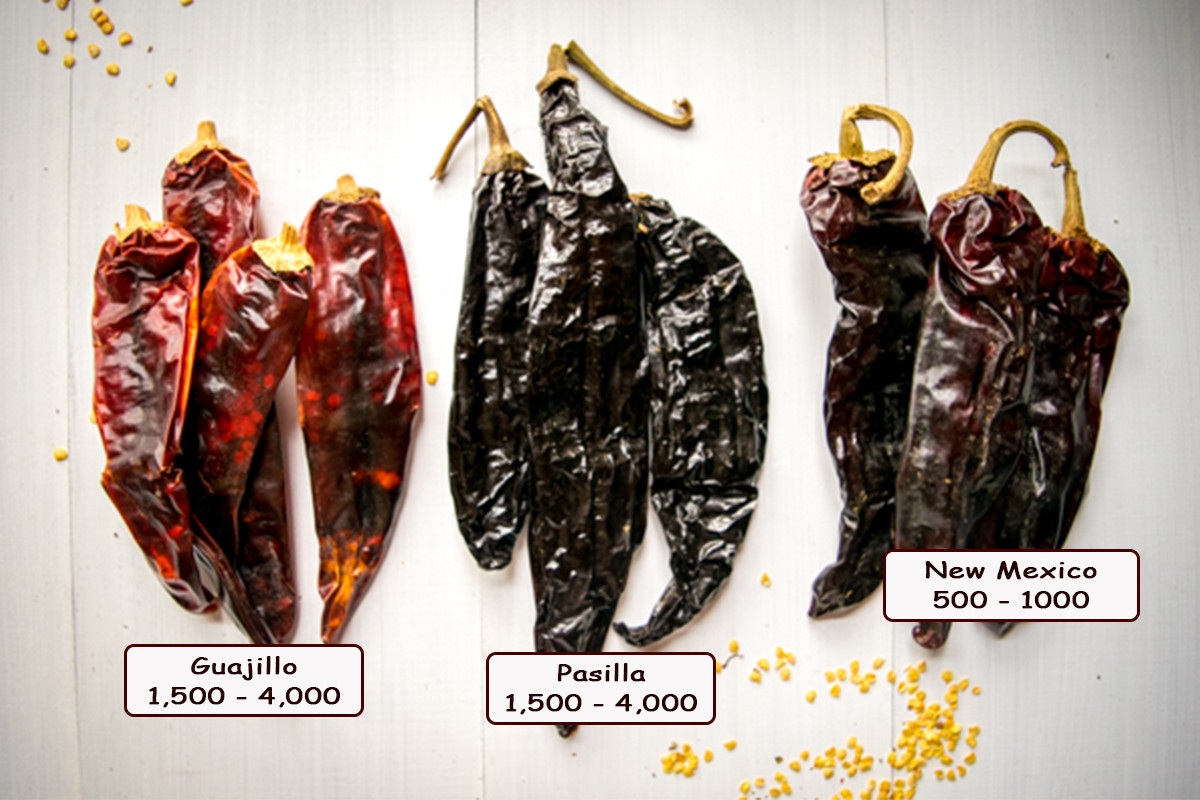 As is usually the case with most peppers, dried chilis get hotter as they get smaller.  So in the above photos the Chile de Arbols are the hottest pepper.
But there is one dried chili in those photos that has the potential to transform your kitchen the most.   Want to guess which one it is?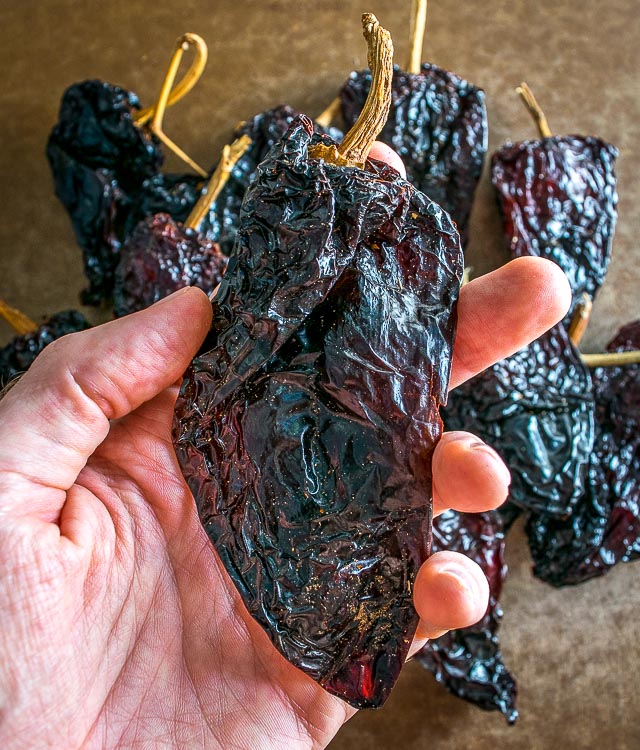 If you guessed Anchos you're right!
Ancho chilis have a rich, complex flavor that you can't reproduce using other chili combos.
In Mexico, it's common to give the dried chili a different name than its fresh counterpart.  And in this case, the Ancho chili is a dried version of the Poblano pepper.   Yes, your beloved Poblanos!
If you leave Poblanos on the plant long enough they will eventually turn red.  These are then dried to increase longevity.  The result is a sweet, fruity, otherworldly flavor that offers up all sorts of possibilities in the kitchen.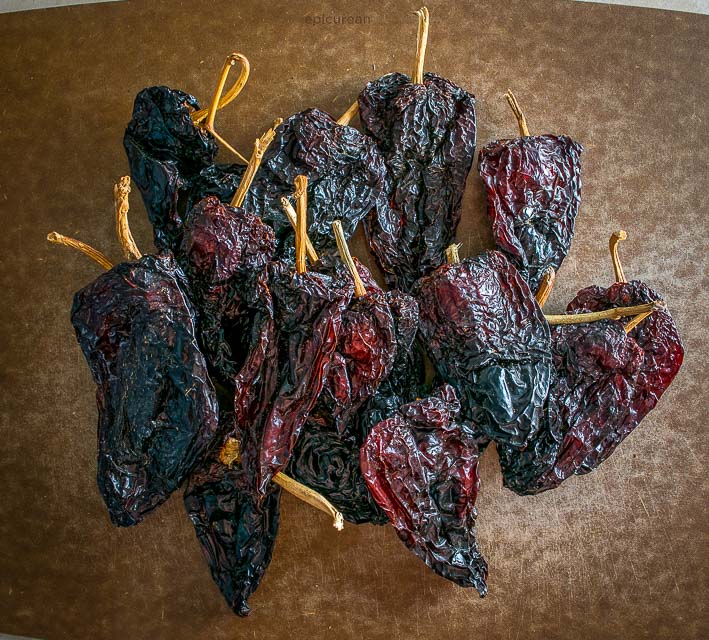 Of all the dried chilis, the Ancho is the one I recommend starting with as you get so much reward for so little effort.  The flavor of the chili will do most of the heavy lifting and your job is to give it the space to work!
Most general grocers carry Anchos these days.  If you can't find them there you'll usually have success at gourmet shops, or if you have a Hispanic market in your area they'll have a wide selection to choose from.
Try to buy the Anchos that are soft and pliable, like big raisins.  If they are hard and brittle they are a bit past their prime.   You can store them at room temp and they will keep for months if not longer; I usually keep them in the pantry.
Dried chilis require a bit more prep than fresh chilis, so let's use the Ancho to see how it's done.
Start by wiping off any dusty crevasses with a damp paper towel.  Then we'll get rid of the stem and the seeds.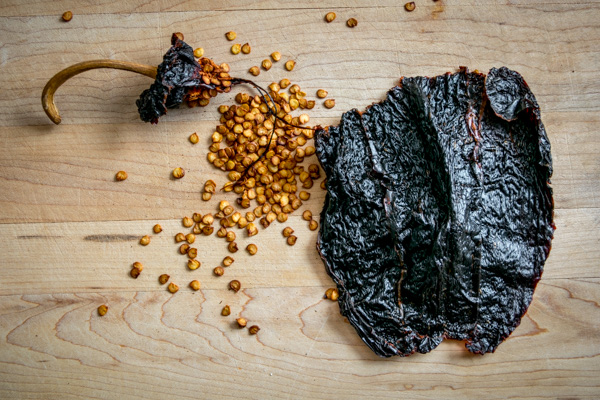 I usually slice off the stem and then make a cut lengthwise on one side of the chili, using my hands to pry it open and pull out the veins and seeds.
Don't worry about getting rid of every last seed as it won't affect the flavor too much, but they do tend to harden over time so I prefer to discard most of them.
(Note:  as usual, it's worth washing your hands after handling chilies.  You'll have some capsaicin on your fingers and if you touch your eyes or nose you'll feel a slight burn.)
If you apply sustained heat to dried chilis it will wake them up and release additional flavors that lie dormant at room temp, similar to the effect of heat on poblanos.  But Anchos have very little moisture so they can only take a limited amount of heat before charring and turning bitter.
You can either press the dried chilis onto a hot, dry skillet for 30-60 seconds.
Or you can simply put them in a 400F oven for 1-2 minutes.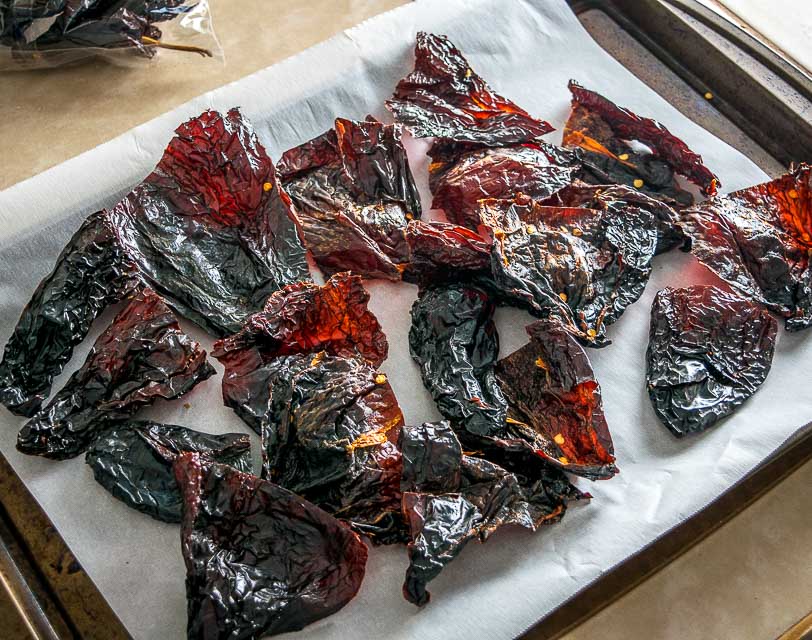 I tend to put them in the oven as it's the easiest and the most forgiving.  However you do it, be aware that they are finicky and they have a distinct line that you don't want to cross, so it's best to undershoot the first few times you roast them.  If they crisp up and disintegrate to the touch then it's probably best to start with a new batch.
Most recipes will ask you to reconstitute the chilis.   Re-hydrating will make them more amenable to being ground up and easier to work with.
Add the chili pieces to a bowl and cover them with the hottest tap water you've got.  Let them soak for 20 minutes or so.  If they float to the surface you can use a small bowl or plate to keep them submerged.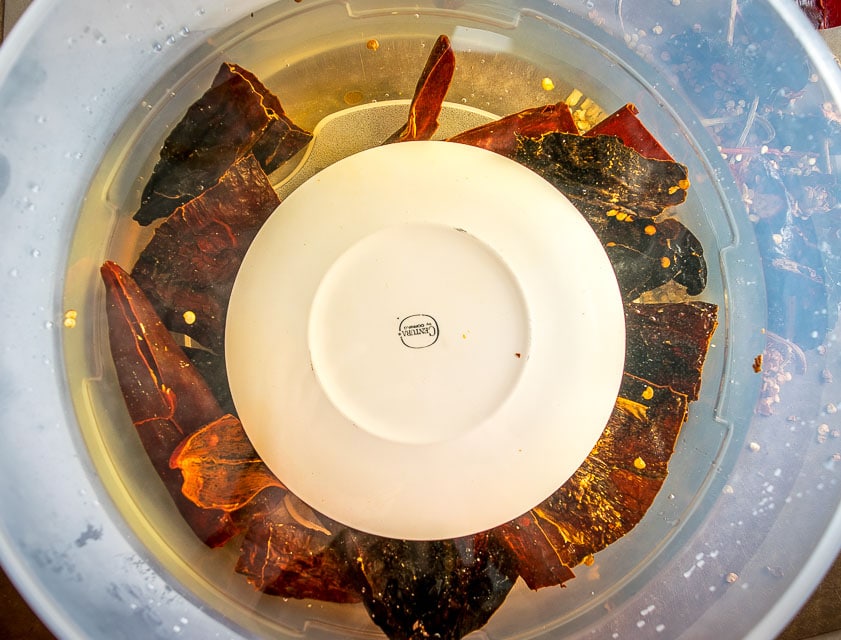 Drain the water and you're left with reconstituted Ancho pieces that are ready to add some serious flavor to your Mexican dishes!
Okay, one last thing to note about using Anchos that is dependent on your palate...
The first time you reconstitute them it's worth taking a taste of the soaking liquid they've been resting in.   Does it taste bitter to you?
Half the world, including me, thinks it tastes a little bitter.  The other half will think it just tastes a bit earthy.
In some dishes the soaking liquid is used to enhance flavor.   I tend to use stock in place of the soaking liquid to limit that bitter flavor.  But if you like the taste of it then you are a candidate for using it in your recipes.
Okay, that's the skinny on dried chilis.  Let's take a look at some dishes you can make with your new kitchen star -- the Ancho!
Below you'll see the Module table containing all the recipes we'll be making.   Simply click on the first recipe (Ancho Enchiladas) to get started.