So many Salsa recipes, so little time!
If you're feeling overwhelmed by all the Salsa recipes online, just start with Tomato Jalapeno Salsa or Salsa Verde.
These are the classic red and green Salsas of Mexico and both are a massive upgrade compared to store-bought salsa. Once you get these beauties to your liking it will make all the other Salsa recipes a breeze.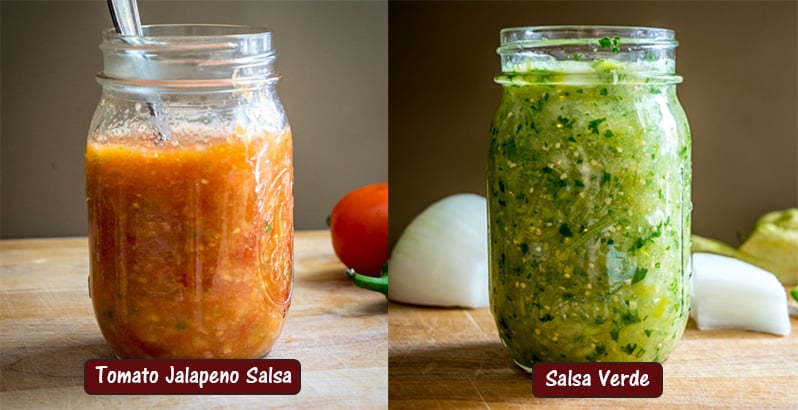 First up is Tomato Jalapeno Salsa. It has an ultra-simple ingredient list:
3 plum tomatoes
1/2 onion
1 jalapeno
1 garlic clove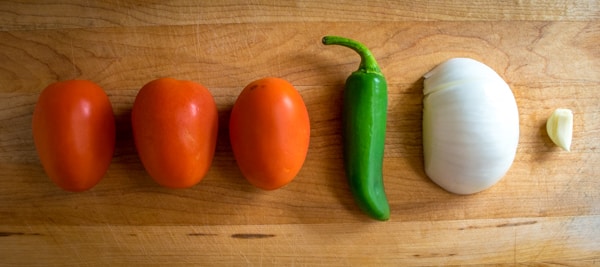 The key is to roast the tomatoes so no skipping that step! This will sweeten up the tomatoes and lower their acidity.
I usually use the oven (400F) but you could also pan roast them if you want.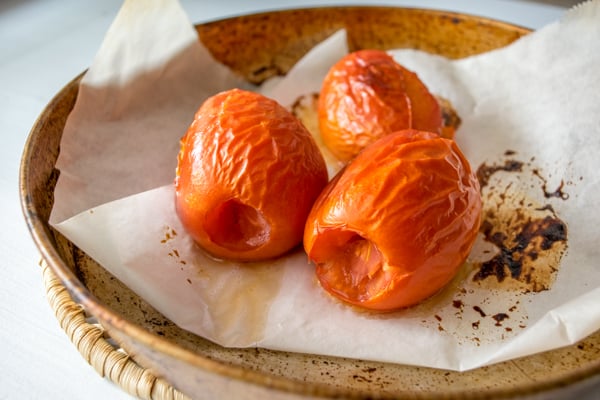 Once roasted just plop them in the blender along with the onion, garlic and jalapeno.
I usually recommend adding the jalapeno incrementally if it's your first time making this Salsa just so it doesn't turn nuclear on you. Slice the jalapeno in quarters and add it a sliver at a time, taste testing along the way.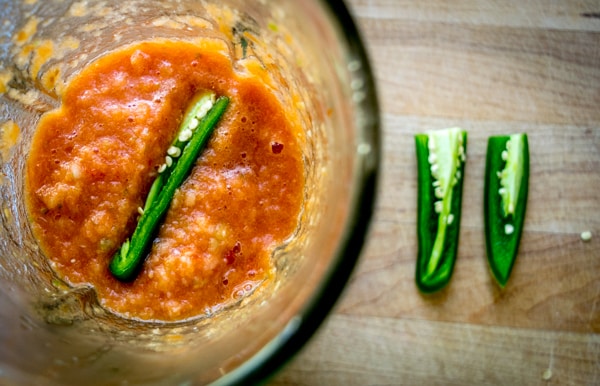 Once the heat level is to your liking you're done!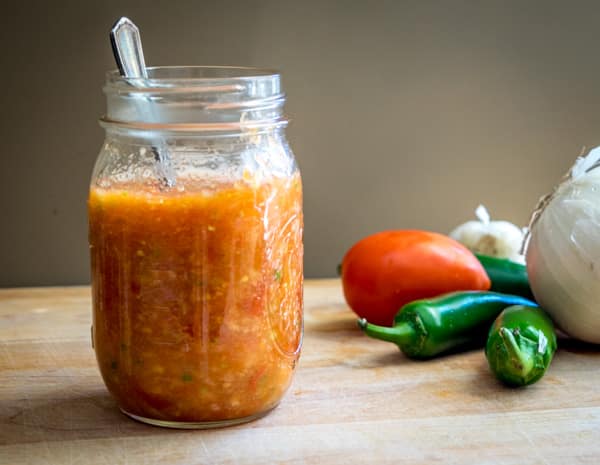 Easy right?
This is the first Salsa I learned how to make and I still come back to it on a regular basis! When it's freshly blended it is wonderfully satisfying and I use it in a wide range of dishes.
By the way, if you ever feel like you're dealing with meh tomatoes you can always give this Salsa a quick simmer in some oil over medium heat and it will wake them up.
Next up is Salsa Verde, clocking in at five simple ingredients:
4-5 tomatillos
1/2 onion
1 serrano (or jalapeno)
1 garlic clove
10-12 sprigs cilantro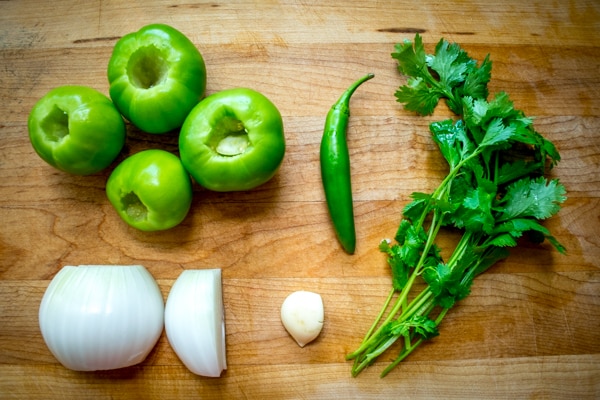 If you're new to tomatillos you can always pull back the husks at the grocery store to check 'em out. Try to buy the ones that are taut and greenish -- if they are pale or mushy then they're past their prime. More info on tomatillos.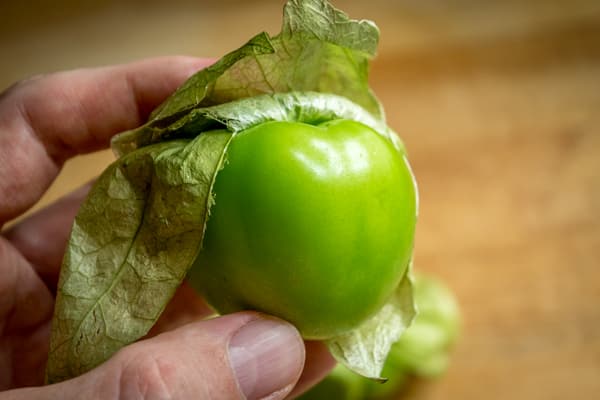 Similar to red Salsa, your green Salsa will get a massive bump in flavor if you roast the tomatillos! I used the oven (400F) for this batch.
Once roasted, plop 'em in the blender along with the other ingredients.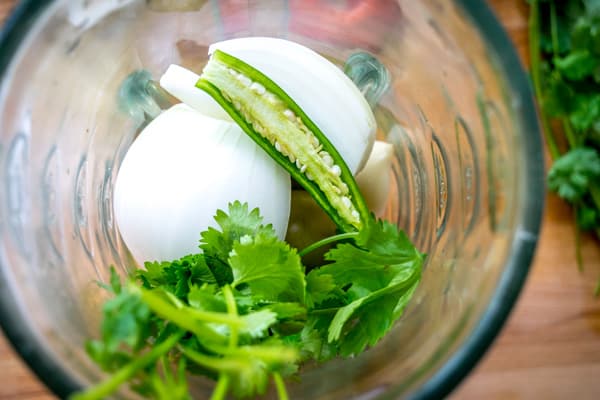 Again, I think it's best to add the heat incrementally the first time you make this Salsa, so feel free to slice the serrano into quarters and add it a sliver at a time, taste testing along the way.
And yes, you can definitely use a jalapeno in place of the serrano -- they are quite similar in flavor but serranos tend to pack more heat. Serrano vs. Jalapeno -- What's the Difference?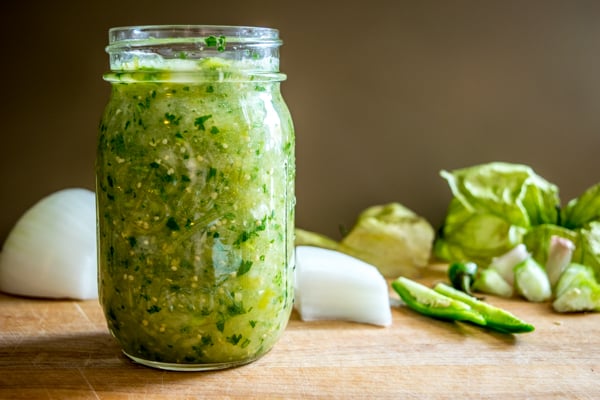 Hello Salsa Verde!
These are the simplest Salsas you'll ever make at home, and I think they also happen to be the most satisfying when they are fresh out of the blender. Of course, that's assuming you roast the tomatoes/tomatillos so please don't skip that step!
If you'd like to try making these Salsas, here are links to step-by-step instructions that you can print out:
And once you're comfortable making these classics you'll find that all the other Salsas on the site use similar techniques:
Roasted Tomato and Tomatillo Salsa
Enjoy!
For up-to-date recipes follow me on Instagram, Facebook, or Pinterest.
Still hungry?!
Want to receive Mexican Please recipes via email when they are posted?  Sign up below to subscribe.  All recipes are spam free.