In addition to mind-bending salsas, the molcajete can also make a lip-smacking batch of guacamole that might have you re-evaluating your kitchen gear.
Crushing an onion-jalapeno-cilantro mixture in the molcajete releases additional flavors that meld effortlessly with the avocado, and you're left with a batch of Guac that's more cohesive than traditional guacamole recipes.
In other words, it tastes really good.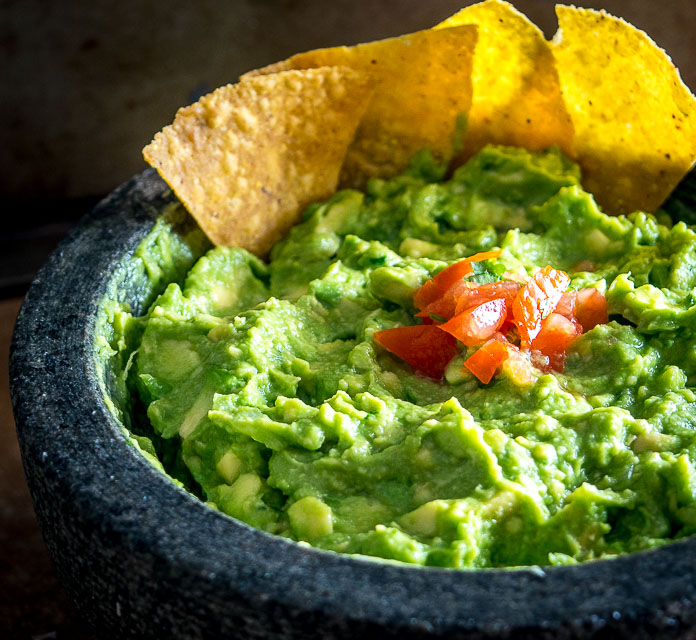 How To Make Guacamole In A Molcajete
The alternative title for this post is...
The World's Most Subtle (And Best) Guacamole
Partly because we've always been a big fan of keeping guacamole simple, but mostly because the molcajete will allow you to keep it even simpler.
Crushing the veggies in the molcajete releases a burst of flavor that you won't get from traditional chopping, so you'll need even less veggies to begin with.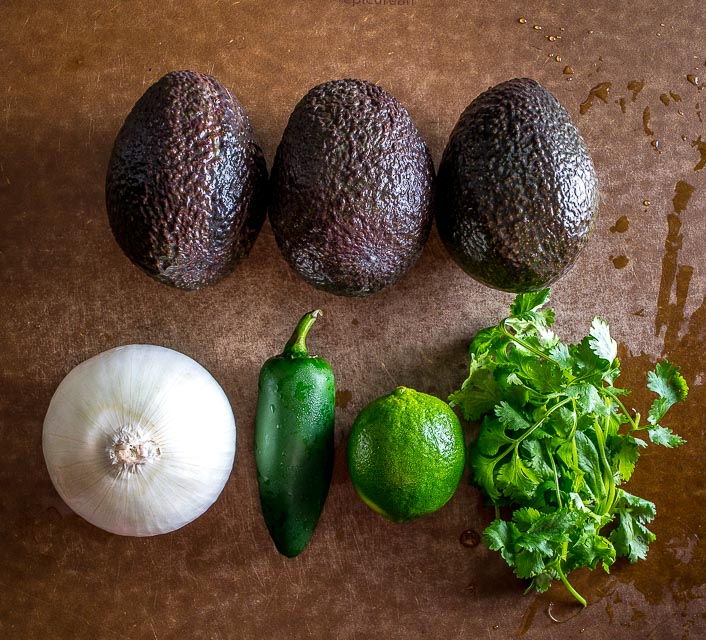 You can start by finely chopping 1/4 onion, 1/2 jalapeno and 10 sprigs of cilantro.  You'll have extra of each veggie but that's perfect because there is some taste testing down the road and you might need a little more.
Our starting point for the onion-jalapeno-cilantro paste is:
2 tablespoons chopped onion
1 teaspoon chopped jalapeno
1 tablespoon chopped cilantro
Here's what that looks like: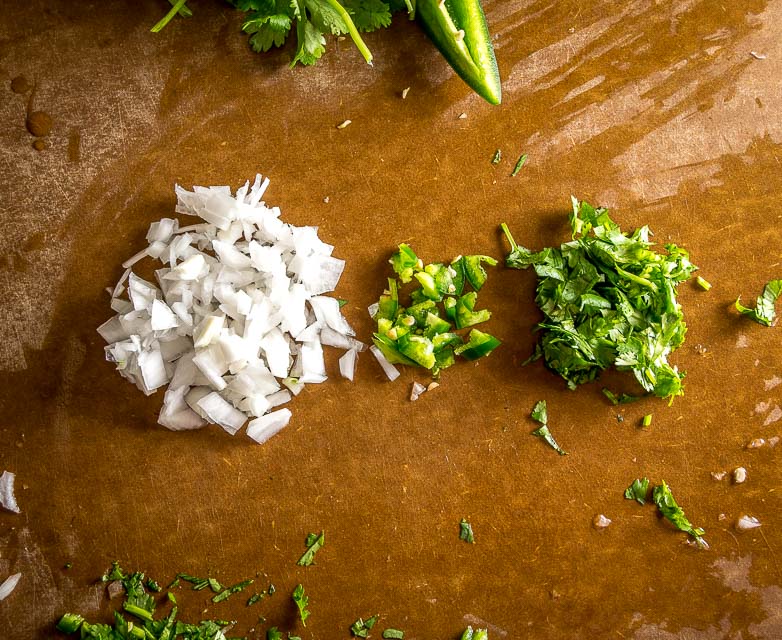 Doesn't look like much does it?  But don't forget that you're using one of these: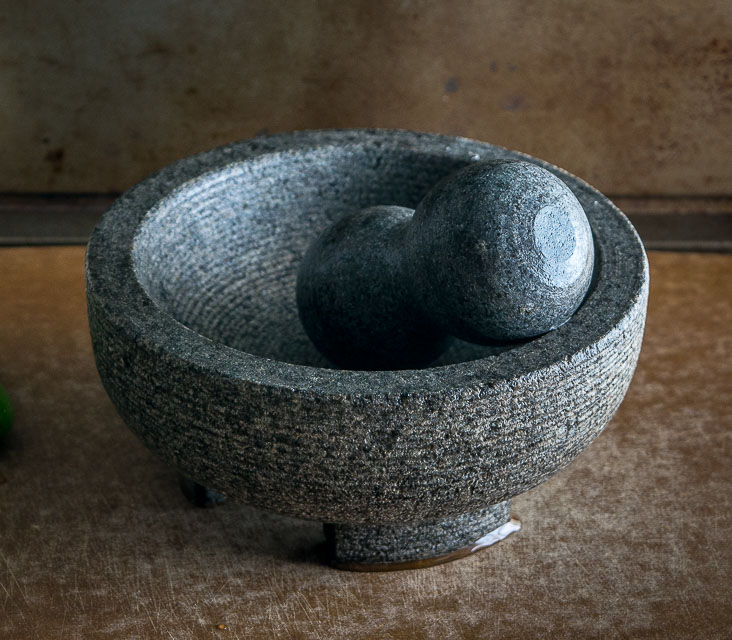 Our previous post on making salsa in a molcajete has tips on working with these beauties if you are new to them.
Add the chopped ingredients to the molcajete along with 3/4 teaspoon salt and the juice of a single lime.
For your future batches of Guac, a good ratio to keep in mind is 1/4 teaspoon of salt per avocado.  That's what we're starting with here, but you are welcome to undershoot a little bit and leave some room for a final seasoning at the end.
Use the pestle to crush these ingredients into a paste-like substance.  Keep a spatula close by to help corral the paste.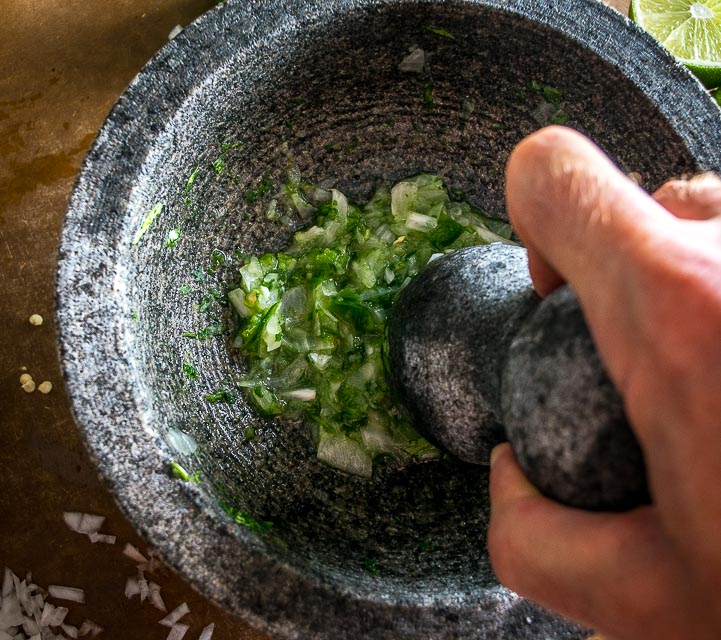 Crushing these ingredients will release additional oils that lie dormant when lightly chopped, so don't skip this step!  It's the primary reason that molcajetes are making such a big comeback.
Add the flesh of three ripe avocados and use the pestle to show them who the boss is.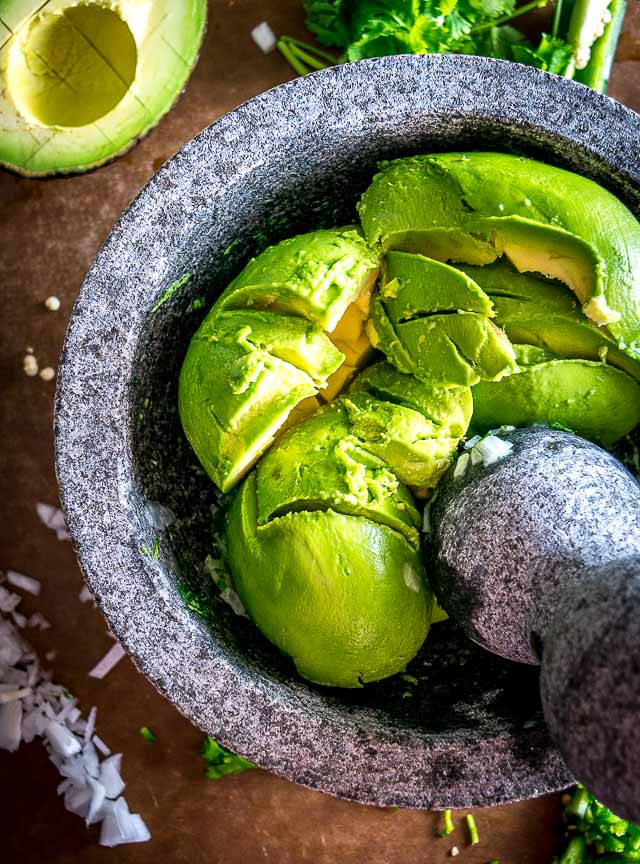 They will instantly transform from avocados into guacamole under the weight of your new favorite kitchen tool.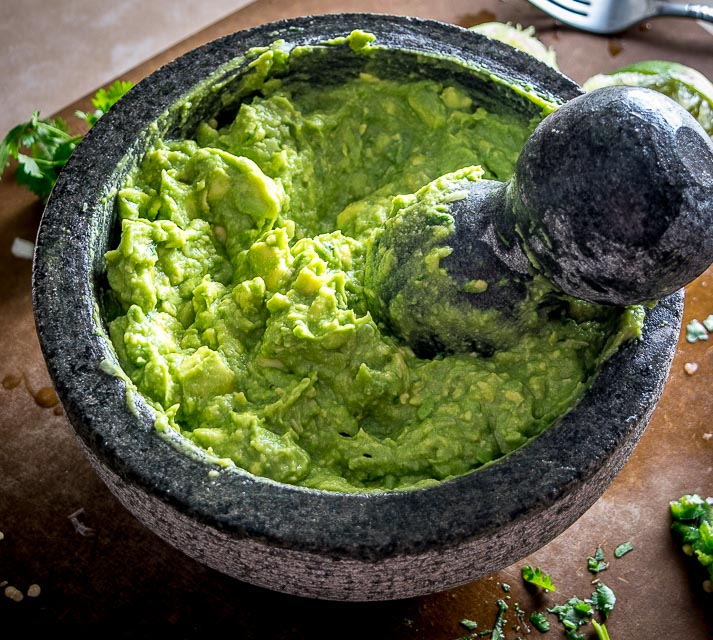 And now take a taste!
I'm always surprised how complete it tastes with so little effort involved.  I do think that the vast majority of guacamole recipes have too many fixings that end up stealing the show from the main attraction (the avocados).
I know some of you will want a little more oomph, but I think it's worth trying out this World's Most Subtle Version.  It's so good when the avocados are seasoned well and there is just a hint of flavor from the onion-jalapeno-cilantro mixture.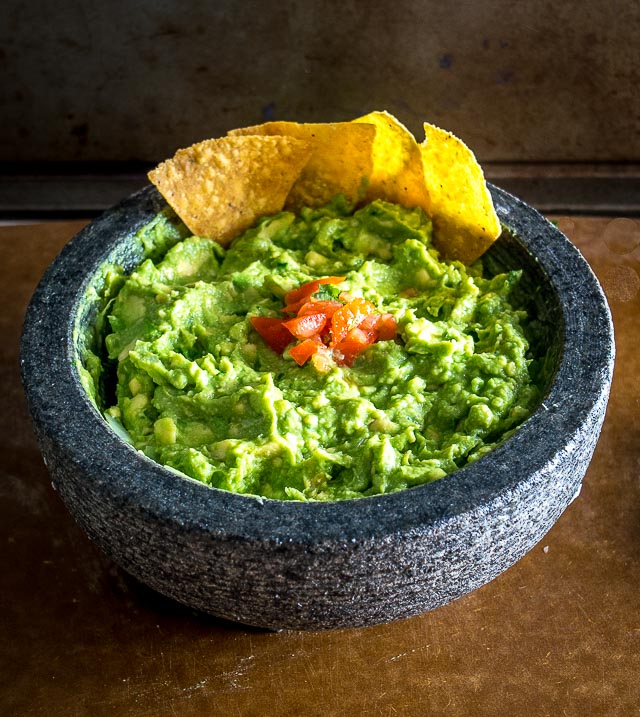 And of course, the burst of acidity from the lime brings it all together.  Keep an extra lime around for some final tweaking.  I added another squeeze of lime and a final pinch of salt to this batch.
I also think it tastes best when the heat can barely be heard in the background, but remember that you've got leftover chopped jalapeno so you can always add a bit more.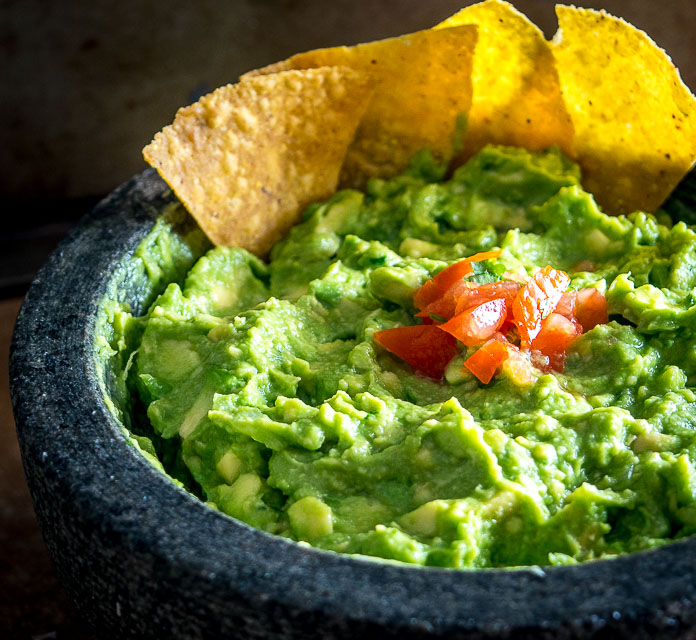 With regards to additional fixings or amping up the flavor, one thing to keep in mind is how you're going to use the guacamole.
I'd say 9 out of 10 times I make this I'm using it in tacos, burritos, or enchiladas that already have loads of flavor.  That's a perfect fit for the super subtle version we've made here today.
Of course, if the Guac is the star attraction of the appetizer table then it might be more appropriate to load it up with a few more fixings (tomatoes, garlic, more cilantro and jalapeno, etc.)
But there's a good chance this simple Molcajete version will be high on your list the next time you're craving some Guac.  It's so satisfying and it's definitely willing to accommodate your taste buds with a few final tweaks.
Buen Provecho.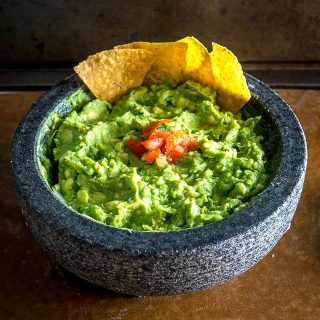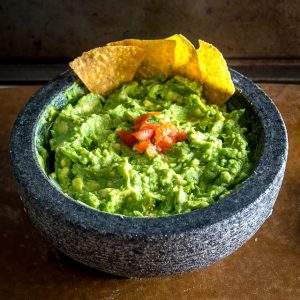 How To Make Guacamole In A Molcajete
We're grinding an onion-jalapeno-cilantro paste in a molcajete for a delicious batch of homemade guacamole. Don't forget a final squeeze of lime, so good!
Print
Pin
Rate
Ingredients
3

avocados

2

tablespoons

onion

1

teaspoon

jalapeno

1

tablespoon

cilantro

3/4

teaspoon

salt

1-2

limes
Instructions
Start by chopping up 1/4 onion, 1/2 jalapeno, and 10 sprigs of cilantro.

Add 2 tablespoons chopped onion, 1 teaspoon chopped jalapeno, and 1 tablespoon chopped cilantro to the molcajete along with 3/4 teaspoon salt and the juice of 1 lime. Grind into a paste using the pestle.

Add the flesh of three ripe avocados to the mixture and combine well.

Take a taste for seasoning. I added another pinch of salt and another squeeze of lime to this batch.

Serve immediately and store leftovers in an airtight container in the fridge.
Notes
You'll probably have leftover onion, jalapeno, and cilantro that can be use to add additional flavor after some final taste testing.  
A good ratio to keep in mind for future batches is 1/4 teaspoon of salt for each avocado that you use. 
Like this recipe?
Click the stars above to rate it or leave a comment down below! @mexplease
Still hungry?!
Want to receive Mexican Please recipes via email when they are posted?  Sign up below to subscribe.  All recipes are spam free.