Here's what the inside of my current favorite burrito looks like: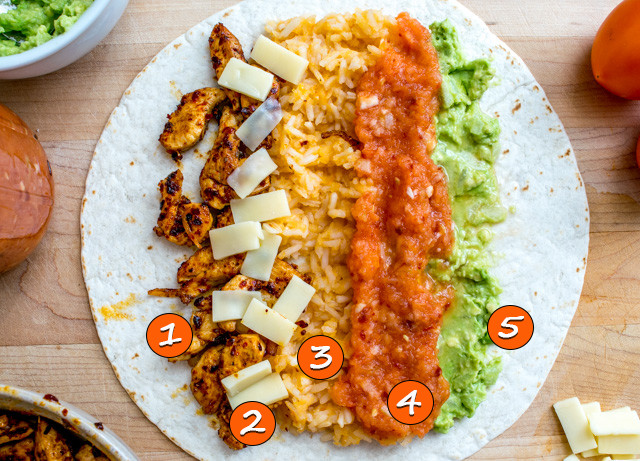 It has five main components:
Seasoned chicken breast (#1).  Jack cheese (#2).  Arroz Rojo (#3).  Tomato Chipotle Salsa (#4).  Basic Guacamole (#5).
It may look like they have equal weighting, but one of the components in particular is the real star of this burrito.  Wanna guess which one?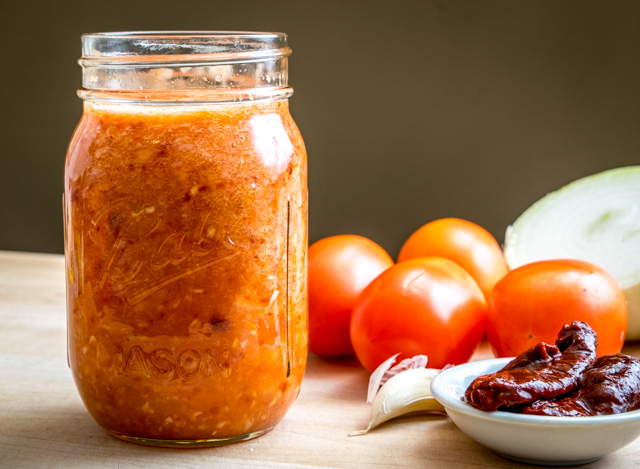 If you picked #4 you were right.  The sauce is always the key right?
I'll talk briefly here about the individual components, but feel free to adjust them based on what you're craving (or what you have in the fridge!).
#1 Seasoned Chicken Breast
First up is the chicken.  It comes with one big disclaimer:  the seasoning doesn't matter too much in this dish.  Not when there's a homemade Tomato-Chipotle Salsa stealing the flavor limelight.
I season a boneless chicken breast with salt, pepper, and some dried New Mexican chile powder, but even salt and pepper is adequate here so don't get caught up in chasing down chile powder.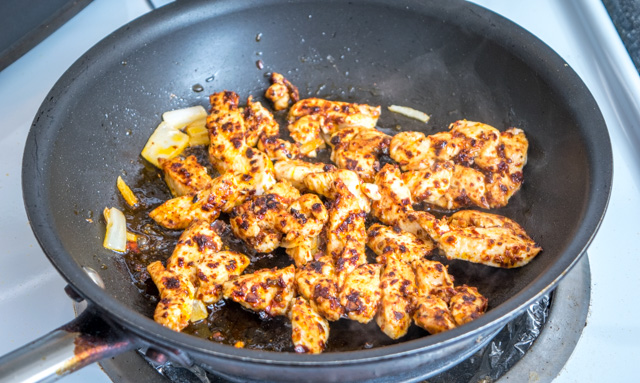 This is sauteed off with a small handful of white onion in a generous dollop of oil.
#2 Cheese
Second component is cheese.  I used Monterey Jack cheese, but Mozzarella works just as well.
I've started cutting cheese into chunks so that you get globs of melted cheese inside the burrito.  I think you taste it more this way when compared to traditional shredding.
#3 Arroz Rojo
I'm sure you're a pro at Mexican Rice by now (I used the Arroz Rojo recipe from the Sides Module).  I usually make double batches of rice so that my fridge always has some leftovers in it -- that makes it so easy to just heat some up and add it to your burritos!
#4 Tomato-Chipotle Salsa
The fourth component is the aforementioned Tomato-Chipotle Salsa that we made in the Salsas Module.
Roasting the tomatoes is the key to making this Salsa shine.  I used the oven at 400F.
#5 Basic Guacamole
And finally, there is Basic Guacamole from the Sides Module.
Ripe avocados, finely chopped onion, lime juice, and salt are all you need for an authentic Guac right?
All Rolled Into One
All five of these components combine effortlessly inside a flour tortilla.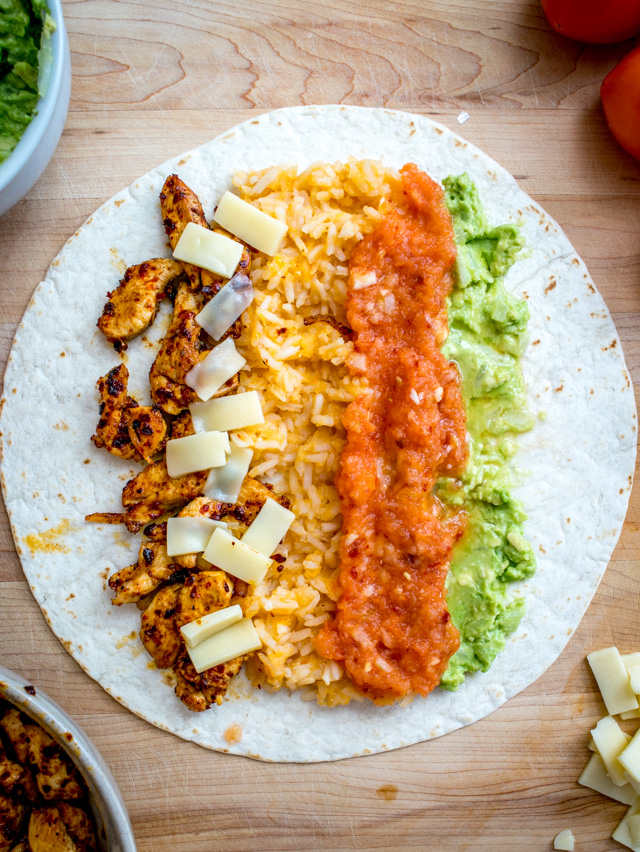 After rolling tight, each side is cooked for a couple minutes on medium heat: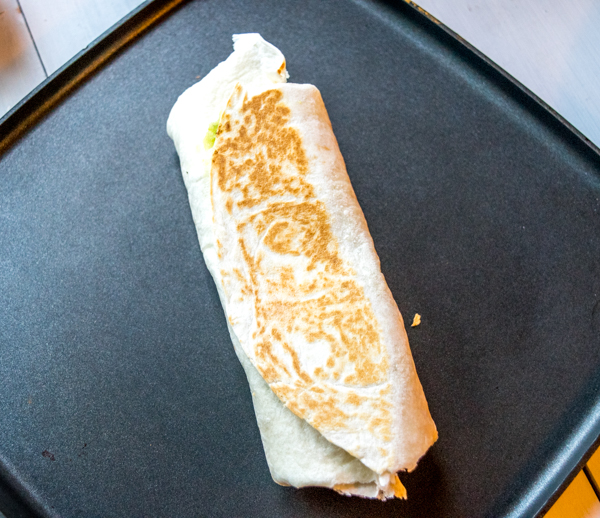 And you're left with a crisp, piping hot burrito capable of putting all your local taco shacks out of business.
I'm always amazed how unassuming it looks on the outside when it's all rolled up.  And then one bite later you're hooked for life.
Sound good?
And one last thing....since the sauce is the star here you've got plenty of leeway with the protein source.  So if you don't like chicken you can always swap it out and you're still going to get all the benefits of a burrito drenched in warm Tomato-Chipotle sauce.
I'll put the recipe box for this Burrito below.  Click 'Mark Complete' down below to move on to the next recipe --  Quesadillas!
Anatomy of My Current Favorite Burrito
This is my go-to burrito. The Tomato-Chipotle Salsa is the star here, so feel free to swap out your preferred protein source, you'll still get a burrito delicioso.
Print
Pin
Servings:
2
(Makes 3 loaded burritos)
Ingredients
4

tomatoes

2

white onions

2

chipotles in adobo

3

garlic cloves

1

avocado

1

lime

1

chicken breast

1

cup

white rice

2

cups

stock

(chicken or veggie)

3

flour tortillas

Monterey Jack cheese

salt

pepper

oil

seasoning

(for chicken)
Instructions
Rinse and de-stem the tomatoes (4). Three of these will be used for the Tomato Chipotle Salsa, and one will be used for the Arroz Rojo. Add the tomatoes to the oven and roast at 400F.

Peel and chop 2 onions in half. Peel 3 garlic cloves.

Chop a chicken breast into bite-sized chunks. Add the chicken to a bowl along with a dollop of oil, salt, pepper, and seasoning for the chicken (I used chili powder). Stir chicken until coated with the seasoning.

For the rice, add a dollop of oil and 1 cup rice to a saucepan on medium heat. Stir and cook until rice starts to turn opaque and brown (a few minutes).

Meanwhile, add 1/2 white onion, 1 garlic clove, and 1 tomato (from the oven) to a blender. Pulse blend until smooth. You can add a few tablespoons of the stock if it won't blend at first. Add blender mixture to the rice and saute for a couple minutes until heated thoroughly. Add 2 cups of stock and 1/2 teaspoon salt to the rice. Stir well. Bring to a light boil and then reduce heat to a low simmer. This will be fully cooked in another 15-20 minutes when all the liquid is absorbed.

Prepare the chipotles in adobo for the salsa by cutting off the stems and scraping out the seeds and veins.

For the salsa, add the 3 remaining tomatoes from the oven to the blender along with 1/2 white onion, 2 garlic cloves, and only one of the chipotles in adobo. Pulse blend and taste for heat level. If you want the salsa spicier you can add another half or whole chipotle in adobo. Pulse blend. Add to a bowl and set aside.

To cook the chicken, add a dollop of oil to a skillet on medium heat. Add a small handful of diced onion and saute for a couple minutes. Add the chicken and form a single layer. We'll let this cook until it is mostly cooked through on this first side, approx 5-8 minutes.

Meanwhile, we'll build the Basic Guacamole while the chicken is cooking. Finely dice 2-3 tablespoons of white onion. Crush the onion with the back of a fork until it becomes transparent. Add onion to a bowl along with the juice of a 1/2 lime, 1/4 teaspoon of salt, and the flesh of a single avocado. Mix well and taste for salt and lime levels. Add salt and lime juice until it tastes good to you.

Chicken is now cooked through on one side, flip and continue to cook for another couple minutes and then add it to a serving bowl.

Check the rice. If all the liquid is absorbed, turn off the heat and cover until ready to serve.

Roughly chop 1/2 cup of Monterey Jack cheese.

Heat a larger skillet on medium heat (to warm up the tortillas and cook the burritos). Your burrito building station will have the chicken, rice, guac, salsa and cheese close at hand.

Heat up a tortilla for a few seconds on the skillet. This will make it easier to roll. Add generous portions of chicken, rice, guac, cheese, and plenty of Tomato-Chipotle salsa. Roll tight. Cook each side of the burrito for a couple minutes or until it turns golden brown.

Serve immediately.
Notes
A single chicken breast makes 3 loaded burritos when combined with all the other ingredients.
Feel free to use your preferred protein source.
If I have an extra burrito after eating, I roll it in foil and put it in the fridge. Then sometime over the next couple days I will add it straight to the oven and cook for 20-25 minutes.
Like this recipe?
Click the stars above to rate it or leave a comment down below! @mexplease