The Quiz is down below, but first I want to have a quick word about salt.
In addition to the meat thermometer, this little salt bowl is one of the best investments my kitchen has ever made:
It's a constant reminder for me to season during the cooking process, and it makes it super easy to grab a pinch of salt at a time.
It would be great if we could narrow down each recipe to an exact amount of salt that optimizes it, but the truth is that there is some taste testing involved.   That's why you'll constantly hear me say "Salt to taste" or "Taste for seasoning".
Table salt typically has additives and sometimes anti-caking agents so it's not ideal for flavor seasoning.  Kosher or sea salt are more commonly used to make things taste good.
Diamond Crystal is popular with chefs and foodies because it has coarse crystals and doesn't contain additives.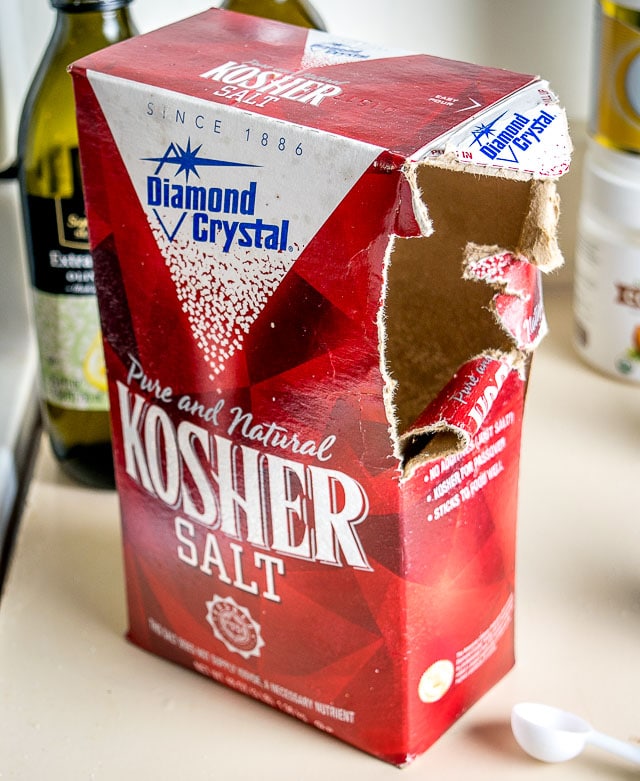 I am constantly adding pinches of this salt to my dishes.  Here's a typical pinch of salt that I add to onions that are cooking, or to tomatoes, or to salsas and sauces.
Eventually, I got curious and measured how many of these pinches are in a single teaspoon -- it was close to 20!
This freed me up to season my dishes more liberally because I felt like I was staying well within a healthy range of salt intake.  And my food was starting to taste better!  (Nutritional advice is beyond the scope of this Course, but a good reference point for salt intake is 2000 mg per day.  This is essentially 1 teaspoon of salt.)
I think it's worth considering a salt bowl (or even a small plate) in your kitchen as a reminder to season as you go.   It'll make you more comfortable with the seasoning process and it will help you quickly find the ideal salt level for your palate.
Okay, here's the Quiz for this Module.  Good luck!
Dinnertime Part One -- Quiz!