If I haven't convinced you yet, it's time to get some Anchos in your kitchen.  They are one of Mexican cuisine's most rewarding ingredients to work with -- for real!
 If your main grocery store doesn't carry them you should be able to find them at gourmet shops, and definitely at Hispanic markets.  And don't forget that Amazon carries a wide range of dried chilis.
Try to buy the ones that soft and pliable, like big raisins.  If they are hard and brittle they are a bit past their prime.
Before we move on to the Quiz, I want to mention one other ingredient that came up during this Module -- Cotija cheese!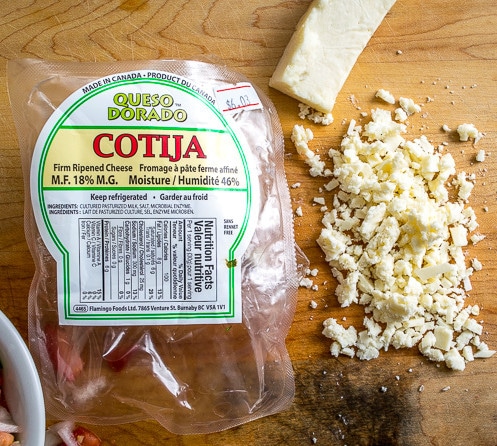 Sometimes called the Parmesan of Mexico, Cotija has the hard, crumbly texture of Parmesan but with a stronger, saltier flavor.
It's a delightful addition when used as a final garnish.  It doesn't melt when cooked so it's best used as a topper cheese:  broken down into bits and sprinkled over the top of enchiladas, wet burritos, salads, dips, etc.
I find it easiest to slice off a chunk and then pull the knife across it.  This will instantly break it down into sprinkle-sized bits.
You can substitute Feta and get pretty close to it, but it's not quite the same so I go out of my way to buy Cotija when I can.  Chain supermarkets occasionally carry it, but I go straight to the Latin market when I'm out because it's guaranteed to be there.
One other note on cheese...
I normally don't seek out Mexican melting cheeses.  After trying them all while living down in Cozumel, I don't find enough difference between them and their American equivalents to justify buying them.  That's why you'll typically see me use Mozzarella or Jack in these dishes.  It ain't the cheese that's making the dish, it's your sauce!
Okay, enough cheese talk, here's the quiz for the Ancho Module.  Good luck!