This recipe is designed to get some Carne Asada Tacos in the house -- tonight!
As you would expect, the spicy, slightly charred steak is the star attraction here, and if you find yourself eating it right off the grill then that's a good sign!
And while you could easily serve up the Carne Asada next to some rice and beans, lately I've been using it to whip up batches of these crispy, cheesy tacos loaded with freshly chopped Pico de Gallo. Sound good?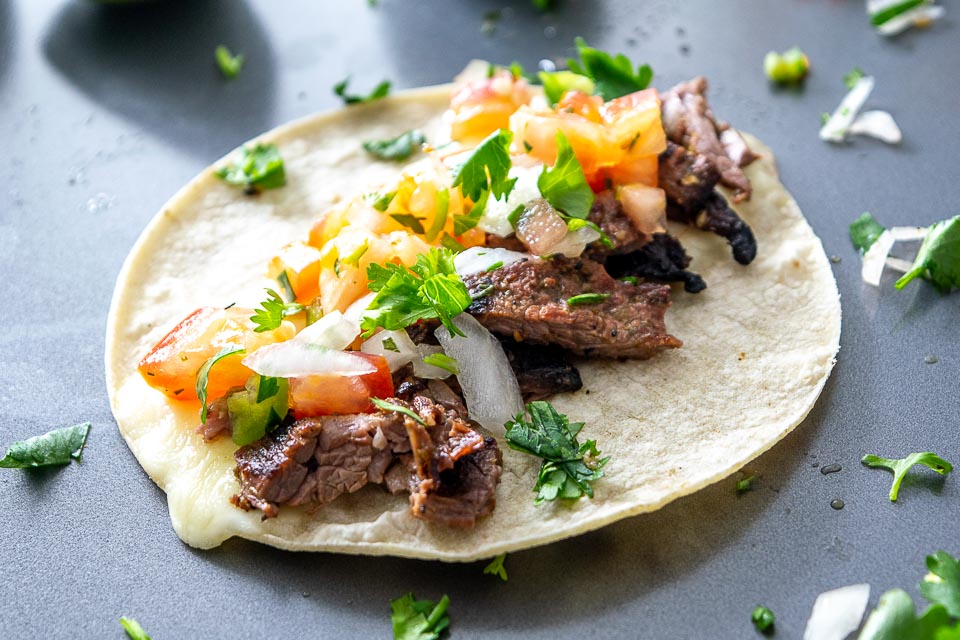 How To Make Carne Asada Tacos
Carne Asada translates as grilled beef, and beyond that the interpretations will vary wildly depending on the region you're in.
For most of us though, a sharp, well-seasoned, slightly charred piece of steak will tick all the boxes, but please keep in mind that there is some leeway on the marinade that we're using to achieve that. If you're missing an ingredient or two just go for it anyways, most likely you'll still get a good result.
First up though let's talk carne. You'll typically see flank and skirt steak associated with Carne Asada as these thin cuts cook quickly and will give you loads of flavor, but there is leeway on the cut of beef as well. What is Arrachera?
Here's what a single pound of skirt steak looks like: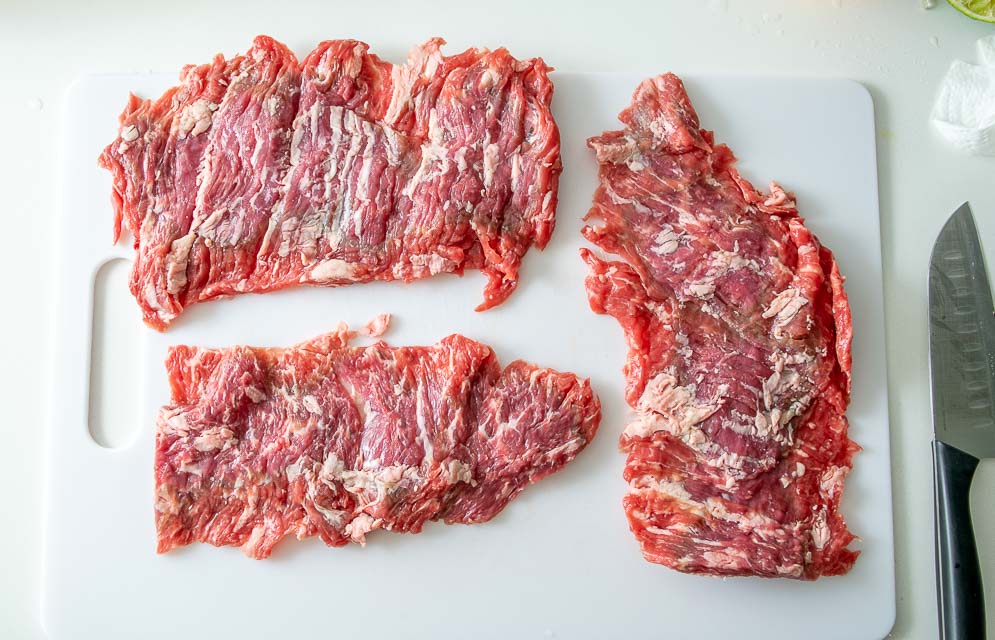 It's a long, thin cut, so I usually chop it into chunks to make grilling easier. This single pound is enough to feed 3-4 peeps.
I usually give it a light sprinkling of salt and then pound out any thicker portions of the cut.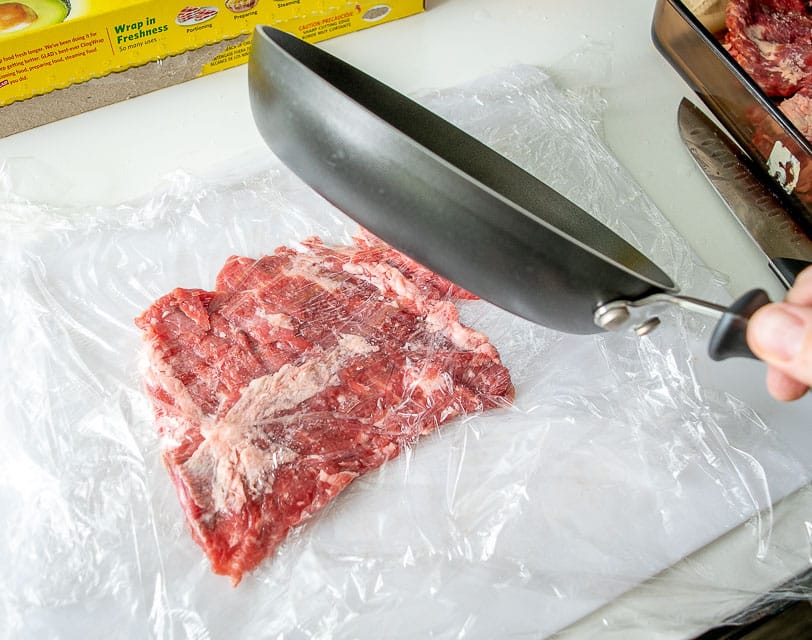 But you can consider the flattening optional as it will depend on the cut of meat, I just think it makes it easier to cook the steak evenly (and quicker).
If you don't want to pound it down be sure to still give it a sprinkling of salt.
For the marinade, I would consider salt, heat, and fat the most essential elements so no skimping on those! But if you add in some citrus and herbs you'll get some truly succulent meat, so here's what we're using for this batch:
juice of 1 lime
juice of 1 orange
4 garlic cloves
2 jalapenos
8-10 sprigs cilantro (optional)
2 tablespoons Mexican oregano
1 teaspoon cumin
1 tablespoon soy sauce
freshly cracked black pepper
1/4 cup oil
In the past I would chop everything up by hand, but lately I just plop everything in the blender.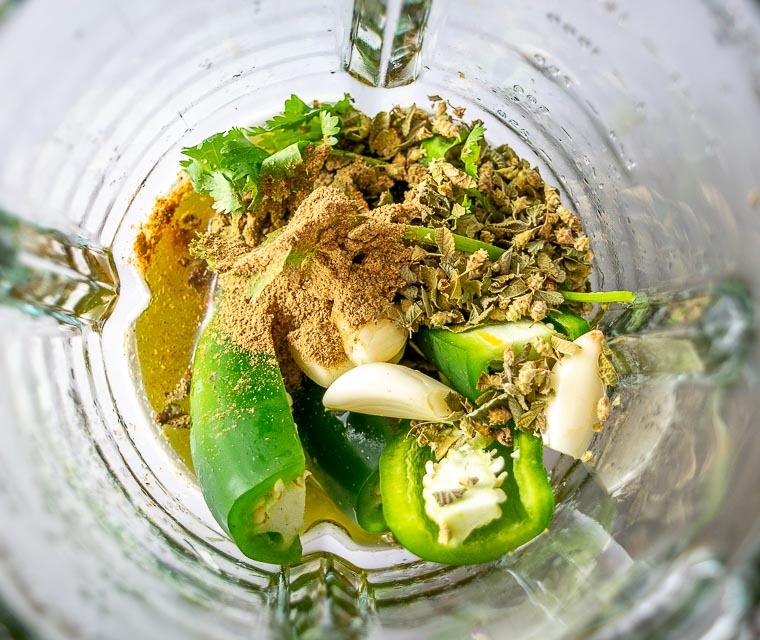 You can use a Ziploc to marinate the meat if you want, but a single pound fits quite nicely in a casserole dish so that's what I'm using.
Cover well with the marinade and be sure to get some underneath the meat.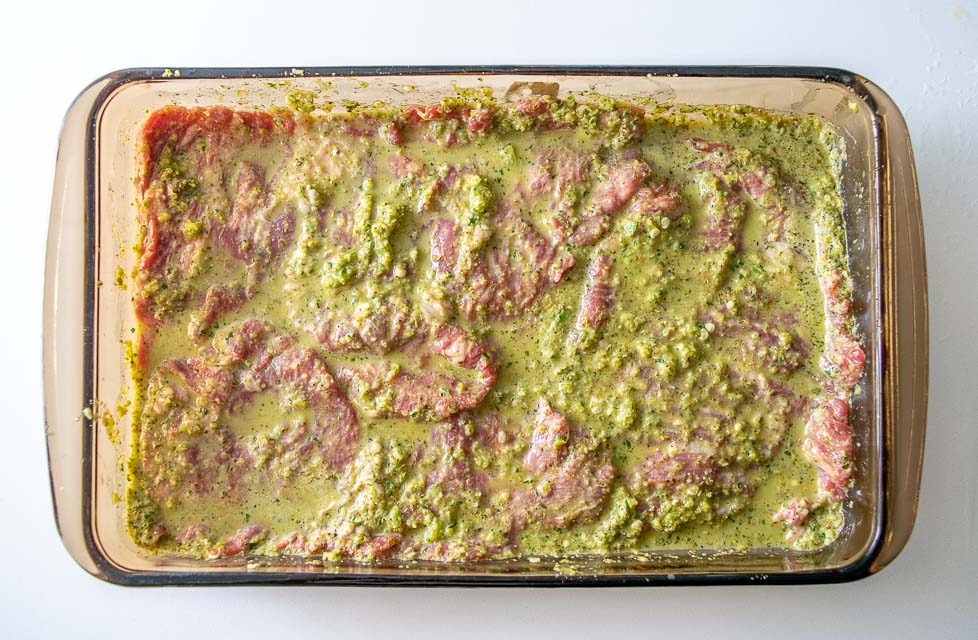 This will need an hour to marinate. Cover it with plastic and stick it in the fridge.
You can marinate longer if you have time, but an hour will give you most of the flava. Marinades don't penetrate deep into beef, so the idea is to make the marinade potent enough to get the job done in 30-60 minutes.
While the steak is marinating you'll have time to chop up the Pico. Here's a quick look at the ingredients: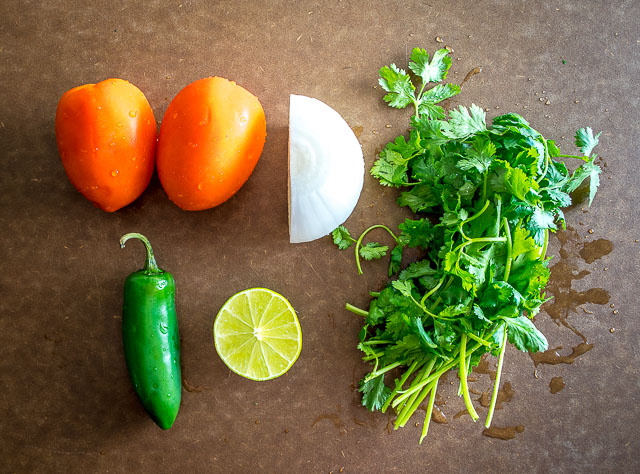 I'm making a double batch of our traditional Pico de Gallo and will put full instructions for this in the recipe box below. Basically though you are just giving everything a good rinse, chopping it up, and seasoning with salt. It's super easy and it's a great recipe to add to your repertoire if you're new to it.
Okay, let's grill some meat!
The Carne Asada will really come to life when it's charred over high heat. You can use a cast iron pan on the stovetop to accomplish this, but we're using the grill for this batch.
Be sure to preheat the grill so it's piping hot before adding the meat.
After marinating, I will usually pat dry the cuts of the meat -- with less moisture on the surface they are more likely to char.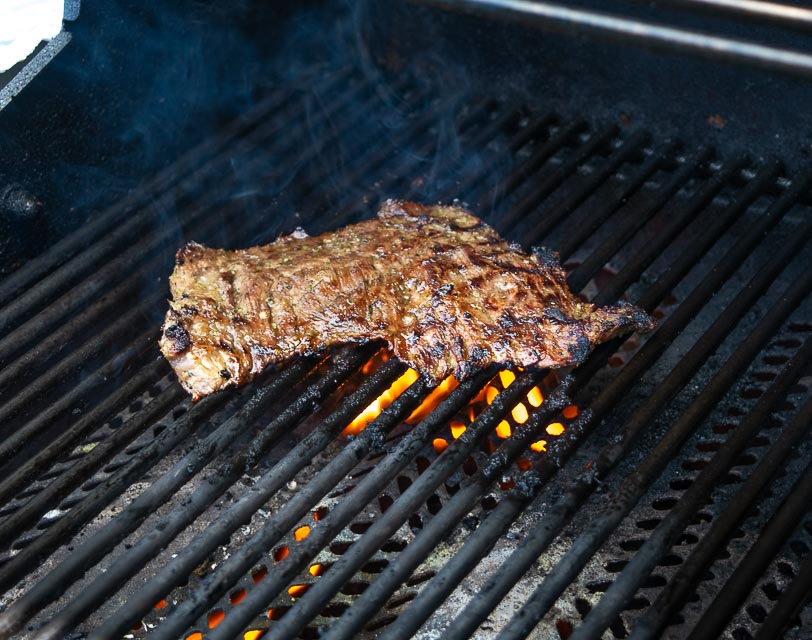 Getting hungry?!!
These cuts took just a couple minutes per side to get to medium-rare (130-135F) and that seems to be the sweet spot for skirt steak. A longer cook tends to toughen up the meat, but I've had plenty of medium-well batches that are still tasty despite being a bit less tender.
Let them rest for a few minutes after cooking so they retain their moisture.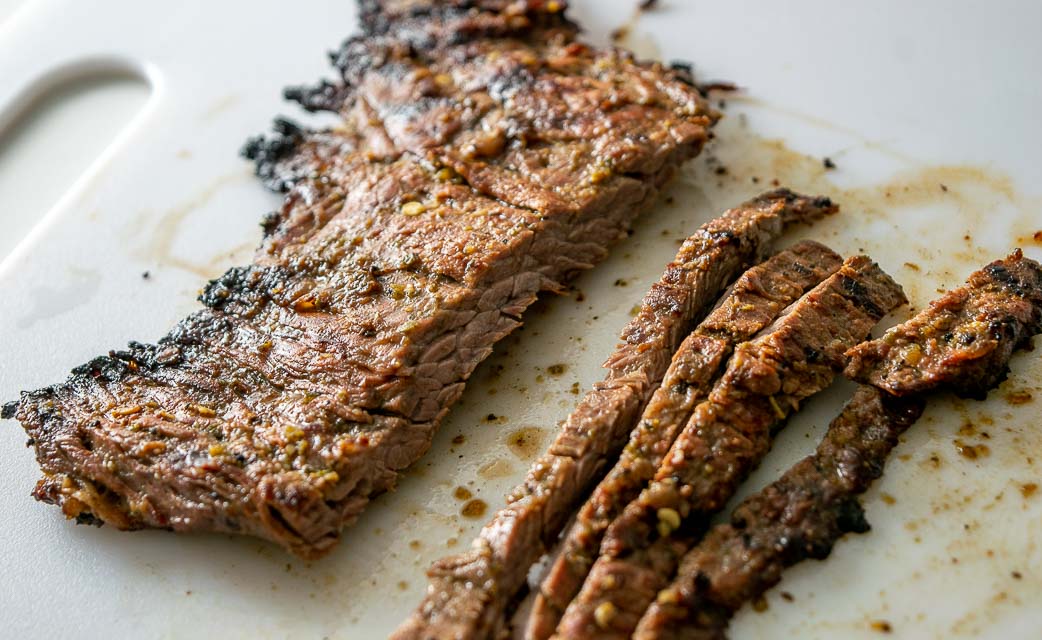 Once rested, be sure to cut the steak against the grain. It will be tempting to cut the shorter side first, but on skirt steak you will usually need to slice the longer side to go against the grain.
Cutting against the grain will prevent you from getting long, chewy strands so it's worth keeping this in mind when slicing it up.
For tacos I usually go a bit farther and chop up the strips into bite-sized pieces, something like this;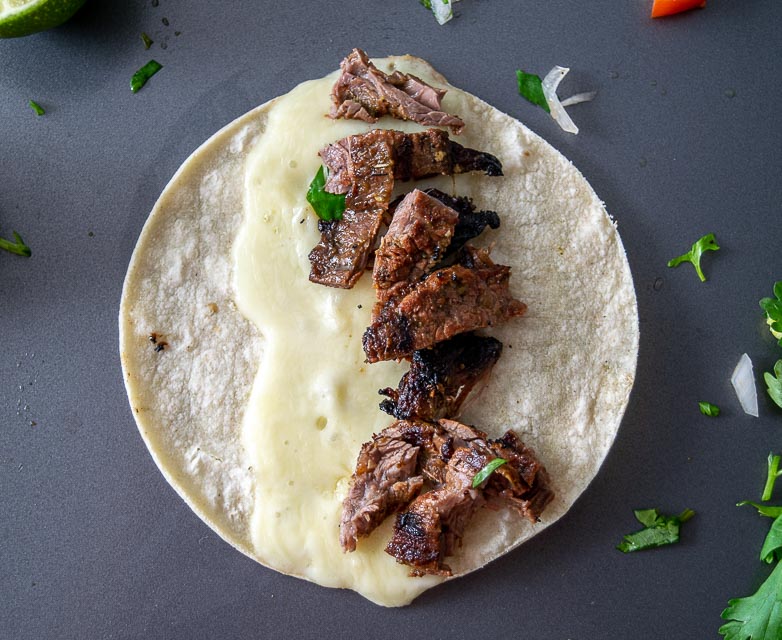 And yes, that is some gooey melted cheese underneath the steak!
I highly recommend crisping up your tortillas before serving them, and that gives you the perfect opportunity to melt the cheese! Just give the tortillas a minute or so on a dry skillet over medium-high heat with some cheese on top.
And how to know when the tortillas are crispy enough? Take a peek underneath, if you see light brown spots forming then it's chow time.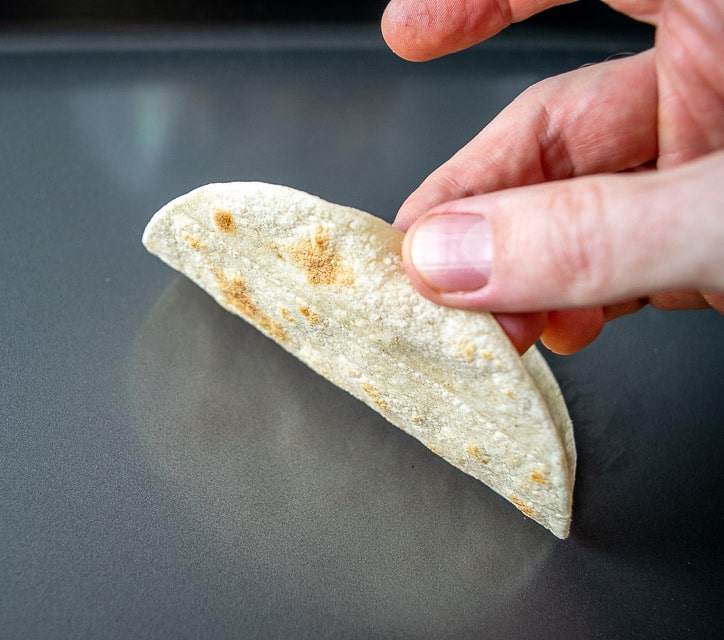 Each taco gets plenty of Carne Asada and Pico de Gallo. If you follow the recipe below you should have plenty of Pico on hand, so feel free to load 'em up!
The fresh, vibrant Pico is a great complement to the big, bold Carne Asada and I'm a huge fan of this combo.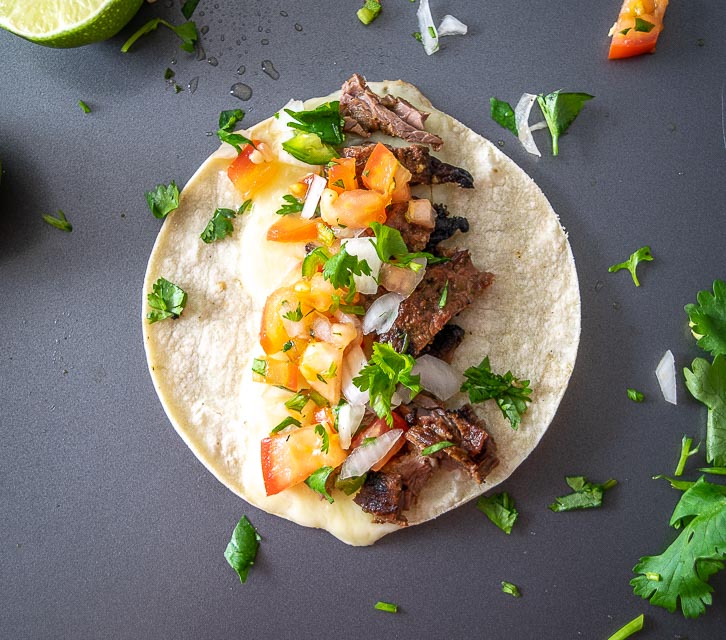 And be sure to keep some limes on hand as a final squeeze will brighten up the tacos even further.
You could also serve them with some homemade Salsa if you want, but when the Pico is really sharp it's usually enough for me. (Salsa Verde would be a good option, as would Salsa de Aguacate.)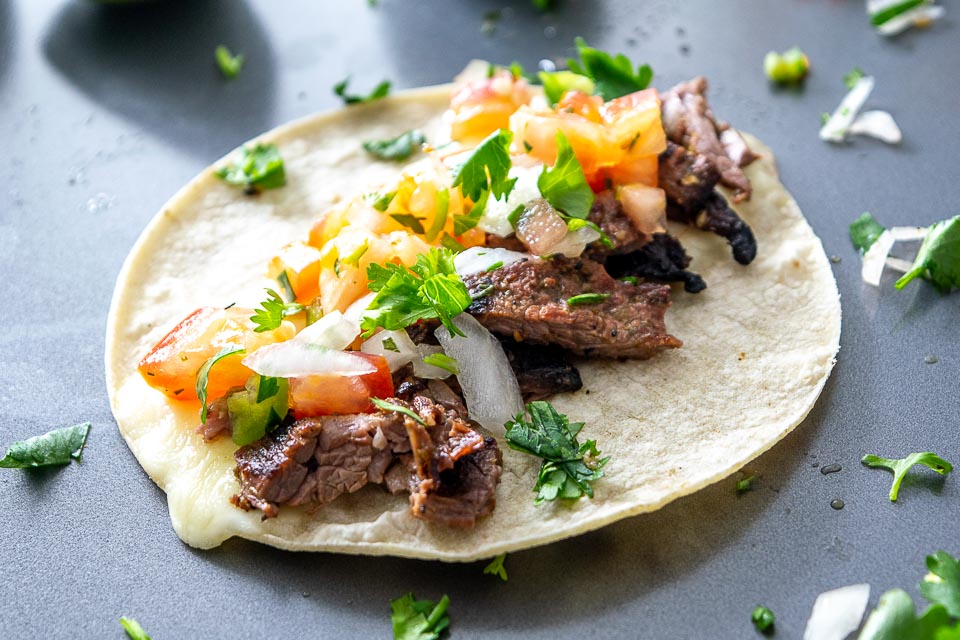 You can also add a few drops of hot sauce if you want. For me that means Valentina.
Okay, let me know if you have any questions about these Carne Asada Tacos. They are a real delight and with the hour long marinade there's no reason you can't make a batch...tonight!
Buen Provecho.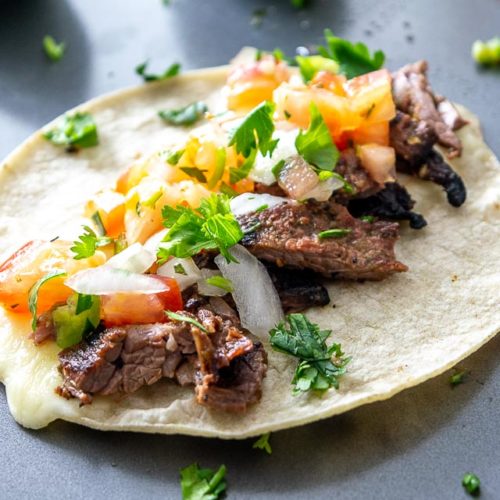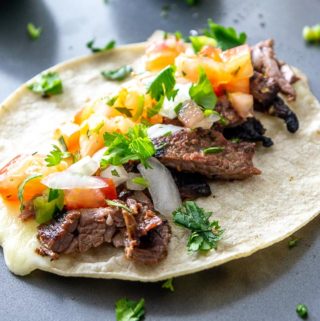 Carne Asada Tacos
This recipe is designed to get some Carne Asada Tacos in the house -- tonight! Serve them up with some freshly chopped Pico de Gallo and you'll have some happy faces at the dinner table!
Print
Pin
Rate
Ingredients
1

lb.

skirt steak (or flank steak)

12-16

corn tortillas

1/4

lb.

cheese (I used Jack)

3-4

limes (for serving)

salt
For the marinade:
juice of

1

lime

juice of

1

orange

4

peeled

garlic cloves

8-10

sprigs

cilantro (optional)

2

de-stemmed

jalapenos

2

tablespoons

Mexican oregano

1

teaspoon

cumin

1

tablespoon

soy sauce

1/4

cup

olive oil

freshly cracked black pepper
For the Pico de Gallo:
4

plum tomatoes

1

small onion

2

jalapenos

20-25

sprigs

cilantro

juice of

2

limes

1/2

teaspoon

salt (plus more to taste)
Instructions
Give the skirt steak a sprinkling of salt on both sides. If it arrived in one long strip I will usually cut it into smaller, more manageable pieces. You can optionally pound the steak thinner if you want a more even cut. If you don't have a meat pounder you can easily do this with a skillet. I usually put plastic on either side of the meat before pounding.

For the marinade, add the listed ingredients to a blender and combine well.

Create a single layer of steak in a casserole dish. Cover with the marinade and be sure to get some underneath as well. Cover with plastic and marinate in the fridge for an hour or so. (You could alternatively use a Ziploc bag.)

For the Pico de Gallo, start by giving the tomatoes, jalapeno, and cilantro a good rinse. Peel the onion and de-stem the tomatoes and jalapenos. I usually twist off and discard the bottom, thicker portions of the cilantro stems, but keep the upper portion of the stems that hold the leaves together.

Finely chop the tomatoes, onion, and jalapeno into 1/4" sized chunks. Finely dice the cilantro. For a milder version you can start by using only 1 of the jalapenos and adding more incrementally if you want more heat.

Combine everything in a mixing bowl along with 1/2 teaspoon of salt and the juice of two limes. Mix together well and taste for seasoning. Add additional salt and lime if necessary (I added more salt to this batch).

Preheat the grill so it's piping hot before you add the steak. I usually pat the meat dry before adding to the grill. Cook each piece of meat for 2-3 minutes per side or until the internal temp is 130-135F (medium-rare). You can always cook them longer if that's your preference, but skirt steak will toughen up a bit at higher temps.

Let the cooked meat rest for 5-10 minutes before slicing. Cut against the grain into thin strips. For tacos I will usually cut the strips into bite-sized pieces.

For serving, heat up the tortillas in a dry skillet over medium-high heat. Add cheese to each tortilla and cook until they are crisping up and light brown spots are forming on the underside.

Each cheesy tortilla gets Carne Asada, Pico de Gallo, and a final squeeze of lime. Buen Provecho!
Notes
I usually pat the cuts of meat dry after marinating.  Less moisture on the surface will usually help them char up quicker.
Be sure to preheat the grill (or cast iron pan) before adding the meat.
There is some leeway on the marinade, so if you don't have all the ingredients just go for it!
Using two jalapenos will give the Pico some real zip -- if you want a milder version start with one jalapeno and give it a taste, adding more jalapeno to increase the heat. 
I recently made some Carne Asada using boneless short ribs and now consider that cut to be a worthy alternative to skirt steak.  
Like this recipe?
Click the stars above to rate it or leave a comment down below! @mexplease
Don't have time to marinate your meat? Then try our dry rub Carne Asada recipe that relies on a fiery spice rub for flavor: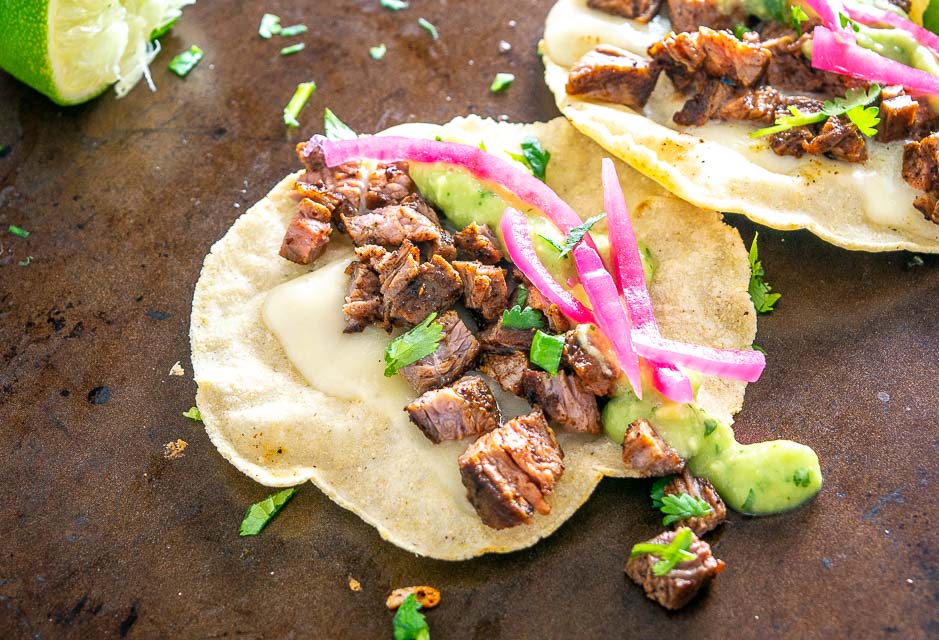 You could also use Tomatillo Pico de Gallo on the Carne Asada Tacos: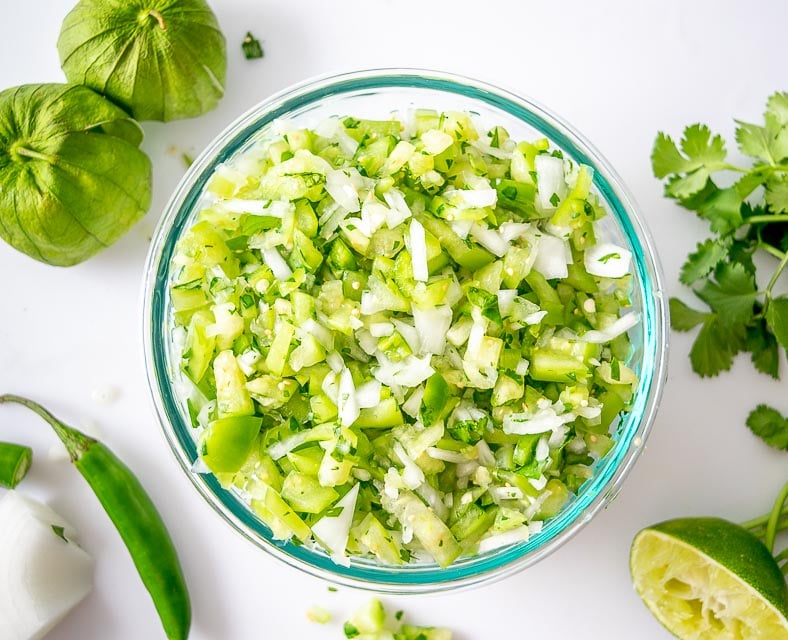 Still hungry?!
Want to receive Mexican Please recipes via email when they are posted?  Sign up below to subscribe.  All recipes are spam free.